Wastequip launches Clean-Pak self-contained compactor
Clean-Pak is a first in the U.S. market, utilizing hydraulic cylinders and hoses outside the charge box area, eliminating the need to clean behind the ram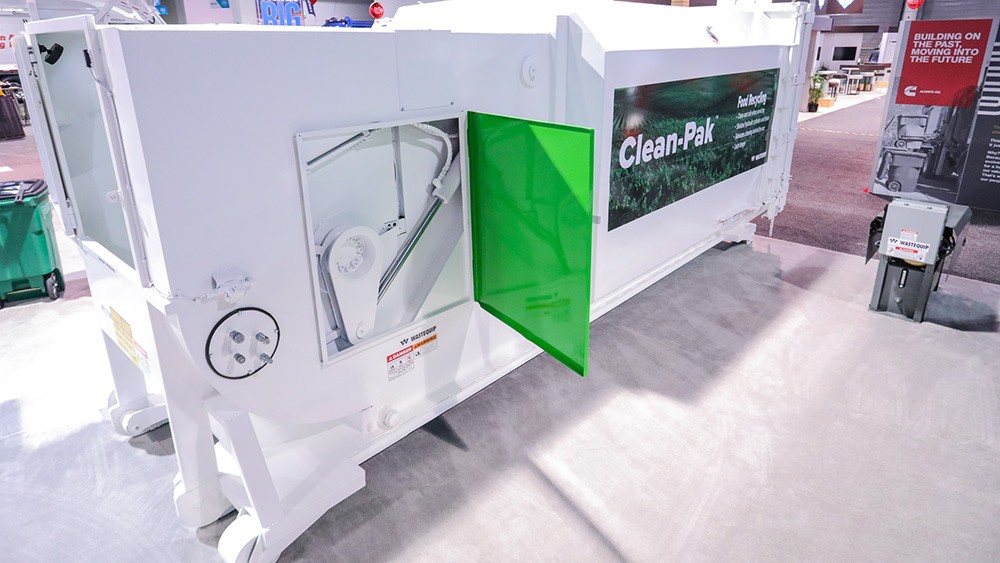 Wastequip debuted its new Clean-Pak self-contained compactor at WasteExpo 2019. The first self-contained compactor in the U.S. market with hydraulic cylinders and hoses outside the charge box area, eliminating the need to clean behind the ram, Wastequip says their new Clean-Pak compactor is ideal for food and medical waste applications. The compactor reduces mess and prevents components and personnel from coming into contact with the waste.
According to Wastequip, with current self-contained compactors, waste material builds up and packs tightly behind the ram as it moves back and forth, requiring difficult cleaning and subjecting critical parts such as cylinders and hoses to decay and damage. The difficult and sometimes hazardous nature of this task can cause users to delay service, which further compromises the operation of the equipment, and, when cleaning is performed, it often requires those servicing the unit to literally chip away at the built-up waste.
Clean-Pak self-contained compactors use a standard Wastequip 10HP tri-volt power unit and a patented compactor head to ensure effectiveness and power.
Not only does it require no potentially hazardous cleaning behind and around the ram, but the model also makes other preventative maintenance tasks much easier, saving time and money. Cylinders and hoses are enclosed behind large and easily removable panel doors on both sides of the compactor, keeping them easily accessible and clean. These doors can be opened outward or lifted up off bullet hinges if space is limited. The unit also features a built-in hydraulic reservoir spill pan to contain and easily drain hydraulic oil in the event of a leak, minimizing oil spill cleanups. Quick disconnects are available for either right or left applications.
Available in 20-yard and 25-yard sizes and compatible with standard container with dual end cable pickup/hook option, Clean-Pak was designed with ease of use in mind. The hopper can be fed from ground level with either a 90-degree door, an angled door at 56 degrees for dock loading, or no door for through-the-wall feeding.
"Wastequip introduced Clean-Pak to provide an easier and safer way to handle messy or potentially hazardous material, like food waste, which can be a chore to clean, or medical waste, where service technicians might be exposed to needle sticks or bloodborne pathogens," said Kirk Warren, director of product management for Wastequip steel products. "With exclusive U.S. rights to this clean ram head technology, Wastequip is proud to be the first and only U.S. compactor manufacturer to offer this model and to continue our track record of offering innovative solutions that solve industry problems."
The Clean-Pak compactor and several other exciting new products were on display at the Wastequip booth, WasteExpo 2019.
More from Waste Diversion
Single-Ram and II-Ram High-Capacity Balers
At Machinex, we've been designing sorting systems for over 35 years, so we know how essential it is for MRF operators to have a baler they can trust and not worry about its operational reliability. This is why we design and manufacture reliable single-ram and II-ram high-capacity balers to specifically help optimize their operations.
Watch the video of our expert who presents the main features of Machinex balers delivering these important benefits:
Easy & accessible maintenance
Reduced maintenance & bale handling costs
Energy savings
Optimal bale density
For C&D recyclers, waste haulers, demolition contractors and landfills, there is a growing opportunity to profit from rethinking processes. Although every operation is different, by streamlining the front end of the C&D operation processes with purpose-built technologies, recyclers can tap into new end markets, accommodate higher material volumes, stay ahead of regulatory restrictions, increase recovery rates and add commodity revenue, while decreasing labor and other costs.
Download the new eBook to learn about:
Finding opportunities in the alternative to landfilling C&D
How facilities can increase their profits from C&D
Using the right C&D processing technology in the right locations