Evolving e-waste
ATMI debuts non-toxic, potentially lucrative domestic solution for processing end-of-life electronics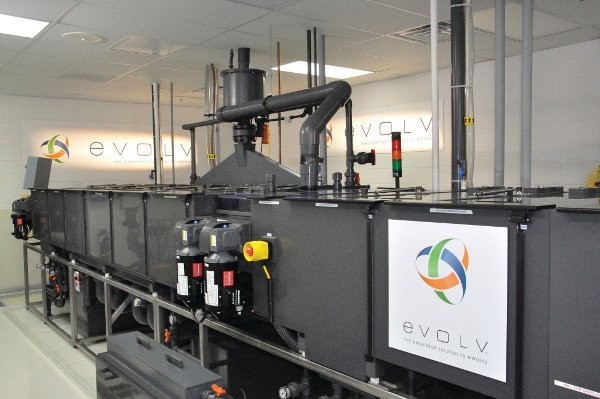 Introduced in November at the 2012 e-Waste Management Summit in Las Vegas, ATMI says their eVOLV process and system represents a revolutionary and sustainable solution for recycling electronic waste (e-waste). The safe, cost-effective process is fully automated and uses energy-efficient methods in a scalable, closed-loop system.
Following green chemistry development principles, the eVOLV process and system was designed as a chemical-based, non-toxic approach that is environmentally benign. It was specifically developed as a domestic solution for the recovery of precious metal resources and components from end-of-life printed wiring boards (PWBs), or circuit boards, that would comply with government guidelines and be free from the restrictions and hazards of traditional "dirty" approaches.
The process includes de-soldering, component/chip recovery and metal reclaim, with 99 percent of most metals extracted, and at 99 percent purity. ATMI says the extracted metals, which include gold, silver, copper, palladium, lead and tin, can be recovered and redeployed significantly faster and safer than in most other processes and can re-enter the supply chain as "process-ready" materials.
"None of the existing methods for handling e-waste are very sustainable or efficient, and in many cases actually pose significant health hazards," commented ATMI Chairman, CEO and President, Doug Neugold. "At the heart of our business is a strong desire to deliver efficient technologies, particularly those that involve process chemistries that are safer and deliver better performance."
ATMI is currently processing waste circuit boards at its Danbury, Connecticut headquarters using the eVOLV system. The system can be scaled to specific e-waste volume and throughput needs, from small batch processing to many tons per hour. It is automated from front to back and includes a conveyor system to move boards through its chemical solutions.
Additionally, with the eVOLV process, chemistries used to extract the metals and components from the boards are less toxic than common orange juice. ATMI says that according to industry sources, more than 50 million metric tons of e-waste is generated globally per year, with approximately 72 million metric tons projected by 2014. While representing less than 2 percent of mass in U.S. landfills today, e-waste accounts for 70 percent of heavy metals.
Approximately five percent of e-waste by weight consists of PWBs and, while some are repaired and resold, most are shipped to destinations outside the U.S. for disposal. Those with low value are sent to Asia or Africa where the chips are manually de-soldered and the trace precious metals are collected – either by dangerous open-burning or from chemical leaching using highly toxic chemicals – processes that have adverse environmental and health implications.
According to ATMI, the eVOLV process has great potential to help curb the practice of hazardous, unregulated, foreign e-waste processing, simply by making the processing of PWBs more viable as a domestic endeavour.
And the commercial potential of the eVOLV solution is also compelling. For example, the resource recovery available from recycling one ton of used mobile phones (around 6,000 handsets) is about 3.5 kilograms of silver, 340 grams of gold, 140 grams of palladium and 130 kilograms of copper. The combined value of this is just over $25,000, which equates to around $4.2 billion annually. What's more, one metric ton of e-waste from personal computers contains more gold than that recovered from 17 tons of gold ore.
"We believe that less than 20 percent of e-waste is actually recycled, and much of that is done by smelting or dangerous chemical leaching and burning," said ATMI's Dr. Korzenski, who has led the development of eVOLV.
"We have developed and now demonstrated a process that extracts maximum value from printed wiring boards in a safe and environmentally sound manner. Given the price of precious metals, the unattractiveness of continued mining of the earth and the fact that existing methods are toxic, dangerous and unsustainable, we believe that the eVOLV system presents an attractive opportunity. We know of nothing comparable that currently exists – especially as a safe and legal domestic solution."