Getting to the root of the problem
Trommel screen delivers a cleaner end product while reducing fuel costs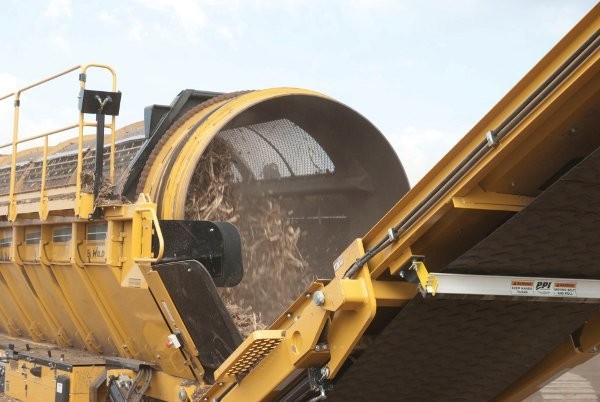 Des Moines, Iowa-based Jeff Pettiecord (founder of J. Pettiecord Inc.) is regarded as one of the most diverse specialty and environmental services contractors in the entire U.S. Midwest. Long established in excavation work over the last decade, Pettiecord has expanded into a variety of sectors, including demolition, environmental remediation and long-haul trucking. Land clearing and wood processing are also now part of his services.
In 2005, Pettiecord purchased his first grinder, has since added a second, and says his decision to expand operations with an environmental focus has definitely paid off.
"Our company provides a lot of different types of services, but environmental land clearing has been one of the most rewarding ventures," Pettiecord says. "Organic and environmental recycling of wood fibre has become more technical. We now clear upwards of 200 acres (80.9 hectares) annually."
First responder
As the first to arrive on most land-clearing job sites, J. Pettiecord crews must work as efficiently as possible since trees need to come out before any other work can commence. The company's full service, turnkey approach – including the removal of root balls and the grinding and recycling of all wood fibre – helps expedite this first responder role.
"Since we are the very first ones on a site, and nothing else can happen until the trees are gone, it's imperative for us to work most efficiently to process and haul wood off site as quickly as possible," says Nick Wylie, Pettiecord's executive VP.
Because root balls are often laden with dirt or mud when extracted from the soil, Pettiecord and Wylie had been searching for a more practical and efficient way to rid them of grime and then process fibre in the cleanest, most efficient way. They discovered what they felt to be the answer during an on site demonstration conducted by a team of environmental experts from Vermeer, headquartered in nearby Pella, Iowa.
"The guys from Vermeer came up and staged a really informative demo of one of their trommel screen models," Wylie says. "The trommel screen can do so many different things. So we decided to make the investment and it has really been a good decision. We now process wood fibre more efficiently, and significantly reduced the amount of fuel we use."
4 versus 40 – as in gallons per hour
Pettiecord and Wylie selected the TR626 trommel screen by Wildcat (a Vermeer Company) with a 1.8m (6-foot) drum and hopper that can accommodate up to 5.7 cubic metres (7.5 cubic yards) of wood fibre. Wylie was especially impressed with the trommel screen's ability to move material without bridging, thanks to a tall, wide-throat infeed hopper. But most important, according to Wylie, the addition of the Wildcat trommel screen has prompted a much more efficient and affordable process than that which was formerly employed by J. Pettiecord for converting wood fibre into a sustainable landscape mulch and erosion control product.
"Before we added the TR626 trommel screen to our fleet, we used grinders for everything," Wylie says. "The trommel screen has made a world of difference, not only by helping us produce a cleaner end product, but more importantly, it has done so by achieving greater fuel efficiency. The trommel screen will only burn 4 to 5 gallons (15.1 to 18.9 litres) of diesel an hour."
"Every pass through the grinder burns about 40 gallons (151.4 litres) of diesel per hour, so there's a significant savings being able to process material through the trommel screen first. Four versus 40 gallons of diesel is a dramatic savings. We still have to grind the larger pieces, but when we're cutting our grinding volume in half, at 35 to 40 gallons (132.5 to 151.4 litres) of fuel burned per hour, it's a significant saving for us; especially over the course of an entire year."
The land-clearing process begins with the arrival of large excavators equipped with hydraulic thumbs and shears that are used to take down trees and limbs. These machines are capable of either cutting down whole trees, or removing specific limbs, without using chainsaws. After whole trees are cut, the root balls are extracted, then sheared and ground. A dozer is employed to scrape up remaining roots and leftover fibre, debris that is also fed through the Wildcat trommel screen. The TR626 trommel screen filters out dirt, which can be left on site, while also getting rid of excess roots.
"The majority of our customers are grading contractors who appreciate the condition of a site after we clear it," Wylie says. "They expect us to just come in and handle everything, remove all the trees and leave nothing behind, except any excess soil. The trommel screen is a big help in facilitating the entire process."
Wood fibre is ground, generally on site, most often with either a 6- or 8-inch (15.2 or 20.3 cm) screen that converts the wood into chips which are hauled back to J. Pettiecord's yard for further processing into mulch. The processed wood chips are then fed through a 3/4-inch (19.1 mm) screen on the trommel. This removes roughly 40 to 45 percent of the fines and other smaller pieces, while the trommel screen produces mulch of approximately 2 inches (5.1 cm) or less. Bigger pieces return out the back end of the trommel screen and are reground, leaving virtually no waste. Pettiecord then sells the end mulch product to another Iowa-based company that specializes in producing a variety of landscape products.
Sustainable, efficient on-site erosion control
In addition to landscape product applications, some of the wood fibre produced by J. Pettiecord remains on site as a recycled, totally sustainable erosion control resource. Local erosion control companies use the processed wood fibre as infill for erosion socks. Fibre is blown into the socks, which are strategically placed in uniform alignment along critical grades and slopes of cleared sites that are most vulnerable to erosion.
"It's a really neat process and ultimately something that is very rewarding," Wylie says. "One drawback to a land-clearing operation is that some sites may be vulnerable to erosion resulting from a heavy rain. Knowing that the product we create from the trees removed from a site can be converted into a product that also helps protect the integrity of the landscape is pretty gratifying. It's an effective and sustainable remedy to minimize erosion."