​Vilar Guillén: Evolving from a focus on local recycling to world markets
Kadant Paal presses provide dense, uniform bales for lower shipping and handling costs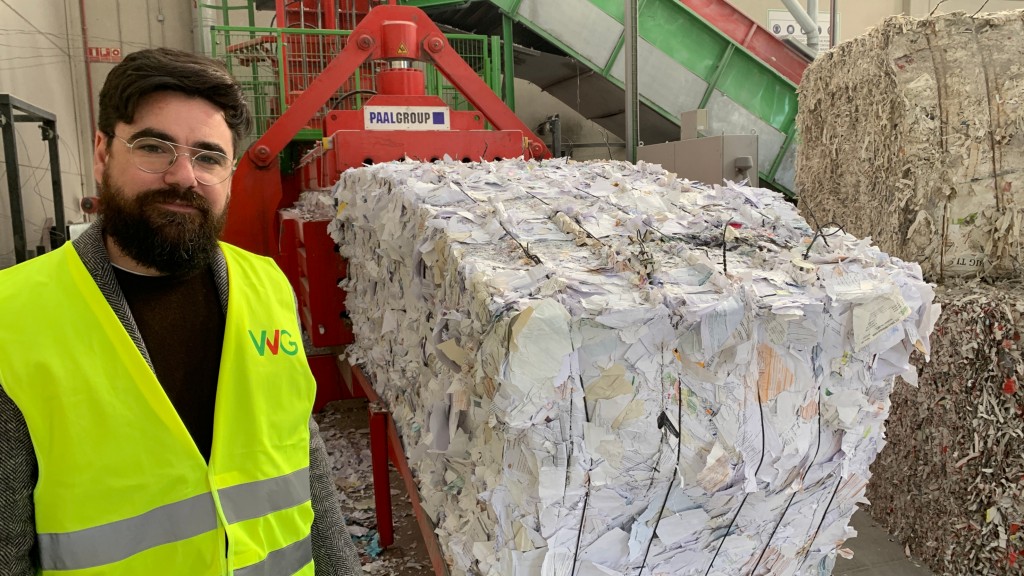 Only a few years ago the standards for recycled paper and board in China were not high. As a massive importer, China is now known to reject entire container loads based upon one inferior bale. Responding to this reality, Valorizaciones Vilar Guillén SL (V V G) set out to streamline their entire business to deliver against tight specifications, earning respect and repeat business as a result.

Says Tomas Vilar, Co-founder and CEO of the family business started three generations ago, "Some customer pay a considerable premium for VVG bales. We work closely with them to control content and stability, especially because of shipments over long distances. Our bales, made exclusively with Kadant Paal presses, are dense and uniform, so shipping and handling costs are lower."
Continues Vilar, "We evolved from a focus on local recycling to providing premium raw materials to world markets. At our Les Franqueses del Vallès, Barcelona, Spain facility, we make customized compact bales from two robust production lines. We know exactly what each bale contains, documenting precise content. That's why the most demanding Chinese and European paper mills choose our products. Adapting each day is the VVG way, because markets keep changing."
Continuous improvement as a corporate value
Vilar considers it important to educate customers, government officials and all VVG employees about ongoing changes in recycled paper and board content.
"Carton board can be white on one side, for example, and that can be good. Brown paper has a range of colours," he says. "We try to find a balance, being ready from the beginning of any change, always taking the first step without delay."
Demanding customers
Frequent inspections from customers and the CCIC (China Certification Inspection Group) in Spain are the new norm. Often the focus in on 120 containers.
Continues Vilar, "We have discussions and review sessions, including opening some bales to guarantee 0.5% or less of unacceptable material. Once they give the OK, we send this notification to the client and prepare the logistics according to the latest rules and specific ports.
After the ocean journey of a few weeks, he says VVG bales arrive for a site inspection. "Having all of our photos from loading, the inspectors verify the quality," says Vilar. "If something is wrong, they reject the whole container. For us this problem has never happened.
"Two years ago, no one could believe this degree of change would happen. Many in our industry are still thinking it's not possible. No one used to sell this way. Inspections up to 3-4 times per month are common.
"China pays a premium, higher than anyone else, because they are buying the best we have to offer. It's not really the same material. There are fewer imperfections. Recycled paperboard and paper has a new standard and a higher price."
High standards at Les Franqueses del Vallès factory
Back in December of 2013, VVG installed Kadant Paal's Konti 600 channel bale press. This fully automatic channel machine has a pressing force of 800kN - 1950kN and bale formats of 75 x 110cm or 110 x 110cm. High pressing force is independent from the cutting and compressing process, and pre-press settings, combined with individual channel adjustments, make for the highest quality baling results.
"High performance, efficiency, and low operating costs played a key role in the decision to acquire a second Kadant Paal press in 2017," explains Vilar.
In early 2017, based on their growth and expansion into the international marketplace, he says they chose Kadant Paal's Likon baler to be an integral part of their new facility. The horizontal-tying Likon baler is a fully-automatic channel baler, known for high loading levels in continuous operation at maximum efficiency.
Robustly constructed, high pressing forces of 1200kN - 1950kN demonstrate the quality and reliability of the Likon baler. The combination of high pressing forces, independent cutting and compression processes, as well as individual channel adjustment, creates bales with maximum compression.
According to Carles Clapes, Kadant Paal's Sales Manager for Norther Spain, "VVG employs our balers to maximum capability, based upon customers seeking more from recycled paperboard and paper."
"VVG defines the change of culture for a new generation in recycling," adds Oriol Juvanet, Kadant Paal Export Area Manager. "They look less at price and more at quality. They don't want to lose time with delays. They expect that critical machines don't stop every three days. They want a supplier they can trust to meet production objectives. They trust us to be part of their planning."
The sustainability picture
"Locally, individuals and companies want raw materials to be resused, and not buried in landfills," concludes Vilas' brother-in-law Octavi Ginjaume. "Our global customers want high value when they employ recovered materials. The VVG team is proud to contribute by constantly adapting and supporting sustainable success."
Key Benefits of Kadant Paal Baling Systems
• Energy saving from latest generation axial piston pumps.
• Higher throughput, combined with lower energy consumption
• Easy to use pre-set recipes with PLC
• Increased lifetime of machine, thanks to changeable bolted wear-plates
• Higher bale weights due to new optimized channel design and hydraulic system pressures.
• Ease of maintenance, ensured by:
o Enhanced accessibility at both sides of the tying unit.
o Larger inspection door, at the rear section of the baler.
o Remote maintenace (SPS), offering the possibility of using remote access and service.
• Advanced user-friendly operation, due to new interactive operator control panel, with higher pixel resolution.
Company info
Related products