LWR a finalist for PwC CANADA'S V2R Awards
Visionary work towards lagoon-free food production and manure recycling recognized with nomination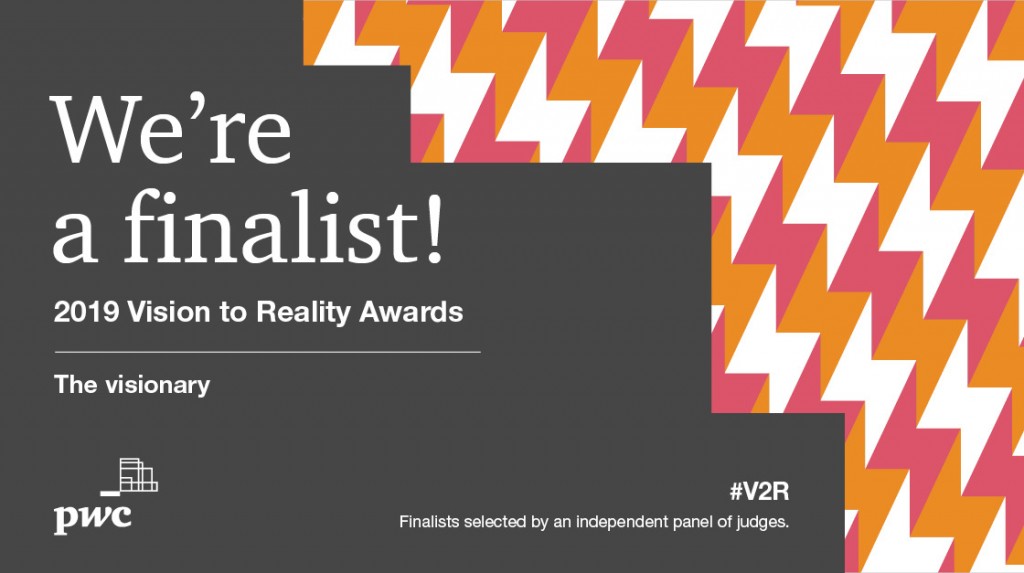 Ten years ago, Livestock Water Recycling emerged with a vision to create a technology that would give farmers a tool to treat livestock manure in a way that would eliminate the need for lagoon storage. Today they are being recognized for this progressive vision by being named finalist for PwC Canada's 2019 Vision to Reality (V2R) award. This annual program aims to recognize and celebrate the most forward-thinking organizations in the nation.
Progress is impossible without change: The powerful idea that inspires LWR to provide farmers with a tool to produce food in a way that will protect and nourish our planet. LWR's mission is to help farmers feed the world while reducing their costs and restoring the health of the farming ecosystem.
Consumers are demanding transparency and traceability and these are the values that inspire livestock farmers to produce climate beneficial animal products with the LWR manure treatment platform.
"We are making profound environmental, social and economic impacts in the communities where our technology is employed" says Karen Schuett, LWR Co-Founder and CEO. "We are very optimistic about where our business is headed and are grateful for the support we've received along our journey. We are proud to bring disruptive manure treatment technology to the next generation of farmers, so that farmers can take
care of the planet for the next generation of consumers."

According to LWR, Livestock producers install their system when they want smart, flexible, on-site nutrient recovery that allows them to produce more food, using less resources, while simultaneously regenerating their fields. The LWR System holds the industry record for the most installations and is helping producers make valuable nutrient products that are easy to export. The system recycles the majority of liquid livestock manure into clean water, preventing the harmful effects of nutrient runoff and groundwater contamination.
"Our team continues to strive to find new ways to leverage our knowledge of wastewater treatment to make manure management smarter, and food production more sustainable and productive," adds Schuett.
"I'd also like to congratulate our fellow nominees in the visionary category. We are thrilled to be a part of a community that is helping Canada lead the way with innovation and new ways of thinking."
"We're thrilled to recognize our V2R Awards finalists who represent innovators of all sizes and industries. Selected by the independent panel of judges, the finalists demonstrate that innovation is thriving across every region in Canada," says Chris Dulny, Chief Innovation Officer, PwC Canada. "The Awards celebrate some of the country's best innovators and bring together a network of leaders to collaborate and share ideas. Ultimately, this type of collaboration helps make Canada a more competitive place for innovation and we're proud to be a part of that."
PwC Canada will announce the winners of the 2019 awards in Toronto at the Vision to Reality (V2R) Awards Gala on Thursday, May 9, 2019. Vision to Reality (V2R) Awards is PwC Canada's annual program aimed at recognizing and celebrating the most forward-thinking organizations in the nation. Find out more: www.pwc.com/ca/v2r

Related Articles
Traditionally, waste management companies have operated using a simple "management of waste" approach to operating a MRF. Throughput targets and continuous operation (minimal downtime) were the main driving forces. The industry has changed however, and the focus moving forward is now on optimizing system performance and reliability, in conjunction with increasing recycling rates and a drive for a "greener" and more sustainable tomorrow.
When considering the addition of, or upgrade to, an "intelligent" MRF, for municipalities or private operators, the main factors should always be the client's (operator) current requirements, and evolving market needs, which include throughput, reliability, output quality, and adaptability. Equally important is a full understanding of what is really expected from any proposed system. Having an engaged and focused mindset for the project with the client from the beginning, will impact and drive the entire design process. This then impacts the overall project result, through to the productive, efficient, ongoing operation of the facility itself.