Volvo CE launches the EC750E HR, its largest high-reach excavator in North America
The EC750E HR can reach up to 118 feet high and is capable of handling up to 8,000-pound tools, making it a versatile and powerful demolition excavator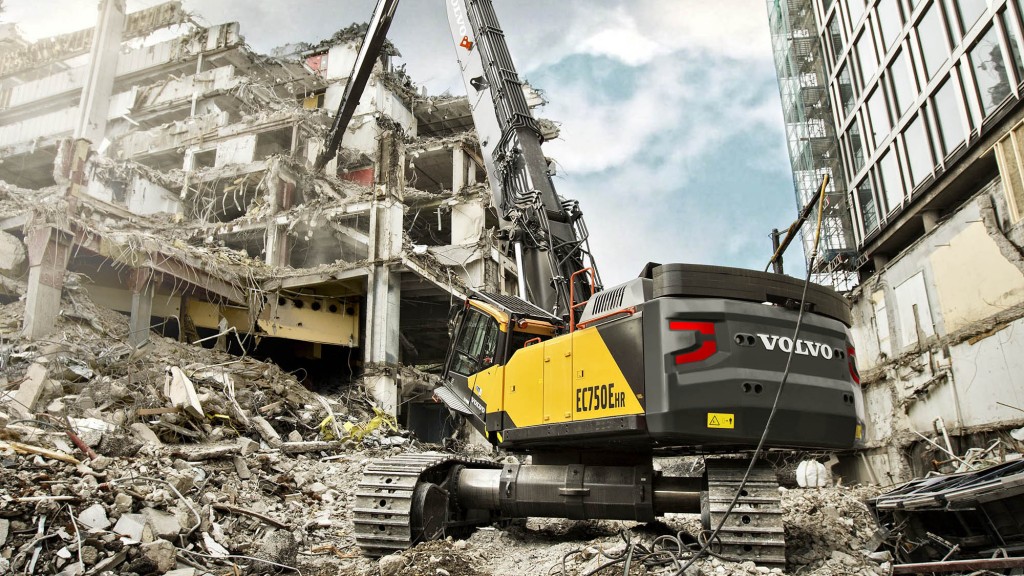 The new EC750E HR high-reach excavator from Volvo Construction Equipment offers exceptional reach, with a maximum pin height of 118 feet, and can also be easily reconfigured using extensions and different boom sets to become a multi-use demolition tool.
"The EC750E HR is based on our popular EC750E crawler excavator but has been substantially re-engineered for high-reach deconstruction purposes with a heavier and wider undercarriage and factory-fitted guarding," said Walter Reeves, sales manager for demolition products at Volvo Construction Equipment. "The features on this machine give it the power, stability and versatility contractors need to tackle some of the most challenging, large-scale demolition projects."
More machine, more possibility
Volvo's patented hydraulic modular joint concept uses a two-pin hydraulic lock mechanism to allow the high reach to be changed into a digging configuration with only one person in less than an hour.
The EC750E HR also has a second hydraulic modular joint on the extension boom, allowing the angle of both the extension and the digging boom to be set quickly and safely between bent and straight configurations.
Three boom options
The EC750E HR brings added flexibility with its two high-reach demolition boom sets and one digging boom set with an extension:

High-reach boom with a 118-foot maximum pin height while carrying a tool of up to 8,000 pounds
High-reach boom with an 85-foot maximum pin height while carrying a tool of up to 11,000 pounds
Digging boom set with a 14.4-foot extension allows for a 59-foot pin height
Undercarriage built for demolition and mobility
Compared to the EC750E, the undercarriage of the EC750E HR is 1 foot 9 inches longer and 2 feet 10 inches wider, providing added stability. The hydraulic extendable undercarriage also allows for a 360-degree working range, which lets the operator spend less time repositioning the machine and remain focused on the job.
The retractable undercarriage features easy-to-remove track frames and the ability to self-disassemble and reassemble, which makes transporting the EC750E HR an easy process. A strengthened hydraulic removal system also means the complete counterweight can be removed in one movement.
Support you can count on Like all Volvo excavators, the EC750E HR is backed by the Volvo Lifetime Frame and Structure Warranty, which covers the frame, boom and arm for the entirety of the initial period of ownership. It is also eligible for ActiveCare Direct™, the Volvo service that provides 24/7/365 active machine monitoring and fleet utilization reporting directly from Volvo.