Nick Doyle joins TOMRA Sorting Recycling as Sales Manager, West Coast North America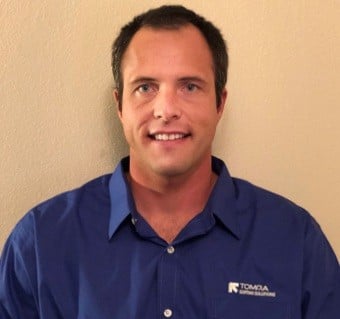 TOMRA Sorting Recycling, the global supplier of sensor-based sorting equipment, announces that Nick Doyle has joined the TOMRA team as Sales Manager, West Coast North America. In this newly created position that expands sales and customer support of TOMRA's equipment to waste and plastics recycling operations, Doyle will consult directly with TOMRA partners and customers to implement the right sorting solution to improve recycling recovery rates, increase product purity and boost profitability.
"Just like TOMRA, Nick is a true champion of the Circular Economy, so he is a natural fit with the TOMRA team and work philosophy," comments Carlos Manchado Atienza, regional director Americas for TOMRA Sorting Recycling.
"With his extensive previous sales experience for one of our plant-building partners, Nick offers in-depth knowledge of TOMRA sorting equipment. He is the right person for the western North American territory to support our customers and help them boost product purity and circuit productivity."
Prior to entering the industry, Doyle received an advanced degree in Global Sustainability with a focus on Business Strategy. He worked for TOMRA plant-building partner, Van Dyk Recycling Solutions, for six years, selling and supporting TOMRA equipment to material recovery facilities and recycling operations. Most recently, he worked for a renewable energy company whose primary business was converting waste and biomass to energy.
"TOMRA is a role model for the Circular Economy. When I sold TOMRA equipment with my previous employer, it was my favorite solution because of its versatility and impact on the sorting circuit," says Doyle. "I'm excited to work for a company that brings about a positive change for the environment and ushers in more sustainability to the market. Waste and organic materials are primary contributors to the Greenhouse Effect, and I look forward to providing the industry with TOMRA sorting solutions to efficiently and profitably increase the recovery of these materials."

Doyle works from his field-based office in Los Angeles. He can be reached at 916-215-9215 or [email protected]
Related Articles
Traditionally, waste management companies have operated using a simple "management of waste" approach to operating a MRF. Throughput targets and continuous operation (minimal downtime) were the main driving forces. The industry has changed however, and the focus moving forward is now on optimizing system performance and reliability, in conjunction with increasing recycling rates and a drive for a "greener" and more sustainable tomorrow.
When considering the addition of, or upgrade to, an "intelligent" MRF, for municipalities or private operators, the main factors should always be the client's (operator) current requirements, and evolving market needs, which include throughput, reliability, output quality, and adaptability. Equally important is a full understanding of what is really expected from any proposed system. Having an engaged and focused mindset for the project with the client from the beginning, will impact and drive the entire design process. This then impacts the overall project result, through to the productive, efficient, ongoing operation of the facility itself.