Electronic Recycling Association donates over 500 refurbished IT devices to 27 organizations
For GivingTuesday, $180,000 worth of technology is to be donated Canada-wide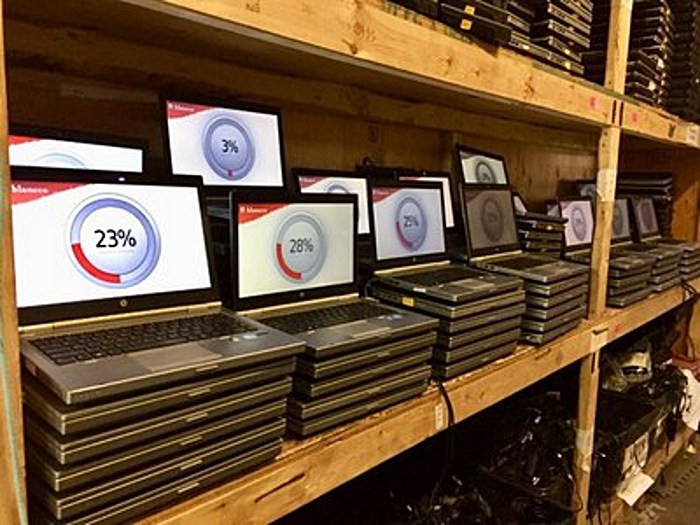 The Toronto-based Electronic Recycling Association (ERA) has confirmed donation of over 500 laptops, computers, printers and cell phones to individuals in need, as of GivingTuesday, which takes place following U.S. Thanksgiving - this year on Tuesday, November 27. Every year this non-profit event aims to donate more equipment than the last. This year they have succeeded with their donations totalling 547 IT devices, a 50% increase from 2017.

The ERA has teamed up with advocates looking to pursue change within the community. Shell Canada, PrinterWorks West Inc. and Alberta's Promise worked in conjunction with ERA to assist with this donation. Twenty Seven do-gooder organizations Canada wide will receive a donation of technology in areas such as Vancouver, Fort St. John, Calgary, Edmonton, Saskatoon, Winnipeg, Toronto and Montreal.
"We are ecstatic to work with members of the community who care about our environment and the wellbeing of others. Every year for GivingTuesday our team at ERA try to outdo themselves by donating that little bit more than the previous year," says Bojan Paduh, President at the ERA. "This year we dramatically increased the quantity of equipment being donated, which is outstanding. This could not have been possible if it was not for our dedicated partners, we thank you."
According to a statement from Shell Canada, "This initiative is one of the ways that Shell Canada contributes to well-being and sustainability of local communities. Shell works with ERA to identify those communities and organizations where the need is the greatest, to enable access to resources that build and strengthen the capacity of schools, service organizations and Indigenous communities. Repurposing these items means extending the useful life of the product or device, less electronic waste, and the opportunity to make a difference in someone's life."
GivingTuesday is a global movement for giving and volunteering, taking place each year, after Black Friday. The "Opening day of the giving season" is a time when charities, companies and individuals join together and rally for favourite causes. In the same way that retailers take part in Black Friday, the giving community comes together for GivingTuesday.
More from Electronics Recycling
Single-Ram and II-Ram High-Capacity Balers
At Machinex, we've been designing sorting systems for over 35 years, so we know how essential it is for MRF operators to have a baler they can trust and not worry about its operational reliability. This is why we design and manufacture reliable single-ram and II-ram high-capacity balers to specifically help optimize their operations.
Watch the video of our expert who presents the main features of Machinex balers delivering these important benefits:
Easy & accessible maintenance
Reduced maintenance & bale handling costs
Energy savings
Optimal bale density
For C&D recyclers, waste haulers, demolition contractors and landfills, there is a growing opportunity to profit from rethinking processes. Although every operation is different, by streamlining the front end of the C&D operation processes with purpose-built technologies, recyclers can tap into new end markets, accommodate higher material volumes, stay ahead of regulatory restrictions, increase recovery rates and add commodity revenue, while decreasing labor and other costs.
Download the new eBook to learn about:
Finding opportunities in the alternative to landfilling C&D
How facilities can increase their profits from C&D
Using the right C&D processing technology in the right locations