Mountain Tarp rounds out full line with addition of new ESR2000 Electric Side-to-Side Lock and Roll Tarping System
ESR2000 tarp designed for durability, cold weather performance, versatility and convenient installation and repair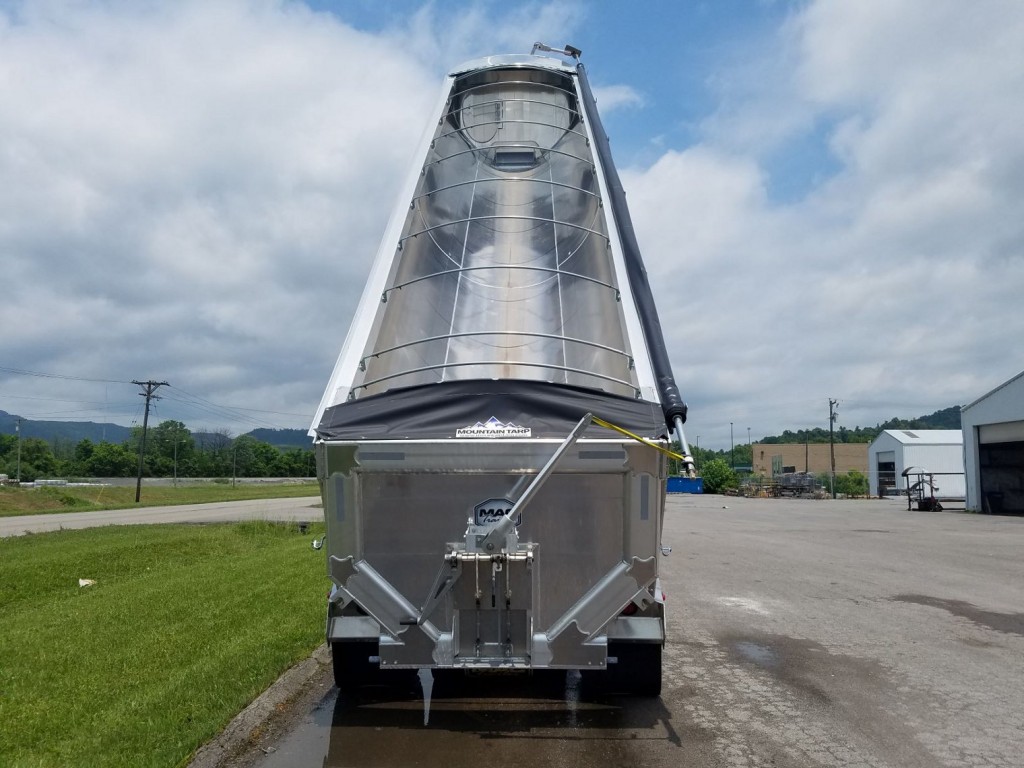 Mountain Tarp, a Wastequip brand, has recently expanded its tarp line to include the ESR2000, an electric side-to-side lock and roll tarping system. Mountain Tarp is the leading manufacturer of flip tarp systems for dump bodies for paving and construction as well cable style systems, side roll and side flip systems for waste, landscaping, agriculture and scrap applications.
Designed with durability, safety and ease-of-use in mind, the waterproof ESR2000 kit features a heavy-duty electric motor, one button open and close controls and a reinforced aluminum front arm with spring assembly. Available in direct drive or chain drive motor assembly, it is ideal for use in grain hauling applications, but permits haulers to use one tarp for a variety of applications, from agriculture to coal and coal ash to rocks, construction materials, as well as scrap and recycling, affording them the opportunity to maximize load types and increase revenues on return trips.
With options including a flex base assembly or rear arms for additional stability in high wind areas, as well as a remote control, the ESR2000 comes with a more powerful engine than competing tarp brands, and, because of its use of synthetic oil, boasts much better performance in cold weather areas.
Convenience is also paramount in the ESR2000. The tarp is easily installed in significantly less time than competing kits, and its simple design, with fewer mechanisms and straightforward OEM or aftermarket installation processes allows even a novice to install the system in less than four hours. In the unlikely event of a needed repair or part replacement, the ESR2000's arms, springs and component parts are compatible with any type of side-mount spring system, allowing users to stock fewer replacement parts, saving them time and money. Its component-based design also means that, users can replace parts rather than a full arm. The standard motor slide coupler enables users to disengage the motor to manually roll the tarp over using a hand crank if the electrical power is unavailable or the system fails in the field.
In addition to its readily available parts and simple installation process, the ESR2000 is easily serviced at any of Mountain Tarps' multiple service facilities, based in Houston, Akron, Cincinnati and eastern and southern Kentucky. Mt. Tarp is also the only tarps manufacturer to do on-site repairs. Using its mobile repair trucks, Mountain Tarp technicians will travel to customers to complete a repair, within a 250-mile radius of each service center, making it easier for farmers and other more remotely located users to get service quickly and easily, saving time and money and dramatically increasing truck uptime.
"Although Mountain Tarp has long been a leader in the tarp industry, we did not have a solid electric option for side-to-side and grain hauling applications until now," said Chris Nicolazzo, general manager for Mountain Tarp. "With the addition of the ESR2000, we now not only have the most complete line of tarps available on the market today but have entered the grain market with a top-notch product, offering key advantages over competing tarp systems and kits, in terms of durability, cold weather performance, versatility and convenient installation and repair. We expect great demand for this product."

The ESR2000 has been cycle tested for more than 3,500 open/closes in normal and high-torque applications and was field tested by different haulers for several months to ensure successful performance. It comes standard with a one-year all inclusive warranty and a three-year non-prorated motor warranty. It is available now through OEMs, dealers and Mountain Tarp direct sales.