​TOMRA to recruit up to 2000 new employees globally, based on growing markets for recyclables collection and sorting
Recruitment drive linked to significant predicted market growth in reverse vending and sorting technologies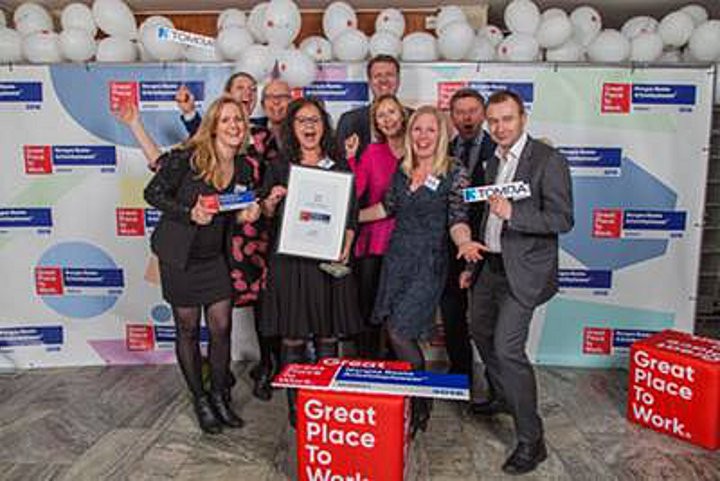 TOMRA is preparing for unprecedented predicted growth by hiring 1000-2000 new employees globally over a five-year period, with positions spread across both TOMRA Collection Solutions and TOMRA Sorting Solutions. According to the Norway-based company, with 1.4 trillion drink containers produced every year and many ending up in oceans, streets and landfills, global demand for recycling is growing.
"The market is changing, and we are continually seeing more countries implementing container deposit schemes at a rate never seen before," said Harald Henriksen, Head of TOMRA Collection Solutions (TCS), the division of the company working with reverse vending solutions for container deposit return systems. "We have enormous potential to secure a more sustainable world for future generations. We have a big job ahead of us and therefore need to grow our workforce."
GROWING DEMAND FOR RECYCLING GLOBALLY
In May 2018 the European Commission proposed new EU-wide rules where member states will be obliged to collect 90% of single-use plastic drinks bottles by 2025, with container deposit schemes a means suggested for achieving this. In December 2017, the UN also called for container deposit schemes in a resolution to slow the alarming growth in marine pollution.
The EU and UN are only two recent directives to address the rapidly increasing levels of plastic litter on land and in our oceans. Scotland is implementing its own deposit return scheme and England has also given the green light.
"We are at a point where our niche industry is beginning to grow," said Aleksander Mortensen, Head of TCS Digital. "This is the primary reason for our global recruitment drive. The world is waking up to the fact that we have a huge plastic problem and we need to be far more efficient in the way we recycle. Container deposit schemes are recognized as one of the only ways of achieving these high targets."

Of the 110,000 reverse vending machines worldwide, 82,000 are TOMRA machines. These are currently spread over 60 markets, with the number of countries launching their own container deposit systems set to rise.
"TOMRA needs to be prepared for this strong growth in order to maintain our market share, which is why we are looking for talented employees with the ability to think in a face-paced, dynamic industry," commented Githa Trapnes, Director of HR at TOMRA. "The people at TOMRA are our most valuable asset and the key to securing our position in an expanding market. Our employees are the reason TOMRA continues to be the market leader in technological innovation."
The new positions in TOMRA Collection Solutions will span many different fields, including marketing and communication, research and development, product management, technical product management, product experts, key accounts, project management, service technicians, operations, sales, business development, finance, HR and IT.
50,000 of TOMRA's reverse vending installations worldwide are connected. TOMRA seeks to leverage the real-time data received from these machines to extend and develop value-added packages such as enhanced customer service, and a more exciting recycling experience for end users.
"We are looking at new payment solutions and integration with retail chains, so we need people who will work to improve the recycling experience and usability for our customers," added Mortensen.
Up to 50 of the new positions will be at TOMRA's HQ in Norway; however, hundreds will also be recruited in in TCS's established markets (like the US), emerging markets (such as Australia and United Kingdom), as well as potential new markets globally.
"The plastic problem has attracted a lot of attention in recent years. The oceans are filled with plastic and this has become more and more visible, engaging and inspiring people to make change happen. Deposit return systems are one of the best ways to prevent the flow of plastic in our oceans," Mortensen concluded.
Founded in 1972, TOMRA is the preferred partner for reverse vending solutions for collecting, reusing and recycling cans and bottles. The TOMRA system has the machines, digital solutions and service to make recycling easy for the industry, system owners, retailers and consumers. With over 82,000 installations across more than 60 markets, TOMRA's reverse vending machines capture 35 billion used beverage containers every year - reducing reliance on raw materials and ensuring fewer containers end up in landfills, oceans and streets.
TOMRA Collection Solutions is part of the TOMRA Group, which creates sensor-based solutions for optimal resource productivity, and has a vision to lead the Resource Revolution. The Group employs approximately 3,550 people globally and is publicly listed on the Oslo Stock Exchange.