Hyundai introduces guarding package for HL960HD wheel loader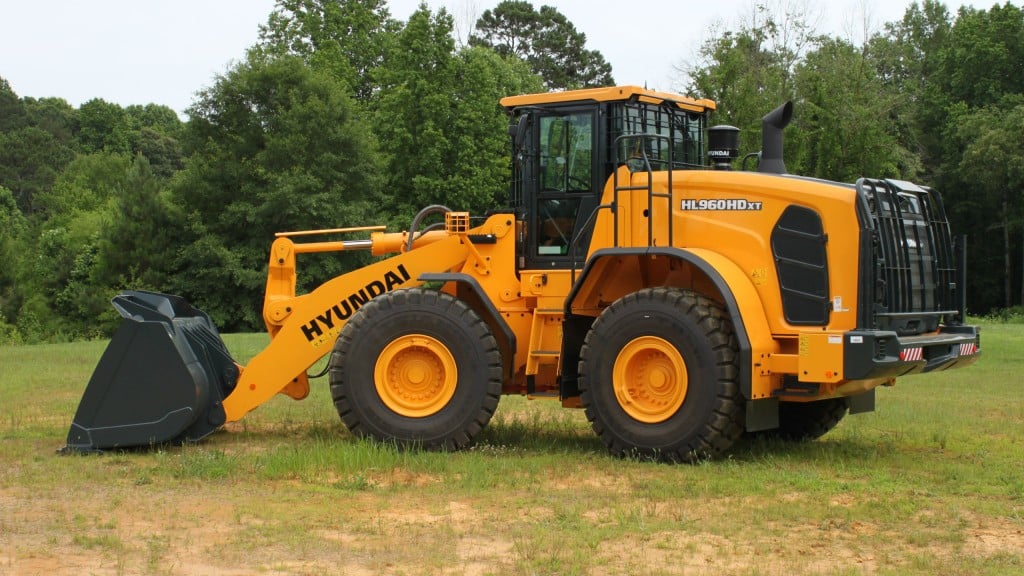 Hyundai Construction Equipment Americas has announced the availability of a guarding package for its HL960HD wheel loader. Developed to protect the machine from jobsite hazards found in various wheel loader applications, the guarding package for the HL960HD wheel loader helps ensure the operational integrity of key systems and components.
Hinged steel front and rear cabin guards protect glass from damage, while enabling quick access to the windows for cleaning and maintenance. A radiator grille guard protects against hazards such as debris, falling objects and collisions with stationary or moving objects, but also provides quick access to the cooling system and engine compartment. Guards for exterior lights, the bucket cylinder, axle seals, attachment hoses, engine belly and front-chassis undercarriage complete the package.
The Hyundai HL960HD wheel loader is a heavy-duty version of the standard HL960 wheel loader. It features as standard equipment a heavy-duty axle configuration plus front and rear axle-oil coolers. The HL960HD is well suited for the tough demands of niche applications such as logging, scrap handling, waste/refuse, and oil and gas pipe handling, in addition to traditional applications when extreme working conditions justify the machine's heavy-duty design features.

"The Hyundai HL960HD wheel loader meets the growing need in a variety of markets for a machine that can stand up to the harshest operating conditions," said Chad Parker, senior product specialist and sales trainer, Hyundai Construction Equipment Americas. "For heavy-duty work, the HL960HD provides a performance edge over competitive 4- to 4.7-cu yd wheel loaders, thanks to larger capacity axles, dual axle-oil coolers and the available guarding package."
Parker added, "We expect most customers will choose to outfit the HL960HD with the guarding package, knowing that the machine will see duty in hazardous environments."
For maximum performance and fuel efficiency, the HL960HD wheel loader is powered by a Tier 4 Final Cummins QSB 6.7 engine, producing 222 net hp (166 kW) and 1,070 lb-ft of torque at 1,500 rpm. This compares to the tuning of the same engine on the standard HL960 model that delivers 770 lb-ft of torque. Equipped with a standard 4.3 yd3 (3.3 m3) bucket, the HL960HD wheel loader has a standard operating weight of 44,092 lb (20,000 kg) and a rated tipping load of 31,691lb (14,375 kg).
An extended reach version is available, designated as HL960HDXT, featuring longer lift arms that provide approximately 16 inches (406 mm) of additional dump height and reach.
Both model versions' drivetrains feature heavy-duty ZF axles and transmissions, including standard hydraulic auto-locking front differentials and available limited-slip rear differentials. Compared to the standard version of the HL960 wheel loader, the HL960HD has 26 percent higher front axle dynamic load capacity and 19 percent higher rear axle dynamic load capacity. Solid tires are available for the HL960HD as a dealer-installed option.
The HL960HD includes all the standard features - built into every HL900 series wheel loader -that combine to provide customers with an edge in performance, convenience, serviceability and safety, Parker noted.