Komptech to have major presence at U.S. Composting Council show
Company showing more machines than ever before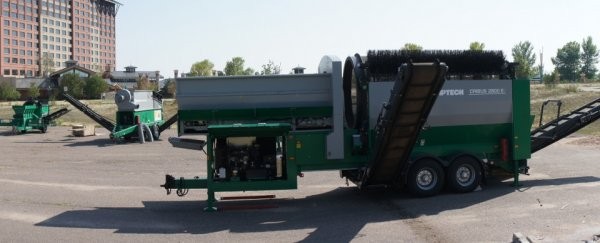 Komptech USA is again a sponsor of the US Composting Council Annual Conference and Tradeshow in Orlando, Florida, from Jan. 28-31. This year, the company is demonstrating six machines, including two that have never before been shown at an exhibition in the US.
The Stonefex is an all-new machine developed by Komptech to get rocks out of wood waste. It uses a patented dual pressure and suction airflow to remove up to 90 percent of stones and other inert material. In Orlando it will be demonstrated to the public for the first time. The Joker is another first-time demonstrator, although the machine itself has been on the market for a while, and offers an interesting entry-level trommel screening option. At the other end of the scale, Komptech will also bring its large Cribus hybrid-power trommel to the USCC.
The other machines on hand will be the Crambo, a low-speed shredder that is one of the company's best sellers, along with the very high-throughput Multistar L3 star screen. Last but definitely not least at a composting conference is the Topturn X53 windrow turner.
Todd Dunderdale of Komptech USA said, "Naturally we want to show off our newest machines, but we also want to make sure we have something for everyone who will be at the USCC, from the small composter and landscaper to the large-scale operator. This will be a great opportunity for all of our customers to see a sampling of our product range."