Paris site furnishings introduces ​RC Series recycling containers and Inox receptacles
Latest waste containers can be customized to suit the material stream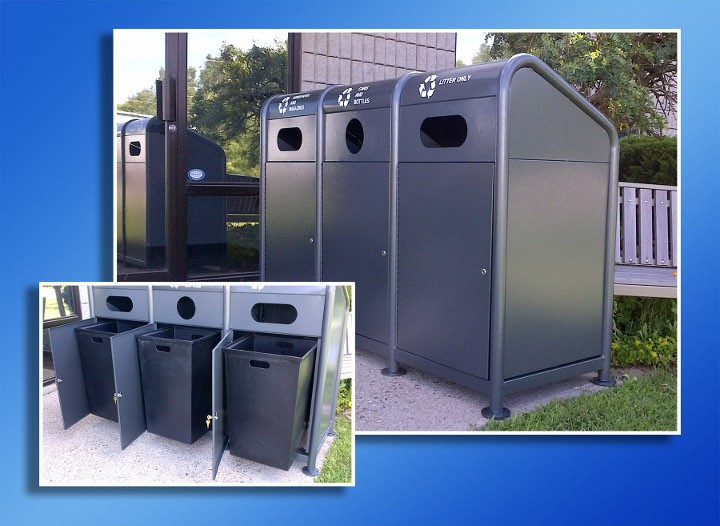 Princeton, Ontario based Paris Site Furnishings has introduced RC series recycling containers as well as Inox litter and recycling receptacles.
The new RC Series can be customized with openings and graphics to match the contents collected. Available as 1, 2 or 3-unit recycling stations, these 34-gallon per stream containers feature durable plastic liners to collect discarded materials. Secure front access door panels provide easy access to the collection bin for servicing. Manufactured of HSS tubing and Pre-Galvanized sheet metal which can be powder coated in a variety of standard colors or custom colors to match existing color schemes, these durable units are well suited for high-traffic areas indoors or outside. They are ideal for collection of recycling streams in parks and recreational areas, streetscapes, public areas, corporate campus settings, retail/mall environments, schools and institutions, sports venues, hotels/motels, and other environmentally friendly areas.
Inox Litter and Recycling Receptacles
Paris Site Furnishings' new Inox litter receptacles and recycling containers (shown above) are constructed of stainless steel and Ipe hardwood. These 32-gallon waste containers feature warm, contemporary styling with robust, construction for years of trouble-free service. Designed to be both rugged and stylish, units are available as single, stand-alone units or as tandem models that are ideal for use as waste and recycling receptacles. They are well suited for outdoor usage, and include built in-anchor holes for secure mounting to a solid surface like concrete. They are ideal for parks and recreational areas, streetscapes, green spaces, schools, universities, sports arenas and public places, transit facilities, restaurants, hotels and other hospitality industry venues, or wherever durable, stylish waste collection is desired.
Inox litter receptacles are ideal for stand-alone waste or recycling collection, or can be paired with other Inox series site furnishings including 6-foot backed or backless benches, bike racks, planters, and more (what does the entire lineup include?).
All Paris containers are manufactured in Princeton, Ontario and available factory direct or through distributors and dealers throughout North America.
Paris Site Furnishings and Outdoor Fitness manufactures a broad range of aesthetically pleasing, comfortable, functional and durable site furnishings, including benches, waste and recycling receptacles, picnic tables, shade structures, planters, bollards, and bike racks, are available in varied materials including steel, hardwood, aluminum, and recycled plastic. In addition to standard products and designs, custom designs are available to suit any need.
Company info
Related products