Keestrack crusher makes electrifying U.K. debut at Hillhead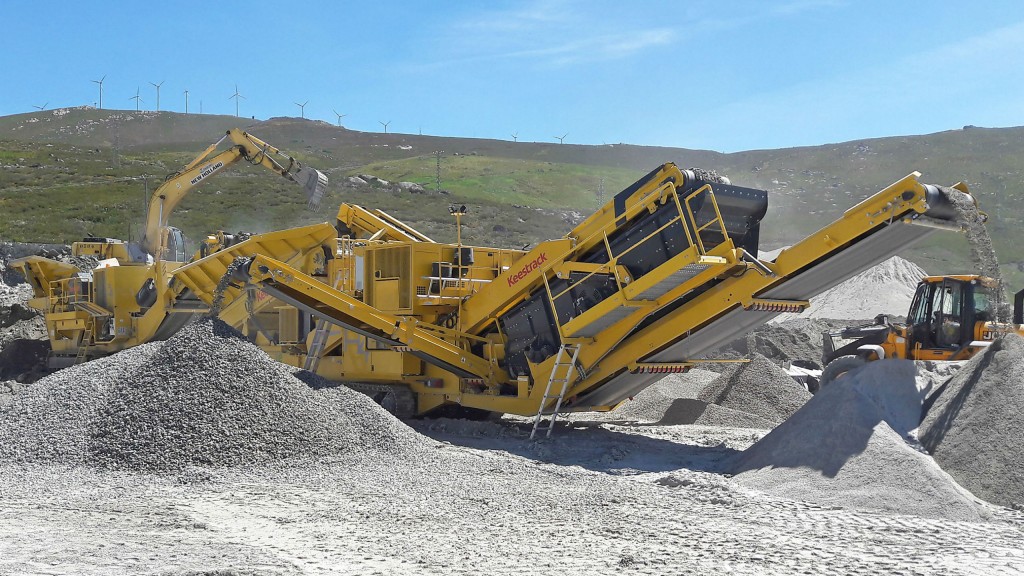 Keestrack, the international specialist for mobile processing, presented the revolutionary mobile cone crusher Keestrack H4e at Hillhead 2018. Making its UK debut, the highly compact plant with optional integrated pre-screen and 3-deck hanging screen has been displayed as fully hybrid electric version, offering important energy savings in productive secondary or tertiary crushing.
"We were really impressed by the large international attendance at this year's show," says Michael Brookshaw, Keestrack's Global Distributor Manager. "We met numerous expert visitors from all over Europe and our overseas market regions as both Americas and Asia, all of them acknowledging our global approach in supplying the highest standards in productive mobile crushing and screening." Today, Keestrack's range for quarrying and recycling applications includes over 20 different models, offering production rates from 200 up to 1200 tph. Almost all models are available in diesel-electric or full-electric options.
On the stand, the fully hybrid cone crusher H4e highlighted Keestrack's philosophy of most flexible mobility with consequent productivity. Still unique on the market with its optional 3-deck hanging screen, the fully equipped plant weighs only 46 tonnes (without options: 35 t), offering easy one-piece road transport and fast relocation on site.
For flexible autonomous operation, the Keestrack H4e is equipped with an on-board diesel engine (345 kW (EU-IV) / 328 kW fixed speed (EU-IIIA). The engine drives a 330 kVa alternator, providing power to the 132 kW electric motor of the crusher drive and to the separate 45-kW E-motor/pump unit for all hydraulic drives on the plant (tracks/fans/screens/hydraulic cylinders). Without starting the diesel, this setup enables the plant to operate fully "plug-in" from mains or external gen set, resulting in energy cost savings up to 70% compared to conventional diesel-hydraulic plants. As an option, the H4e diesel/alternator combination is available as detachable drop-off unit. Remotely positioned during operation this reduces dust and vibration loads for the drive unit.
The Keestrack H4e features the KT-H4 cone crusher, adapted and supplied by a world-leading cone specialist. The fully automated unit produces up to 250 tph at maximum feed sizes of 185 mm. The wide variety of concaves allows a high flexibility in secondary or tertiary production of highly defined end fractions. To optimize production the plant can be optionally equipped with a pre-screen with fines chute and with a highly efficient three-deck secondary screen module with recycling conveyor for closed-circuit processing. The large dimensioning of the hanging screen (eff. area: 3 x 5.4 m²) and large stockpiling capacities of the conveyors prevent bottle-neck effects in producing up to four highly defined quality end fractions.
Company info
Related products