Polaris 2800 one-step shredder key for Wheeldon Brothers UK solid recovered fuel operation
Powerful yet energy-efficient 50mm shredding solution provides solution for Manchester-based waste management company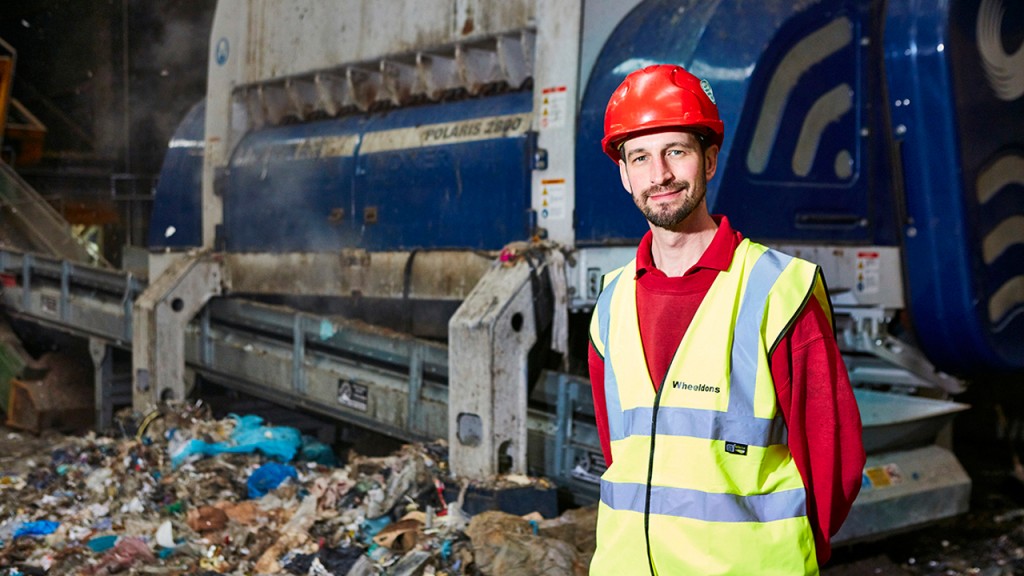 'If you don't recycle, we do it for you' is the motto of Wheeldon Brothers Ltd. This waste management company in Manchester/UK produces solid recovered fuels too. This is where a particular shredder with high output comes in: the Polaris 2800 one-step shredder from Lindner-Recyclingtech. 'There is no better and more efficient machine for one-step shredding,' says Wheeldon.

In Manchester, one of the UK's strongest local economies, the waste management sector is developing very dynamically. In 2009, for example, the local Greater Manchester Waste Disposal Authority initiated a £640 million investment programme to extensively modernise waste management in the Greater Manchester area by 2015: the creation and expansion of collection and disposal structures as well as recycling capacities - which also created new jobs. Nine years ago there were 25 recycling centres; today there are more than 40 materials and thermal recovery facilities in operation, including five new mechanical biological waste treatment plants (MBT) generating energy (combined heat and power). 'Waste to Energy' has become an important industry and market in the UK.
From A to Z - the company's philosophy in a nutshell
Wheeldon Brothers Waste Ltd., which has sites in Bury (headquarters), Oldham, Failsworth and Ramsbottom, is a leading local waste management company. The business also specialises in the disposal of hazardous waste in the Greater Manchester area. Almost all material collected by the municipal authorities is recycled: plastics, glass, paper, wood, bulky waste, tyres, computers, televisions, flat screens, e-waste, electrical goods (refrigerators, dishwashers and washing machines, dryers, etc.), oils and other liquids and, last but not least, metals from A for aluminium to Z for zinc.
'Recycling takes priority,' says Managing Director James Wheeldon, summarising the company's philosophy, which is committed to climate, environmental and resource protection. 'Our recycling rate is over 90 percent. Only materials that really cannot be recycled, or where recycling would entail a high loss of quality, i.e. downcycling, are turned into solid recovered fuel.' The SRF business has grown in recent years. At the Ramsbottom site Wheeldon operates a modern waste-to-energy plant. Waste for SRF production travels through picking lines at the Bury, Oldham and Failsworth materials recycling facilities, where dry recyclable products, i.e. card, paper, wood, plastics, metal, etc., are removed.
50 millimetres - and expectations more than satisfied
What the waste-to-energy plant in Ramsbottom lacked was a powerful yet energy-efficient 50mm shredding solution. Different competitor machines in comparison could not satisfy this criterion. Contacting Lindner was the key to success in the search for the perfect shredder for SRF production. The new Polaris 2800 one-step, stationary shredder replaced two other shredders in the plant and immediately satisfied the Wheeldon Brothers' requirements.
James Wheeldon is more than satisfied with the machine and has also had the best experience with Lindner in terms of operability, troubleshooting, maintenance, service and technical support: 'The machine shreds all feed material in just one pass. We save ourselves the secondary shredding and therefore reduce effort and costs. The Polaris 2800 works very reliably and economically and we achieve more homogeneous materials as a result. Lindner exceeded our expectations', the Managing Director adds.
Convenient feeding of the Polaris 2800 with the wheel loader © Lindner
One shredder for everything - investing in the future
The Polaris 2800 one-step shredder from Lindner easily handles 20 tonnes of material per hour at Wheeldon Brothers. James Wheeldon was particularly impressed by the hydraulic maintenance door for quick and easy removal of non-shreddables. The shredder only stops for a few minutes while this is done. Downstream over-belt magnets then separate the remaining ferrous and non-ferrous metal parts in the throughput, which are ultimately sent for mechanical recycling. The end product is medium-calorific SRF that Wheeldon mainly sells to cement works, where it is used for energy generation.
One-step shredding - one machine for everything: thanks to the countershaft drive and newly developed cutting system, there is no need for secondary shredding - high throughput combined with low energy consumption, resistance to non-shreddables and, like all shredders from Lindner, robust design: James Wheeldon invested in the future of his waste disposal company with the Polaris 2800 from Lindner. 'There is no better and more cost-efficient machine for one-step shredding,' says the Managing Director of Wheeldon Brothers Ltd. in Manchester.

Related products