Calgary's ECCO Recycling successfully integrates commercial single-stream processing into existing C&D MRF footprint
With a new system from Sparta Manufacturing, ECCO has adapted to changing material stream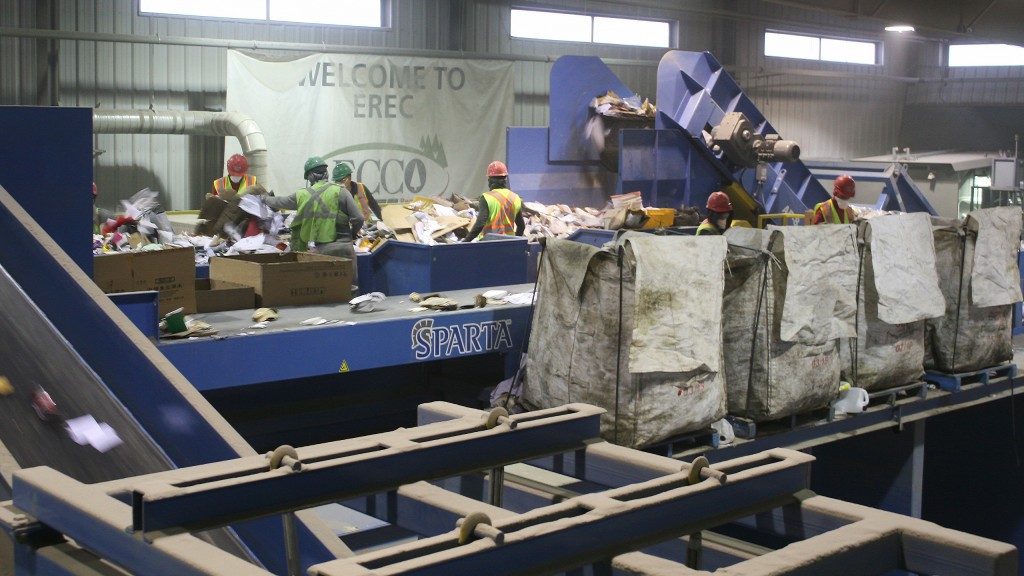 When Calgary-based ECCO Recycling decided to grow its business, it did so by taking on the processing of single stream materials - mixed plastics, paper, OCC, metals, and other materials - from both residential and commercial sources. What made that effort more challenging than most, however, was the decision to add their single-stream processing capability within their existing, high production C&D MRF footprint.
Thanks to a combination of good planning, open communication, skilled craftsmen and solid equipment performance, what seemed at first impossible became suddenly doable. As a result, ECCO Recycling has augmented its 100,000 tons per year of C&D material with a solid 16,000 tons of single stream material and is eyeing substantial future growth.
Roots in Landfills
Having recently. celebrated its 25th year in business, ECCO Recycling's origins belie what it is today. According to Bryan McCulloch, ECCO's manager of corporate development, little of what the company does today can be traced back to its roots.
"The partners who started the company worked for a major environmental engineering firm," he said. "At one point, the City of Calgary announced the closure of a landfill located directly alongside our current location. So the partners proposed handling the closure of the old site, then starting up and managing a new Class-3 landfill. That was the start of ECCO Recycling and because the main material coming into the new site was wood - encouraged by a greatly reduced tipping fee - that became our first recycling operation."
As the stream of wood grew, ECCO began hand-separating some of the better mixed loads and grinding it on the landfill face, initially finding a market for the ground material as animal bedding. "That grew rapidly," said McCulloch. "Soon afterward, we purchased a colourizing machine and a bagger and started selling coloured mulch for big-box store sales - it really grew quickly."
Evolutionary Moves
ECCO's next transition - from landfill-based wood recycler to C&D MRF operator - was the result of a contract with a major cement manufacturer to initiate a waste-to-energy program to supply fuel for their kiln. That all changed very quickly however, said McCulloch. "Shortly after we started generating the fuel product, the cement manufacturer decided to improve on the design of its kiln and locate the recycling system alongside it - a move that was projected to take years. So we reacted to that move by switching our fuel plant to a MRF that was functional, but somewhat limited in scope."
With their MRF operational, ECCO began to see a dramatic increase in the volumes of plastics and old corrugated cardboard (OCC) coming into its facility, which was well equipped for wood and other C&D material - but not equipped to deal with residential stream material in large quantities. It became obvious that a redesign of the MRF was needed.
"Not only did we need to add some capabilities to our existing system, we needed to do so within the confines of an already-crowded facility," said McCulloch. "Sparta Manufacturing had been helpful and had good ideas in the past when we were looking to make some system upgrades. So we reached out to them and began discussions to design a single-stream system alongside (but completely separate from) our C&D line.
"We explained the need to get it done quickly, to do so with minimal disruptions to the operation and, most importantly, to make it fit in our existing footprint. Despite all those demands - or maybe because of the challenges - they took the job."
Small Space. Big Demands
Though ECCO had a total floor area of more than 500,000 square feet, much of that area was already taken by the existing C&D line, wood grinding operation, tip areas for a variety of materials, baling operation and bale storage.
"The challenge of adding a single-stream processing system within its existing MRF was primarily one of how to best utilize the available space," according to Howard Fiedler, Sparta's vice president of sales. "Teams from both ECCO and our group worked closely to optimize every inch of available space to this single-stream operation. Sparta is a heavily engineering-oriented company, and as such, enjoys the challenge of optimizing limited space in its system design. While the equipment combination and process flow were generally clear, the way in which to best achieve their goals without compromising ECCO's existing recycling operation took the art of planning and open communication to another level."
During the design phase, 30 to 40 different iterations of the single sort recycling (SSR) line were proposed. In most cases, said McCulloch, they would immediately call Sparta, telling them they needed to see a revision as quickly as possible.
"Sparta would send us a rendering of the change, created in a CAD-based solids 3D modelling program. We would gather around a table to look at it with them on the line and tell them what, if any, additional changes were needed," said McCulloch. "We got that same level of cooperation throughout the project; that was precisely what we were looking for in an equipment supplier."
To the Finish(ed) Line
With customers already lined up and awaiting word for when ECCO could begin accepting their material, the company needed a smooth construction of the SSR line - and got it. According to Craig Rasmussen, ECCO's operations manager, getting equipment installed efficiently was key.
"The system came to us in the exact order in which we had to set it up," Rasmussen said. "So, as each component came in, we could erect it and by the time those trucks were done, we were generally ready for the next truck to roll in. Logistically, it could not have gone any smoother.
"We had the SSR line up and running in two weekends. We did a Saturday/Sunday install, received the balance of the equipment during the week and by the end of that second weekend we were done and making adjustments."
The Trash Odyssey
Today, ECCO customers - almost exclusively haulers bringing material from throughout Calgary and several small adjacent townships - pass through a scale house, and have their load classified according to material type. "We have a number of different price codes to incentivize customer to separate out some things," said McCulloch. "So, while our tip rate is $120, our intake for clean wood is only $30. We still do about 100,000 tons of that per year versus about 16,000 tons of the single-sort."
Materials are dumped on to the tipping floor where each truckload goes through a pre-processing step to remove anything which could be deemed unrecoverable or hazardous. It is then taken by loader to be stockpiled and loaded into the hopper at the start of the SSR line.
"If we have a load that is extremely clean - OCC or plastics, for example - we can send it up a separate feed conveyor system to bypass the SSR and be baled directly," said McCulloch. "However, the majority of mixed material gets loaded in the hopper of our 72-inch-wide combo belt feed conveyor, runs under a metering drum to help level the flow, and heads onto the pre-sort line. There, workers on our three-bay pre-sort line manually remove trash (including plastic film), rigid plastics and metals, dropping it through chutes and into bunkers beneath the line for subsequent baling or disposal of trash."
The balance of material moves on to a Sparta in-line two-deck OCC screen which removes large OCC from other smaller (9-inch minus) materials. The larger OCC is carried over the top of the unit's disc screens and onto a 72-inch wide baler feed conveyor, allowing the smaller fraction to pass through the disc openings. On either side of the baler feed conveyor is a QC/sort position which allows for visual inspection and manual removal of any large non-OCC material, thereby helping ensure the cleanliness of the OCC headed to ECCO's high production single-ram Harris baler.
Making the Grade
Material that passes through the discs of the two-deck OCC screen is collected and conveyed to a ballistic separator, which mechanically separates 2D (flat) material from 3D (shaped) material. At this point in the system, this "unders" material stream is primarily comprised of containers/cans, mixed paper and fines. The 2D fraction - mostly mixed paper - discharges off the end of the ballistic separator and onto a paper QC/sort conveyor, where contaminants can be removed, and small cardboard can be positively sorted if desired. The cleaned up mixed paper is later directly fed to the Harris baler via Sparta's main line bypass baler feed system.
The 3D fraction, mostly mixed plastics (including drink containers) and cans, rolls down the ballistic separator, and is conveyed beneath a cross-belt magnet which mechanically captures steel and tin cans, then onto a manual container sort line.
Here, ECCO has innovatively set up large space-efficient totes to temporarily store manually picked PET (water and soda bottles), HDPE (laundry detergent containers and the like), clear water and milk jugs and aluminum cans. When enough of each commodity has been collected, these 3D recyclables are baled.
Poised for Growth
ECCO is currently taking in about 200 trucks of single-stream waste from residential haulers per day but, as minor tweaks are made to the system, McCulloch feels efficiencies are certain to rise, throughputs will further increase and additional volumes can be accommodated.
"We have our eyes on additional tonnage but there comes a point at which it is not economical to transport it in from far outlying areas," said McCulloch. "So, we are looking at options such as building additional transfer stations in order to bring in more to this facility. The bottom line is, thanks to a great effort with Sparta on the new SSR, we now have the infrastructure to efficiently handle single sort recyclables. And, since we already know that we can beat out some of our competition, we are poised for growth and excited as we move forward."
Larry Trojak is a Minnesota-based writer who has created content for the
recycling, demolition, construction, wastewater and geopositioning markets.
This article was originally published in the May/June 2018 edition of Recycling Product News, Volume 26, Number 4.