Backsense radar from Brigade protects workers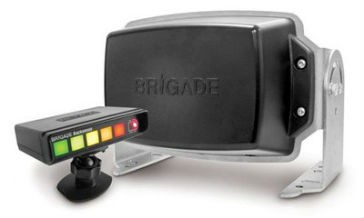 One of the most common causes of injury and death for site workers is being struck by plant machinery. In fact, site workers are two times more likely to be injured at work compared to those in other occupations. Research carried out in Europe has also found that the construction, transportation, manufacturing and agricultural trades recorded more workplace deaths in 2017 than all other industries combined.
Large vehicles and mobile plant machinery such as excavators and dumpers can be difficult to operate safely. Restricted views and multiple complex blind spots mean drivers cannot always see hazards or spot pedestrians - especially in elevated driver positions. Meanwhile, difficult working conditions, hazardous terrain and inclement weather can exacerbate the issue.
Research has shown that 40% of fatal accidents on quarry sites are caused by moving vehicles and 70% of collisions occur at low speed because of poor visibility. Technology, such as back-up camera systems, is playing a crucial role in improving safety and, whilst it isn't a new concept, the need for tailored and cost effective solutions to meet complex requirements in the industry has become more widespread.
In 2017 global leader in vehicle safety technology Brigade Electronics sought to tackle the issue. Henry Morgan, CEO at Brigade Canada, said "Safety on site is paramount and eliminating vehicle blind spots using radars is one of the most effective ways to prevent collisions. However, single radars don't always provide the detection needed and multiple radars with numerous displays are difficult to manage and distracting for drivers. We wanted to address this."
The result was Backsense Network Radar.
"It allows you to link up to eight sensors to cover all blind spots around a machine, providing object detection via CAN gateway to display data on control panels on the vehicle. Each connected radar sensor is allocated a unique ID and will transmit data for up to eight objects using Frequency Modulated Continuous Wave (FMCW), to minimise false alerts. Objects can be detected up to 30 meters away at a width of 10 meters within less than half a second, even in harsh conditions," Morgan said. "Backsense Network Radar is highly configurable and flexible, meaning safety is greatly enhanced and can be tailored to vehicles without the need for numerous monitors."
Company info
Related products
More from Occupational Health & Safety
Single-Ram and II-Ram High-Capacity Balers
At Machinex, we've been designing sorting systems for over 35 years, so we know how essential it is for MRF operators to have a baler they can trust and not worry about its operational reliability. This is why we design and manufacture reliable single-ram and II-ram high-capacity balers to specifically help optimize their operations.
Watch the video of our expert who presents the main features of Machinex balers delivering these important benefits:
Easy & accessible maintenance
Reduced maintenance & bale handling costs
Energy savings
Optimal bale density
For C&D recyclers, waste haulers, demolition contractors and landfills, there is a growing opportunity to profit from rethinking processes. Although every operation is different, by streamlining the front end of the C&D operation processes with purpose-built technologies, recyclers can tap into new end markets, accommodate higher material volumes, stay ahead of regulatory restrictions, increase recovery rates and add commodity revenue, while decreasing labor and other costs.
Download the new eBook to learn about:
Finding opportunities in the alternative to landfilling C&D
How facilities can increase their profits from C&D
Using the right C&D processing technology in the right locations