Ocean Summit sponsored by the Volvo Group spotlights the problem of plastic in the world's oceans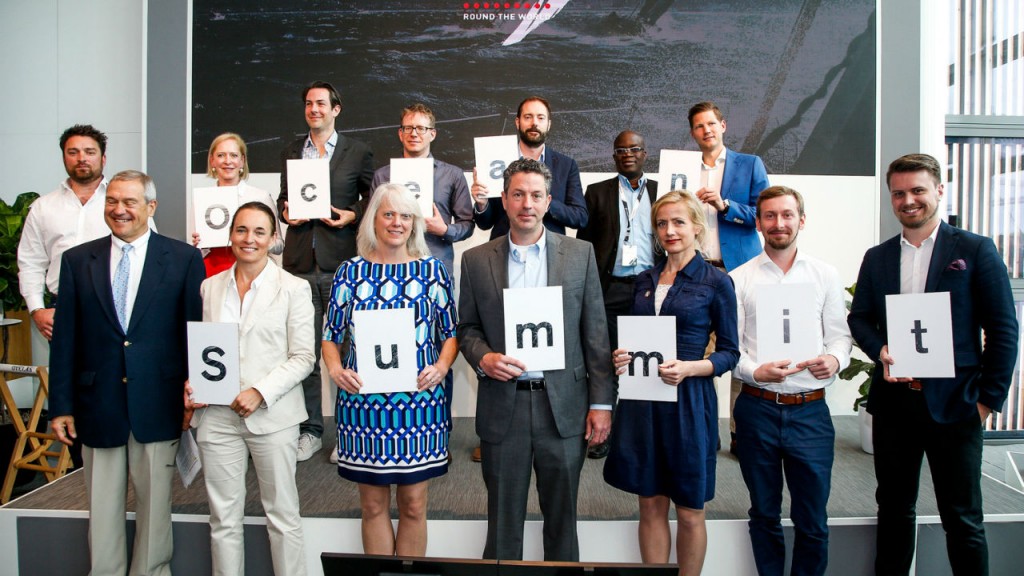 Ocean debris – particularly ocean plastic – was the focal point of the Ocean Summit sponsored by the Volvo Group. The summit took place in conjunction with the Volvo Ocean Race stopover in Newport, Rhode Island. Along with the Volvo Group, the summit was sponsored by 11th Hour Racing, the Mirpuri Foundation, AkzoNobel, the Ocean Family Foundation, Bluewater and Stena Recycling. The official partner in Newport is Sail Newport, a nonprofit organization that promotes easy and affordable access to sailing.
The summit addressed plastic pollution, including how it affects ocean health, how the Volvo Ocean Race helps scientists understand the extent of plastic pollution in the world's oceans and how governments, businesses and foundations can take action.
"The plastic we use in our daily lives has a serious impact on the health of our oceans, and we all have a responsibility to address this issue," said Henry Sténson, chairman of the Volvo Ocean Race and senior adviser to Volvo Group President and CEO Martin Lundstedt. "I am pleased that we, through the Volvo Ocean Race and these Ocean Summits, can draw attention to the problem and begin to discuss solutions."
"The ocean is vast and a very important part of the earth's system; it regulates the climate, drives the weather and provides livelihood for billions of people," said Dr. Toste Tanhua, project manager for the Volvo Ocean Race scientific program and scientist in the department of chemical oceanography for the GEOMAR Helmholtz Center for Ocean Research in Kiel. "Sailors participating in the Volvo Ocean Race are providing essential data from remote places, allowing us to better manage the ocean and its well-being while increasing scientific knowledge."
Professor Dennis Nixon, Rhode Island sea grant director for the Graduate School of Oceanography at the University of Rhode Island, opened and closed the event.
Lundstedt joined Richard Brisius, president of the Volvo Ocean Race, and Janet Coit, director of the Rhode Island Department of Environmental Management, in welcoming participants.
Summit attendees heard from U.S. Sen. Sheldon Whitehouse (D-R.I.); Professor Rashid Sumaila, director of the University of British Columbia Fisheries Center and 2017 Volvo Environment Prize Winner; Dr. Sören Gutekunst, GEOMAR; Dr. Lisa Svensson, director for Ocean, United Nations Environment Program; Wendy Schmidt, president of The Schmidt Family Foundation and co-founder of the Schmidt Ocean Institute; Jason Rolfe, Mid-Atlantic regional coordinator for the National Oceanic and Atmospheric Administration's Marine Debris Program; Lewis Perkins, president of Cradle to Cradle Products Innovation Institute; and Christopher Wahlborg, business manager, automotive, Stena Recycling.
"Direct observations of ocean variables are needed to calibrate and validate variables measured from satellites," said Gutekunst, who has been observing ocean plastic as part of the Volvo Ocean Race scientific program. "Several variables, such as microplastic and ocean carbon dioxide, cannot be measured from space. The most surprising finding was the presence of plastic particles in nearly all of our samples.
This shows how pervasive and common plastic has become in our oceans."
Newport is the only North American stopover for the Volvo Ocean Race, one of the world's most challenging team sporting events. The 2017 – 2018 edition of the race – the longest course in its history at 45,000 nautical miles – began Oct. 22, 2017, in Alicante, Spain, and will end in The Hague, Netherlands.
More from Industry News
Single-Ram and II-Ram High-Capacity Balers
At Machinex, we've been designing sorting systems for over 35 years, so we know how essential it is for MRF operators to have a baler they can trust and not worry about its operational reliability. This is why we design and manufacture reliable single-ram and II-ram high-capacity balers to specifically help optimize their operations.
Watch the video of our expert who presents the main features of Machinex balers delivering these important benefits:
Easy & accessible maintenance
Reduced maintenance & bale handling costs
Energy savings
Optimal bale density
For C&D recyclers, waste haulers, demolition contractors and landfills, there is a growing opportunity to profit from rethinking processes. Although every operation is different, by streamlining the front end of the C&D operation processes with purpose-built technologies, recyclers can tap into new end markets, accommodate higher material volumes, stay ahead of regulatory restrictions, increase recovery rates and add commodity revenue, while decreasing labor and other costs.
Download the new eBook to learn about:
Finding opportunities in the alternative to landfilling C&D
How facilities can increase their profits from C&D
Using the right C&D processing technology in the right locations