Doosan launches DL280-5 wheel loader with optional guarding package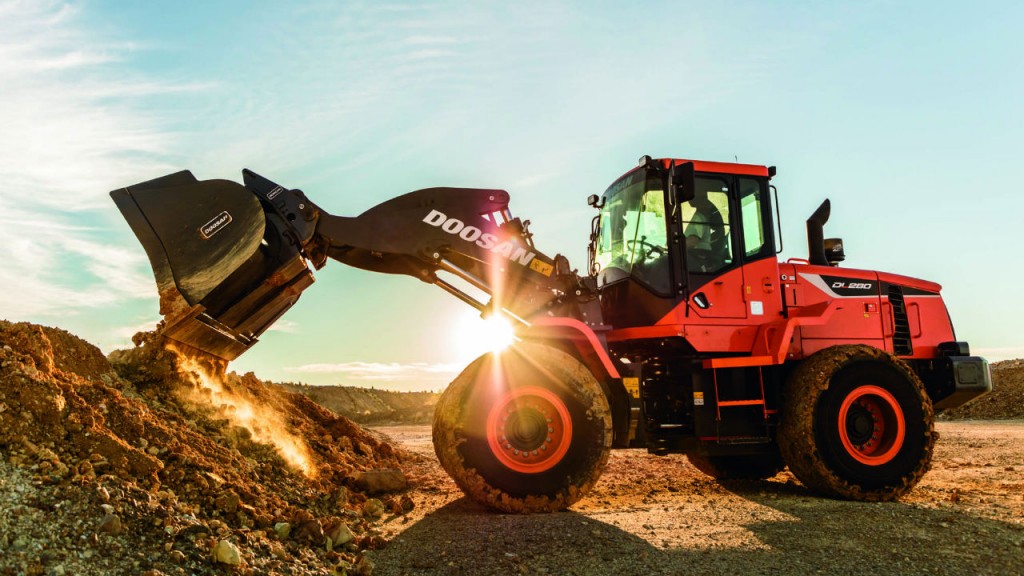 Doosan Infracore North America, LLC has extended its wheel loader lineup with the new DL280-5 wheel loader. The new DL280-5 is part of the popular category of 3- to 4-cubic-yard wheel loaders. It is designed to provide operators with enhanced performance and comfort as well as increased uptime protection when working in general construction, scrap and waste-handling applications.
The 172-horsepower DL280-5 is manufactured with a standard Z-bar lift-arm linkage and is ideal for scooping, loading, carrying and general construction tasks. Operators requiring additional dumping capabilities into trucks and hoppers will benefit from the high-lift Z-bar configuration available on the DL280-5. The high-lift iteration provides an additional 18 inches of dump height, making it especially beneficial in construction, mining and agriculture market segments.
Inside the cab, Doosan DL280-5 wheel loaders are equipped with an upgraded standard forward-neutral-reverse (FNR) joystick control/gear selector for greater comfort and productivity. The FNR functionality on the joystick is more intuitive, allowing operators to easily switch between forward, neutral and reverse without removing his or her hand from the controls simply by pressing the joystick buttons.
An exclusive feature ois its optional wide fin radiator, which has a standard six fins per inch, and is available in a package with heavy-duty axles. The wide fin radiator option provides better cooling with larger fin spacing, helping to filter out dust and debris, which can be particularly helpful in scrap, recycling and solid waste applications.
For additional machine performance in scrap and recycling applications, the DL280-5 can be equipped with heavy-duty axles. The heavy-duty axles allow owners to use solid tires to improve uptime in applications where pneumatic tires are susceptible to puncture. Owners should work with their local Doosan dealer to determine the best solid tire option for their machine.
The loader can be equipped with an optional guarding package to protect critical wheel loader components when working in harsh conditions - such as scrap processing, waste transfer stations, recycling and demolition - to help minimize machine downtime.
The dealer-installed wheel loader guarding package includes the following:
Air-intake protection filter/screen
Articulation area guards
Axle seal guards
Belly pan guards (front and rear)
Boom cylinder hose and tube guards
Bucket cylinder guards
Centre hinge guards
Drive shaft guard
Headlight and taillight guards
Heavy-duty front frame cover plate
Steer cylinder guards
Under cab guards
Valve stem guards
Windshield guards
Company info
Related products
Related Articles
Traditionally, waste management companies have operated using a simple "management of waste" approach to operating a MRF. Throughput targets and continuous operation (minimal downtime) were the main driving forces. The industry has changed however, and the focus moving forward is now on optimizing system performance and reliability, in conjunction with increasing recycling rates and a drive for a "greener" and more sustainable tomorrow.
When considering the addition of, or upgrade to, an "intelligent" MRF, for municipalities or private operators, the main factors should always be the client's (operator) current requirements, and evolving market needs, which include throughput, reliability, output quality, and adaptability. Equally important is a full understanding of what is really expected from any proposed system. Having an engaged and focused mindset for the project with the client from the beginning, will impact and drive the entire design process. This then impacts the overall project result, through to the productive, efficient, ongoing operation of the facility itself.