Caterpillar displays latest material handler, wheel loader, grapple and shears at ISRI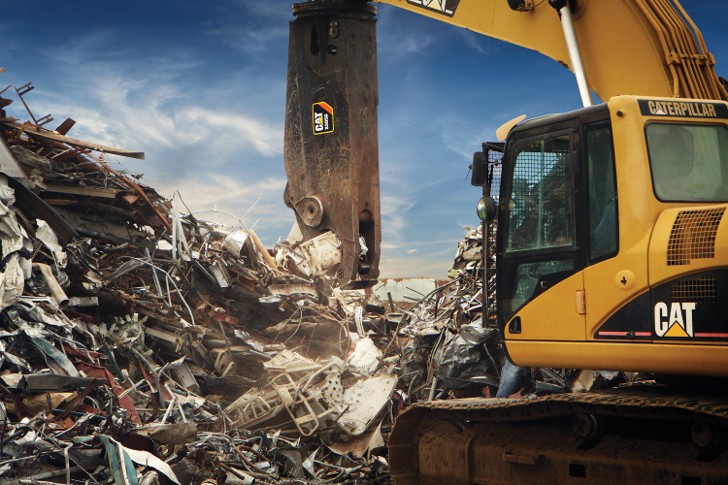 At this week's ISRI 2018 conference in Las Vegas, Caterpillar displayed their latest material handler, model MH 3026, a 966 M model wheel loader, and a model 272D (two-speed) XHP skid-steer loader, all outfitted specifically for scrap and recycling, along with the latest grapples and shears for scrap applications.
The latest range of Cat wheel material handlers (MH3022, MH3024, MH3026) maintain the Caterpillar purpose-built philosophy for these machines, while reflecting engineering refinements that tailor them more precisely to specific industrial applications. The latest improvements for 2018 models include features that support rapid return-on-investment and enhance overall performance, versatility, and safety.
The MH 3026 material handler on the ISRI show floor included several stand-out features designed for scrap recycling, including a drop-nose stick, elevating cab, auto-reverse fan with a vibrating grill, specialized machine component guarding, as well as a dedicated swing pump.
According to CAT, the design of their latest material handlers is focused on application efficiency and reduced owning costs. For example, users need not buy a machine with a wide undercarriage if materials being handled are low density, and shorter front linkages are available if the machine frequently works in confined spaces.
Cat GSH425/525 Grapples The latest Cat GSH425 and GSH525 orange peel grapples are designed with horizontal cylinders, creating a profile that allows for greater material penetration and more efficient bulk-material handling. The design enhances the strength, reliability, and durability of the new grapples, which are available in both four-tine and five-tine shell configurations, in either closed or semi-closed versions, and that feature an improved rotation function.
The GSH425 and GSH525, which replace GSH20B-Series grapples, are designed for a wide range of applications: handling shredded scrap, long structural beams, and car bodies; handling rocks at construction sites; and handling waste at recycling and transfer stations. The performance and efficiency of the new Cat grapples help waste-handling operations, in particular, meet the challenges of increased environmental regulation, growing pressures to recycle materials, and more stringent budgets.
Cat Mobile Shears
The latest Cat S2000/S3000 Series mobile shears, designed for hydraulic excavators working in scrap and demolition applications, feature optimum force-to-weight ratios that yield faster cycle times and more cuts per hour, compared with predecessor models S340B, S365C, and S385C. Built with added strength and jaw protection features, the new models can be boom or stick mounted and are available in both straight (S2050, S2070, S2090) and 360-degree rotating (S3050, S3070, S3090) configurations. The rotating feature allows the shear to be positioned in optimum cutting positions without moving the carrier.
Company info
Related products