Doosan exhibit at ISRI 2018 displaying new DX225MH-5 material handler and latest industry-specific wheel loader
New Doosan DX225MH-5 material handler features multiple performance enhancements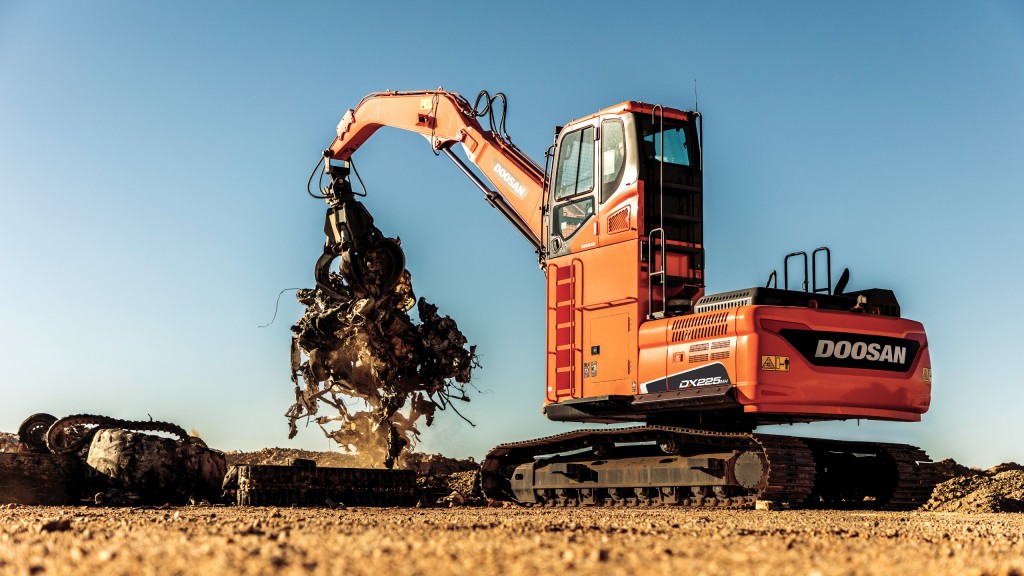 Doosan is showing two new machines at this week's ISRI 2018, in Las Vegas: the new DX225MH-5 material handler as well as the DL280-5 wheel loader. The new DL280-5 is part of the popular category of 3- to 4-cubic-yard wheel loaders, designed to provide operators with enhanced performance and comfort as well as increased uptime protection when working in general construction, scrap and waste-handling applications.
According to the company, operators who work in a variety of scrap-handling applications, including scrap yards, recycling facilities and solid waste centers and transfer stations will also appreciate the new Doosan DX225MH-5 material handler.
The durable, Tier 4-compliant DX225MH-5 material handler is designed for a long life with a sturdy steel-track undercarriage and features enhancements in fuel efficiency, versatility and productivity.
Built for material handling
Manufactured from a tested and proven Doosan excavator model, the DX225MH-5 material handler is factory fitted with cab risers for increased visibility; straight boom and droop nose arm for peak performance; and additional machine guarding for boosted uptime protection. The material handler's straight boom improves reach and lift height for better material placement. Droop nose arms provide enhanced grapple and magnet access into containers, trucks and railcars, with either a grapple or magnet attachment. Machine features such as dual-boom cylinders and under-mount arm cylinder placement provide excellent lifting capabilities for Doosan material handler operators.
Increased visibility
Operators have enhanced all-around visibility to the attachment and work area from the material handler's cab riser. The DX225MH-5 material handler has a 4-foot standard fixed cab riser with an optional 6-foot cab riser or 6.5-foot hydraulic cab riser. The cab riser allows operators to raise or lower the cab to match the specific task. Raising the cab can be beneficial when an operator is loading debris in a truck or container and wants to ensure the material is being distributed equally to maximize the space.
Product enhancements for DX225MH-5 material handlers include the following.
· Floor pedal: adds optional way for operators to activate two-way auxiliary hydraulics
· Ergonomic joystick: improves operator comfort and ease of use
· Rear camera: enhances rear visibility
· Camera monitor: allows operators to monitor machine information while camera is on
· Alternator upgrade: provides 80 amps for improved performance
· Emergency stop relocated: makes it easier for operators to reach on the seat base
· Auto shutdown: saves valuable diesel fuel when the machines are not working
Options available for DX225MH-5 material handlers include:
· V-Shape side guard: adds extra protection to the doors and exterior of the machine
· Generator set: generates power for use with a magnet attachment
Maximum attachment productivity
A 5/8-cubic-yard grapple is approved for use with the DX225MH-5 and features a semi-closed tine design for a firm grasp on most materials. The 360-degree hydraulic rotating four-tine grapple helps maximize machine versatility and productivity in material-handling applications. The tines are designed with AR400 high-strength, abrasion-resistant steel for increased durability, and the tine tips are replaceable for easier maintenance. Connecting grapples to Doosan material handlers is fast and easy with a hose kit and mount. Two-pump hydraulic flow provides power to operate the grapple.
A Winkle magnet is also approved to pick up and place smaller scrap metal. The magnet is powered by an optional generator, which energizes power to the magnet when picking up metal.
Multiple power modes
The DX225MH-5 allows operators to manage the balance of fuel consumption and machine power to working conditions with four selectable power modes, including:
· Power+ mode: delivers the fastest workgroup speeds and greater power for demanding material moving applications
· Power mode: provides exceptional power and superior performance for tough heavy- lifting, quick truck-loading and fast travel speed
· Standard power mode: enhances the machine's fuel consumption while delivering high performance in everyday lifting and moving of material
· Economy mode: helps reduce fuel consumption for low-demand applications and slows down machine movement for conditions that require more precise movements
In addition, the new DX225MH-5 material handler features a Lifting work mode. The Lifting work mode provides increased pump torque, low engine rpm and an automatic power boost to improve precision when lifting and placing materials.
DoosanCONNECT telematics
Doosan DX225MH-5 material handlers come with a standard three-year subscription to DoosanCONNECT, which allows equipment owners and fleet managers to remotely monitor machine location, hours, fuel usage, engine idle versus work time and error codes, as well as engine and hydraulic temperatures. Machines can be monitored via an online Doosan telematics account. In addition, Doosan dealers can provide improved customer support using the system by responding to machine warning messages and alerts, troubleshooting machine issues, and then sending a field service vehicle to help with repairs and deliver the proper parts.
Quick Look: DX225MH-5 material handler
Tier 4 emission compliant
Horsepower (gross): 162 hp
Operating weight: 60,848 lb.
Swing torque: 60,757 lbf.-ft.
Drawbar pull: 60,715 lbf.
Max. loading reach: 35 ft. 5 in.
Max. loading height: 40 ft.
Max. auxiliary hydraulic flow: 2 x 55 gpm
Fixed cab riser: 4 ft. standard, 6 ft. optional
Hydraulic elevating cab: 6.5 ft. optional
Company info
Related products