CDRA celebrates 25 years of C&D World, announces strategic partnership and sets record for fundraising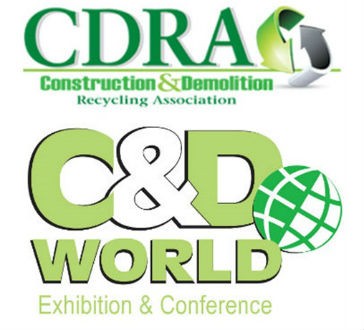 In Nashville, February 10-13, the Construction & Demolition Recycling Association (CDRA) celebrated the 25th anniversary of its signature meeting, C&D World, and announced strategic initiatives designed to guide its efforts to serve the C&D industry. The group also held a highly successful fundraiser for its issues and education fund.

During the meeting in Nashville, Troy Lautenbach, CDRA President, announced the group has retained renowned association management company Bostrom to manage the group's activities.
"The Bostrom team brings tremendous organizational, government affairs, events and resource management experience to the CDRA. By leveraging this experience CDRA will continue its growth and expand member services and value," Lautenbach said.

Bostrom has already begun its work with the association and will be collaborating with the CDRA Board of Directors to update its strategic plan. This will lead to a range of initiatives focused on driving increased awareness of the societal value construction materials and demolition debris recycling brings to communities throughout North America, as well as continued market development for reclaimed resources. Bostrom's Mik Bauer will serve as Account Manager. In this role, he is the primary liaison for CDRA. Bauer brings more than 6 years of managing professional membership associations and nonprofit organizations.

During C&D World, the association also held its annual fundraiser. The event raised nearly $63,000, a record amount, to be used to fund research, education and other initiatives aimed at advancing C&D recycling. The fund has been active since 2000, funding a number of research projects and outreach efforts supporting all facets of C&D recycling.
Company info
35 E. Wacker Dr., Suite 850
Chicago, IL Phone: 866.758.4721
Chicago, IL
US, 60601

Website:
cdrecycling.org
Phone number:
866.758.4721
Read more