​Rotochopper University attracts machine owners from across North America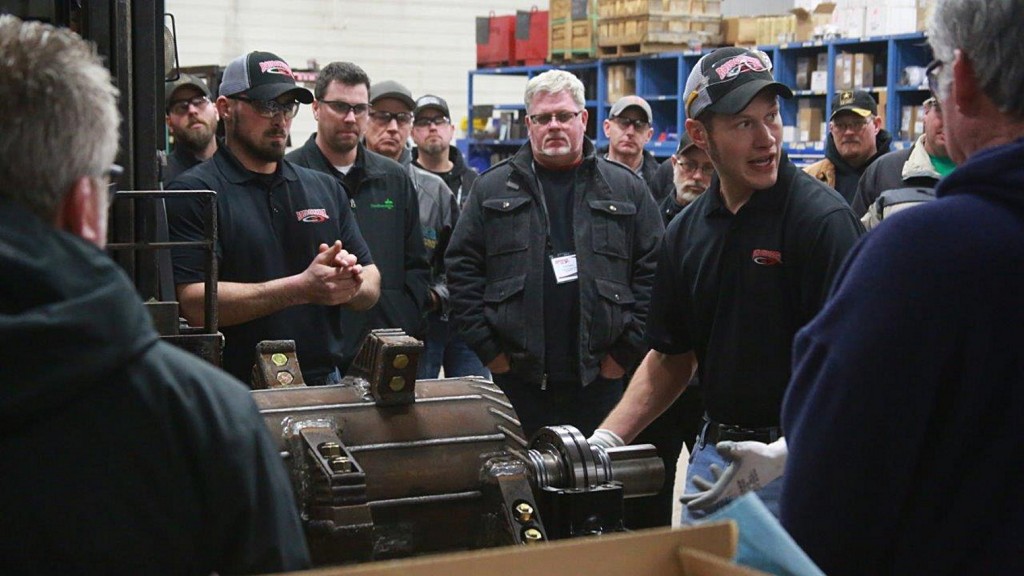 Rotochopper owners and operators gathered at Rotochopper's manufacturing facility in St. Martin, MN for training during the last two weeks of February. The customer service department hosts Rotochopper University annually for companies that have purchased Rotochopper grinders the past year.

The two-day class included a manufacturing facility tour, equipment operation best practice training, a hands-on demonstration and plenty of networking opportunities allowing machine owners to learn from each other as well. This year, the education focused on 'how to properly feed your grinder', 'how to perform preventative maintenance' and 'how to troubleshoot'. The hands-on demonstration showed attendees how to install B-Loc keyless bushings on a Rotochopper grinder.
Rotochopper offered two class options with nearly 70 students from 38 companies across the US and Canada attending.
"The training as a whole was excellent. The real-life examples used are easy to relate to and provide valuable insight in our own operation. Spike, and the customer service team, did a great job of making the class fun and enjoyable yet very informational," said Andy Kosek, Creekside Soils, Hutchinson, MN.
Headquartered in St. Martin, MN, Rotochopper manufactures industrial wood waste grinding equipment including horizontal grinders and mobile baggers.
More from C&D Recycling
Single-Ram and II-Ram High-Capacity Balers
At Machinex, we've been designing sorting systems for over 35 years, so we know how essential it is for MRF operators to have a baler they can trust and not worry about its operational reliability. This is why we design and manufacture reliable single-ram and II-ram high-capacity balers to specifically help optimize their operations.
Watch the video of our expert who presents the main features of Machinex balers delivering these important benefits:
Easy & accessible maintenance
Reduced maintenance & bale handling costs
Energy savings
Optimal bale density
For C&D recyclers, waste haulers, demolition contractors and landfills, there is a growing opportunity to profit from rethinking processes. Although every operation is different, by streamlining the front end of the C&D operation processes with purpose-built technologies, recyclers can tap into new end markets, accommodate higher material volumes, stay ahead of regulatory restrictions, increase recovery rates and add commodity revenue, while decreasing labor and other costs.
Download the new eBook to learn about:
Finding opportunities in the alternative to landfilling C&D
How facilities can increase their profits from C&D
Using the right C&D processing technology in the right locations