Komptech to present new machines and monitoring technology at IFAT 2018
Connect monitoring system, shredders, turners, screens along with new nonferrous separator to be on display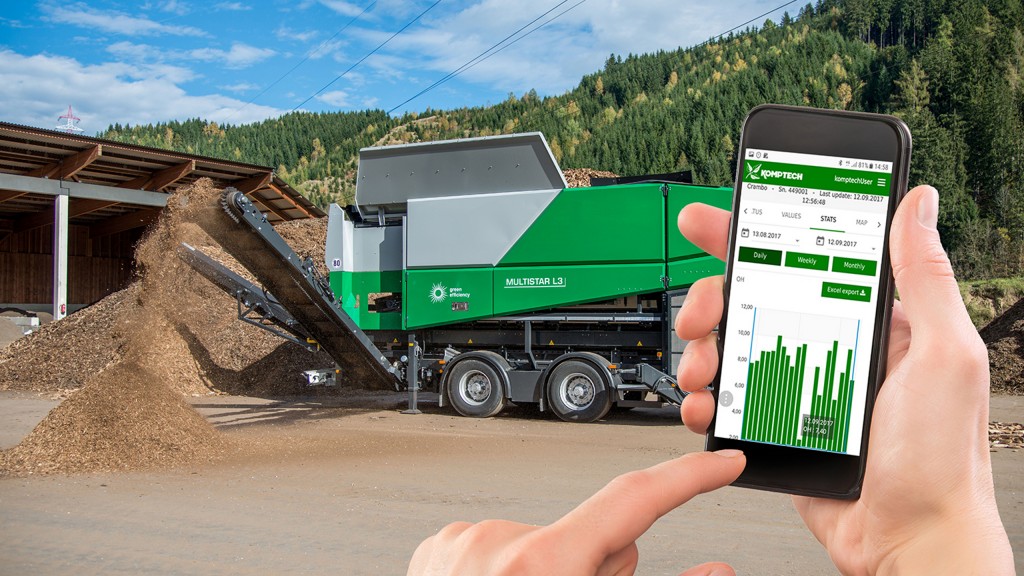 "Green Boost your business" is the motto under which Komptech is presenting its new communications technology Connect! at IFAT, along with all-new and updated machines for shredding, screening and turning. IFAT 2018 takes place in Munich Germany, from May 14-18.
Komptech's key message at this year's IFAT is "even more customer benefit." The motto is "Green Boost your business," but there is much more to it than that, according to the company. After a very successful 2017, the Austrian technology leader says it is intent on continuing to help its customers do sustained good business and on making its own contribution to even more effective environmental technology.
The company's lineup at IFAT this year is very extensive, from the VDMA Practice Days "Biomass" and (for the first time) "Minerals" to a booth full of new and interesting machines and technology. The company says their large fair footprint also represents the start of a new market offensive. Komptech reserved additional outdoor space just in time, where it will present a new machine.
Communication that connects
Since January 2018 Komptech's innovative Connect! monitoring and communications technology has greatly enhanced the availability and efficiency of its machines. Based on a further development of its condition monitoring system, Connect! is designed specifically for Komptech machines and the conditions they are used in.
With continuous monitoring, machines can always be maintained based on their condition. Contingency costs can be reduced to a minimum, and partial real-time sensor data analysis provides for a reliable and fast-reacting information system. The two central objectives are safety and machine efficiency, which pay dividends for users in every respect.
Staying with the program
Komptech has always placed a priority on continuous development of its technology to meet customer needs. This can be seen with the new Topturn X5000, which expands Komptech's lineup of triangular windrow turners. This new "5 metre machine" comes in two power versions. Its one-piece plough blades simplify switching from work to transport position. The drum wear parts can swing through 180 degrees, giving longer use and thereby lower operating costs. In brief, customer benefit has been boosted once again.
The same could be said for the completely redesigned Axtor 4510 shredder, which now weighs only 19 tonnes (with all options) and is thus much easier to transport. Its two-axle configuration also gives it great manoeuvrability. The intake and shredder rotor have been repositioned for a more compact yet just as as capable machine.
Komptech has also updated its screening machine park. Based on the successful Nemus 2700, the brand-new Nemus 3000 is a drum screener that sets new standards in maintenance and service-friendliness. Longer discharge belts and the ability to use screen drums from competitor machines are further benefits of this resolutely practical piece of equipment.
No compromises in safety and functioning
The efficient shredding of a very wide range of materials like household and commercial waste, green cuttings and waste wood with just a single machine was the goal behind the development of the new Terminators Type V. V stands for versatility, and this innovative machine delivers it. One example is the optional retrofit of a post-shredding unit under the drum, adding greatly to the range of grain sizes. The very broad utility of Type V is exactly what many operators need.
The same goes for the all-new Metalfex non-ferrous metal separator. The Metalfex does just what the name implies - it separates nonferrous metals out of all kinds of waste streams. Three different mobility configurations make it very flexible. And not only does it remove valuable non-ferrous metals for recycling, it can also take an FE separator to do even more. The applications range from preshredded wood and bulky waste to shredded green cuttings.
Related Articles
Republic Services' new anaerobic digestion facility expands organics recycling operation in California