DuraTech Industries offers 12- and 15-inch tree chippers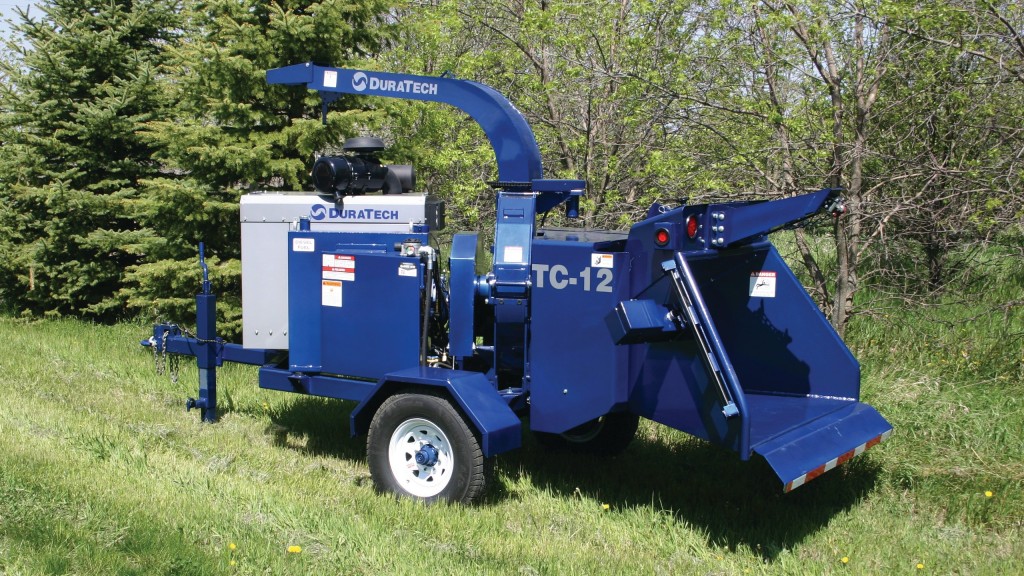 DuraTech Industries offers the TC-12 and TC-15 Tree Chippers in its tree chipper line. With the 129 hp (96 kw) CAT C4.4 engine, the powerful chippers can grind logs up to 12 and 15 inches in diameter respectively. The TC-12 also has a Kubota V3800 88 hp (74 kw) engine option.

"We offer a large tree chipper, TC-15, with the same advanced and powerful technology utilized in our grinders," said Bob Strahm of DuraTech Industries. "Our TC-12 Tree Chipper entered us into this market and we expanded further into this territory."
Both chippers feature a spring-loaded feed wheel with adjustable down pressure, an optional height sensor that automatically adjusts the feed roller to material size and an optional hydraulic gathering winch. These units also include a hydraulic two feed roller system that feeds the four 4.5-inch knives designed to chip wood waste. In addition, these tree chippers are available with a pintle or ball hitch for easy towing to a job site, and discharge debris 360 degrees from the hydraulic rotating adjustable chip spout, allowing the user to alter chip disposal.
They also have multiple safety features like the innovative hopper safety light bars with easy and instant shut down. There are also two E-stop switches, a disc hood closed proximity switch and a breakaway brake switch to ensure the safety of the operator.
"Safety is a major concern when operating chippers," said Strahm. "The precautions installed on both of our tree chippers allow the users to operate safely and benefit from full use of all the features."
Company info
Related products