Recon Services to receive recycler of the Year at C&D World 2018
Owner Walter Biel among first in North America to employ Zen Robotics sorting technology in C&D recycling operation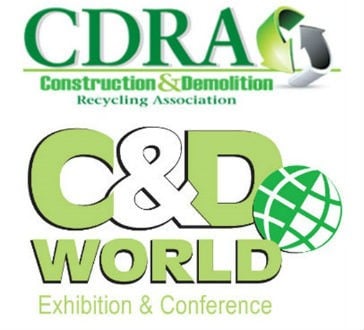 The Construction and Demolition Recycling Association (CDRA) will honour Walter Biel and Recon Services, the first recycling robot operator in North America, for extraordinary contributions to the industry, at the upcoming C&D World 2018 event, set for Nashville, Tennessee, February 10-13.

"Recon being the first to incorporate robotic waste sorting technlogy in the western hemispehere has brought us a lot of attention, but this prestiguous award took us by surprise," said Walter Biel, owner of Recon Services Inc., based out of Austin, Texas.
"And no, the intelligent robots have not taken any jobs from the current 70 employees,"Biel added. "The environment we work in is hazardous and we do not always know what kind of materials we are handling. The robots are doing the heavy and dirty manual sorting. Our human employees are having more productive tasks - and they love their robotic colleagues."
According to Biel, the implementation of the ZenRobotics Recycler into their C&D recycling line, as of March 2017, has increased Recon's recyclable recovery rate by 20%."We decided to expand our line for the future growth of our business and the option to open up to third party haulers and meet the needs of the booming growth that the city of Austin is experiencing," said Biel. "Our new plant made it possible to respond to the growing demand of sustainable recycling."
Picking the right equipment and designing the new plant included travelling to eight European countries. Walter Biel worked for months wholeheartedly together with William Hancock, VP of Plexus Recycling technologies, the distributor of ZenRobotics. One of the visited countries was Finland, the northern origin of the intelligent robots. "We wanted to design something that would be perfect for our waste and our conditions - and the new thinking robots require. I think we succeeded," says Walter.
"As the first and only RCI Certified Recycler in the state of Texas, Recon Services Inc. has again taken the initiative to exceed national recycling standards," commented Marcel Vallen, the CEO of Plexus Recycling Technologies, which partnered with Recon on the installation of the technology. "Recon has shown how well advanced automation works also in the North American recycling industry. Forerunners like Walter Biel are needed in the recycling industry."
Company info
35 E. Wacker Dr., Suite 850
Chicago, IL Phone: 866.758.4721
Chicago, IL
US, 60601

Website:
cdrecycling.org
Phone number:
866.758.4721
Read more