Keestrack expands hybrid lineup with H6e tracked cone crusher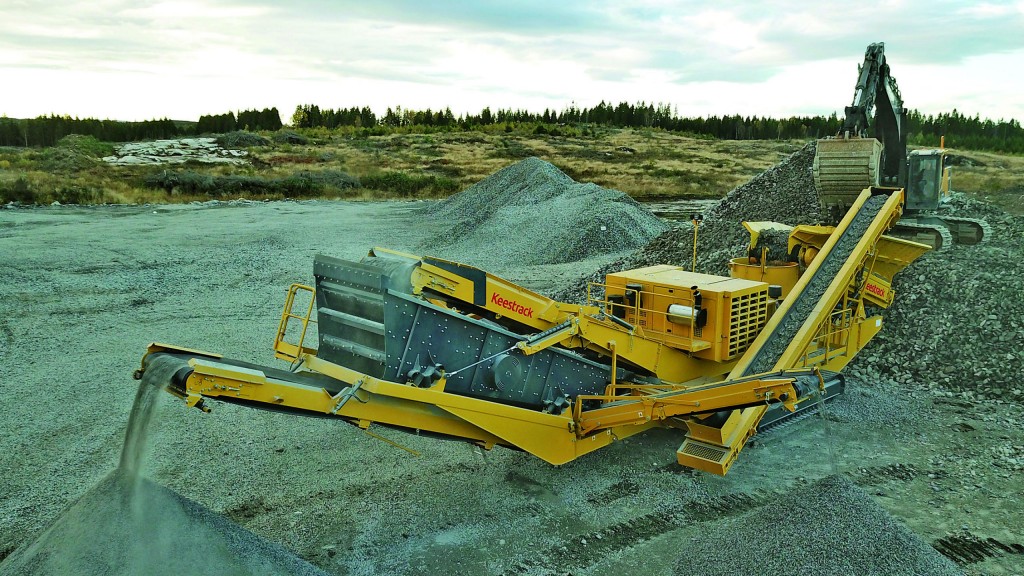 Similar to the Keestrack H4e introduced in 2016, the new 62-tonne fully hybrid H6e cone crusher combines Keestrack's crushing technology with an innovative diesel-electric drive concept, enabling full flexibility at maximum cost efficiency.
A successful concept
Keestrack announced the expansion of the new series a year ago shortly after the successful launch of its fully hybrid H4e cone crusher (approx. 46.0 t; max. 250 t/h). The new Keestrack H6e 400 t/h again guarantees a high level of mobility and economic productivity and is ideal for a broad range of applications. A maximum feed size of 215 mm and variable crushing chamber configurations and stroke settings enable the Keestrack KT-H6 to offer a wide CSS range from 6 to 44 mm, while the drive and control technology have been specially adapted in line with the Keestrack hybrid concept. The crusher is driven by a 220-kW electric motor; the lubrication system, the hydraulic Hydroset control with overload cut-out, and the air compression of the crusher housing are powered by separate electric motors/pump units. All crusher functions are incorporated into the central Keestrack PLC controller, which also enables operators in excavators or loaders to operate the machine by a remote control unit. As an option, Keestrack-er satellite-based telemonitoring documents all the key performance data of the crusher in real time, alerts the operator to any malfunctions and collects the current production data if a belt scale is installed (optional).
A 345-kW Volvo diesel engine with a connected 500-kVA generator supplies the onboard energy. The entire drive unit is designed as a removable module. Located remotely from the crushing plant, dust and vibration levels can be clearly reduced, maintenance can be facilitated and the availability and service life of the drive unit can be optimized. All the crusher operating functions remain active, including the 63A connector for add-on screening units or stockpile conveyors. The Keestrack H6e also offers plug-in power supply from the mains or additional generator as a standard, making it possible to reduce direct energy costs by up to 70 percent.
Efficient components
The size and capacity of all charging and discharging equipment are geared to the high capacities of the aggregate crusher and, like the track drive, hydraulic cylinders and other hydraulic components (motor/engine fans) are powered via the load-sensing operating hydraulics by two 30-kW electric motors.
A 1,200-mm-wide hydraulically driven belt feeder with integrated metal detector feeds material from the 8-cubic-metre hopper (optionally 12 cubic metres) with load-release device for the equal distribution of the feedstock (max. 400 t/h). The main discharge conveyor has an 11-kW electric-drive motor and reaches a drop/transfer height of 4,800 mm, offering a stockpiling capacity of 350 tonnes without post-screening.
With a total screening area of 24.5 square metres over three decks, the optional H6e post-screen module also guarantees high production rates including oversize material recycling. The screen box has a sensor-monitored hydraulic drive, with all belts powered by maintenance-friendly electric drum drives. The discharge conveyors can be fully retracted hydraulically for transport.
Company info
Related products
Related Articles
On January 1st, 2021, the Basel Convention's plastics waste amendments became effective in Canada. The amendments focus on the international movement of plastic wastes that may have limited recycling options or be more difficult to recycle. This change will likely be felt all along the supply chain, including collectors, processors, and exporters. If you export plastic waste for recycling or final disposal, or if you are an exporter of other scrap materials, including plastic, paper, or e-waste, you may be subject to Canada's Regulations, and a valid export or transit permit may be required.