Refind Technologies brings optical battery sorting technology to Ontario
Raw Materials Company first in Canada to employ artificially intelligent sorter for used battery recovery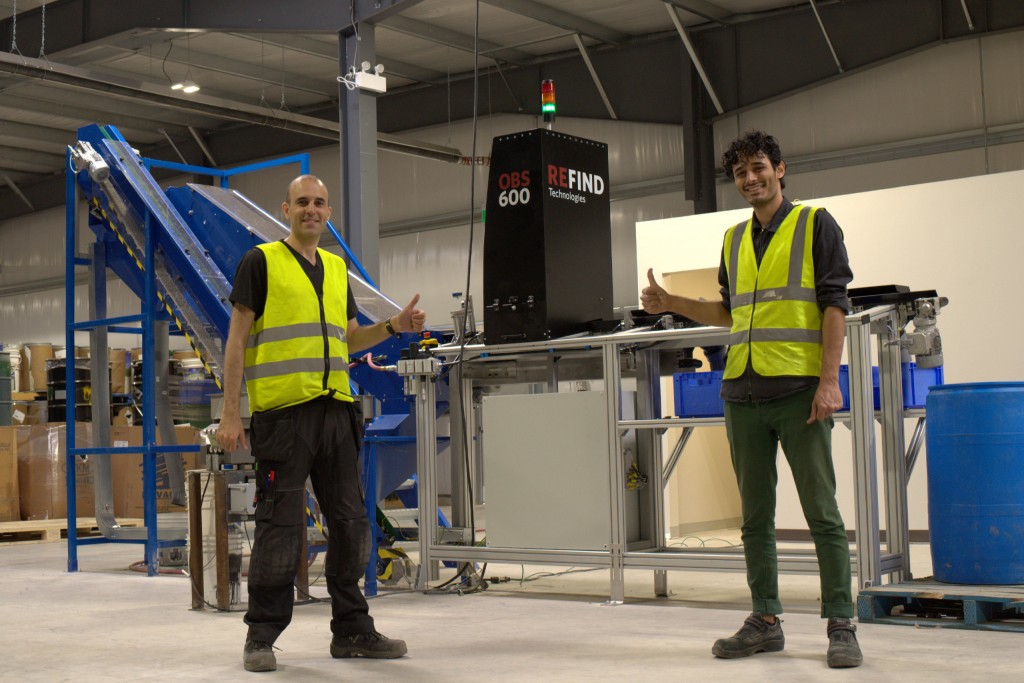 Refind Technologies AB is a technology company based out of Gothenburg, Sweden. The company specializes in the use of cameras and software with artificial intelligence designed to teach systems to recognize objects based on their appearance. Refind's technology is designed mainly for the recovery of used batteries and electronics, but the company says they have also recently found application in the fishing industry for species identification.
OBS600 optical battery sorting technology
Refind's OBS600 is an Optical Battery Sorter capable of sorting 600 kilograms of batteries per hour. That is equivalent to 1,200 tonnes of batteries per year (processed daily, on a single shift.) The OBS600 machine uses a camera and machine learning software to recognize each battery by its label. It can handle small consumer batteries of cylindrical and rectangular shape (AAA, AA, C, D and 9V) and can sort them by chemistry, including: alkaline, zinc-carbon, nickel-metal hydride, nickel-cadmium and lithium primary.
"By recognizing the individual labels of the batteries, the system can also keep track of the brand and manufacturer," explains Refind's CEO, Johanna Reimers. "This can be of particular interest for recycling stewardship programs."
The Refind optical battery sorting system's database consists of over 2,700 different types of batteries by brand, size and chemistry, and is constantly growing.
"The 'brain' of the machine is called the classifier," continues Reimers. "This classifier is continuously trained to recognize new types of batteries."
Reimers explains that the machine is trained by 'scanning' each battery type, by mimicking the light and distance as experienced in the sorting machine, and noted that several samples of each battery type are needed to create a broad foundation for variations in used labels, due to factors such as rust and dirt.
"The classifier is exposed to label images millions of times until it has learned how to recognize the batteries with a high level of confidence," says Reimers. "Once the machine has learned the images, the actual classification is completed in milliseconds, which allows for high-speed sorting operations."
Refind has installed optical battery sorters in the U.K., Slovakia and in the U.S. since the company was founded in 2014.
Canada's first optical battery sorter installation
Raw Materials Company (RMC) is the largest recycler of alkaline batteries in Canada with more than 30 years of experience in collection and recycling. In 2016, Refind signed a contract with RMC for one OBS600 Optical Battery Sorter (with an option for a second OBS600 to be installed at a later stage). The first machine was delivered and installed in early summer 2017 at the company's site near Niagara Falls, Ontario.
"We are happy to work with RMC as our first Canadian customer," says Reimers. "They are ambitious and well-informed on AI technology."
RMC's Ashish Bhandari, VP of engineering and operations, was in charge of the successful installation and implementation of their new OBS600 machine. He says they collaborated with Refind on how to make the best use of the OBS600, in conjunction with RMC's newly expanded facility, to efficiently handle increasing volumes of batteries.
"We are excited to be working with Refind to integrate their technology in our sorting and handling operations," says Bhandari. "The OBS600 can be trained and updated as batteries change, and that allows us keep our production as clean as possible with ever changing battery chemistries.
"We are in the infancy of operating the machine and looking forward to seeing data as it comes available."
According to Reimers, "Machine learning and AI technologies are increasing rapidly in both consumer and industrial applications.
"Our aim is to enable a better and increased level of recycling by implementing more intelligent automation in more industries, especially the used electronics segments where there is a lot of waste.
"We hate waste, and believe that we can help reduce it in this way." RPN
This article was first published in Recycling Product News, Volume 25, Number 8, November/December, 2017.