​Great interest in Rockster impact crusher R1000S at SteinExpo 2017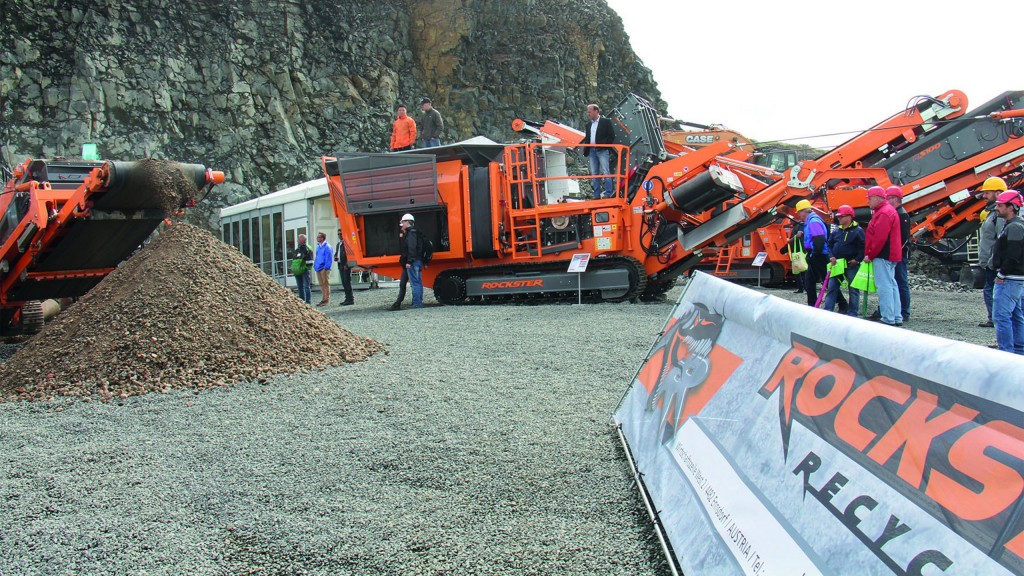 According to Rockster Recycler, after this year's SteinExpo, "We expected a lot! And these expectations have even been exceeded."

Many interested visitors, especially from Germany, Austria, Switzerland, and from various parts of Asia, had the opportunity to see the R1000S live in action at SteinExpo 2017, held in Germany, at the beginning of September. The company says their latest crusher's new features, improved the user-friendliness and the reduction of maintenance costs were of particularly great interest.
"The feedback from the discussions was very positive," says Norbert Feichtinger, sales manager of Rockster Recycler. "We had very good conversations with potential customers and will invest a lot of time in personal meetings and demos this fall. With our product range, we seem to meet precisely the requirements of the industry more and more."
According to Rockster, the fact that all three exhibited crushers from SteinExpo were delivered directly from the fair to their new owners, shows that the company is on the right path in the "Mobile Crushers" segment.
Rockster mobile crushers feature good performance, user-friendliness and excellent transportability. The company says that because of their compact transport measurements ( length 10,1 m/33.2 ft, width 2,55 m/8.4 ft and height 3,2 m/10.5 ft ), and the weight of 30,4 tons/67,000 lbs, it is possible to transport the Rockster R1000S without any special permits. Plus, it takes just 10 minutes to unload the impact crusher and put it into operation. If the transport includes the optional screening system the dismantling of the return belt and screen box is not necessary. It is also possible to transport the machine with screening system without a special permit because of the transport measurements - length 14,0 m/46.0 ft, width 2.83 m/9.3 ft and 3.2 m/10.5 ft height and weight of 34,9 tons/77,000 lbs.
As the SteinExpo is almost exclusively visited by specialists, Rockster says its success is always a good benchmark for the market's future development.
Rockster Recycler is based out of Austria, with global distribution, offering state-of-the-art construction and recycling solutions for optimal performance with focus on compactness, performance and user friendliness.
More information www.rockster.at
Company info
Related products