Peterson announces new 6310B Drum Chipper
Tracked-mounted unit suited for high volume processors who have a wide variety of feed material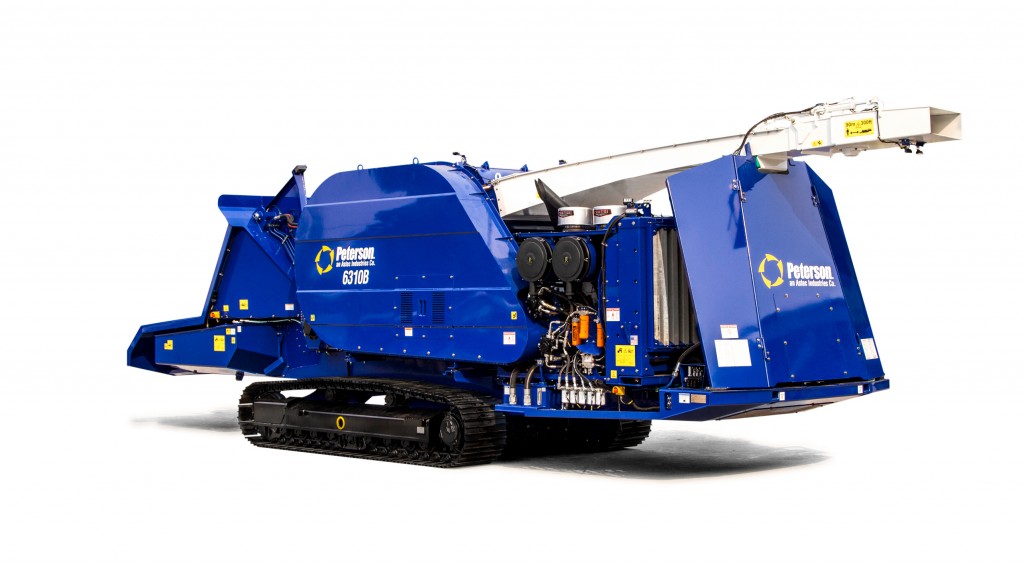 EUGENE, Oregon - Peterson Pacific Corp. has announced the all-new Peterson 6310B Drum Chipper which is suited for high volume biomass producers who have a wide variety of feed material, from logs up to 36″ (91 cm) in diameter, to brush and small feedstock.
The 6310B Drum Chipper is powered by a 1050 hp (772 kW) C27 Caterpillar engine, and has an optional Tier IV engine available. At 86,000 pounds (39,010kg), the track mounted 6310B was designed for operations requiring high production and frequent moves between jobs.
The 6310B drum chipper has two drum configurations, an 8-pocket drum to make standard biomass chips, or a 16-pocket drum to make microchips. An optional grate system has been redesigned to allow for adjustment from a microchip to a 1¼" chip with the same grates. Traditional Babbitt type knife systems are standard equipment, or an optional Key Knife system is available.
Peterson's chip accelerator system, adds load density, or throws chips well away from the machine for land clearing operations, and the chipper utilizes a 50″ (127 cm) diameter by 60″ (152 cm) wide drum. Other key features include a sloped feed deck for the ease of feeding and wear resistant AR400 wear surfaces on the drum pockets and shell. The feed chain has been upgraded to WDH120 for improved strength and long life.
Company info
29408 Airport Rd
Eugene, OR
US, 97402

Read more
More from Organics Recycling
Single-Ram and II-Ram High-Capacity Balers
At Machinex, we've been designing sorting systems for over 35 years, so we know how essential it is for MRF operators to have a baler they can trust and not worry about its operational reliability. This is why we design and manufacture reliable single-ram and II-ram high-capacity balers to specifically help optimize their operations.
Watch the video of our expert who presents the main features of Machinex balers delivering these important benefits:
Easy & accessible maintenance
Reduced maintenance & bale handling costs
Energy savings
Optimal bale density
For C&D recyclers, waste haulers, demolition contractors and landfills, there is a growing opportunity to profit from rethinking processes. Although every operation is different, by streamlining the front end of the C&D operation processes with purpose-built technologies, recyclers can tap into new end markets, accommodate higher material volumes, stay ahead of regulatory restrictions, increase recovery rates and add commodity revenue, while decreasing labor and other costs.
Download the new eBook to learn about:
Finding opportunities in the alternative to landfilling C&D
How facilities can increase their profits from C&D
Using the right C&D processing technology in the right locations