Success Built from Scratch
Laval-based TMR is a new scrap recycling company built on experience, astute investment and the latest mega-shredder installation in North America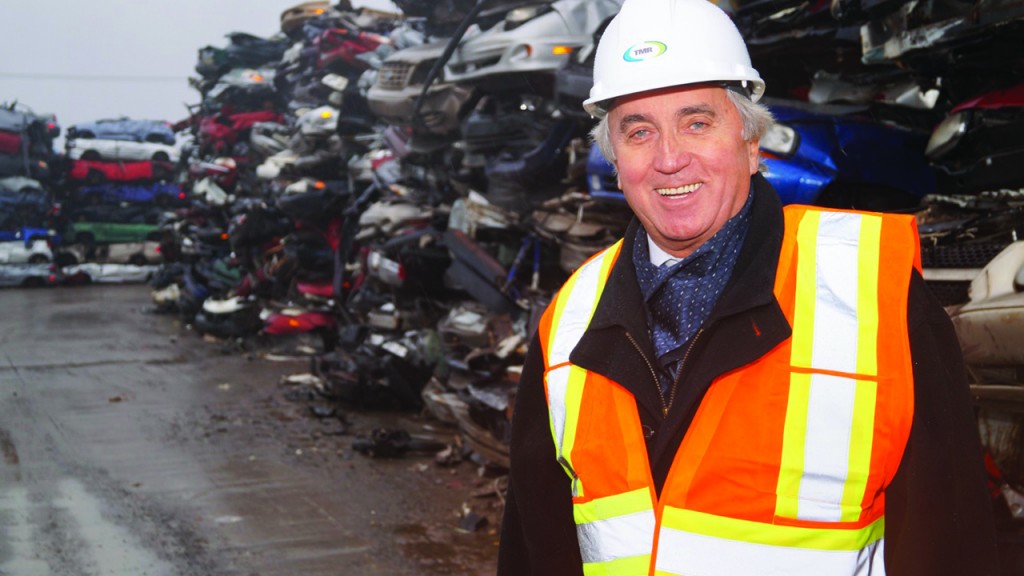 What if, after a lifetime of expertise in the scrap recycling industry, you had a chance to start over at the beginning? That is exactly where Jean-Guy Hamelin found himself three years ago, and is the beginning of Laval, Quebec-based TMR's remarkable founding story. With more than 40 years of experience, Hamelin, the president and CEO of TMR (Total Metal Recovery) Inc., challenges the adage that 'there is no future in the past.'
"By learning from your past experiences you can create a better future for your employees, your suppliers and your customers and ultimately for the communities in which you operate," he says.
Considered by many to be a true innovator in Canada's recycling history, Jean-Guy Hamelin got his start in 1973. Like so many in the recycling industry, his beginnings were humble. He started collecting curbside residential scrap around Montréal. Dedicated to his work - colleagues describe Hamelin as a tireless 'workaholic' - his business grew quickly. In 1980, after the formation of his company, SNF Inc., Hamelin aggressively grew and diversified his business and moved into collecting and crushing end-of-life car bodies.
Taking his business another leap forward led to the acquisition in 1988 of the first shredder at SNF's main facility in Laval. This expansion was followed by an additional shredder at a second SNF plant near Quebec City, and in 2006, SNF installed their first mega shredder in Laval.
At that point in time SNF was operating 15 different gathering and operating sites in Quebec and eastern Canada - buying and processing both prepared and unprepared ferrous and non-ferrous scrap. Eventually the company reached a point at which annual sales hit $325 million.
In 2008, SNF was sold to American Iron & Metal, the Quebec-based recycling company led by Herbert Black.
A few years after the sale of SNF, Hamelin was approached by many scrap suppliers to reintegrate into the market. He decided to build a new company: TMR. Research into the latest technologies and a search for partners led to the formation of a group of 24 highly motivated private Canadian and European investors from various spheres of business.
According to Hamelin, one thing that all the shareholders of the new company have in common is a shared passion for innovation. The list of names includes a "who's who" of Quebec-based business leaders, including one of the founders of a world-leading entertainment group and a former president of an international engineering company. The management of TMR is overseen by a seven-member board of directors - all shareholders - and three specific committees have been formed: strategic development, corporate governance and audit. These committees are active in all aspects of the company's operations, and all shareholders are dedicated to the success of the company, while maintaining a culture of respect for employees, suppliers and customers. A commitment to these company values as well as abiding to the highest standard of commercial and environmental laws and regulations are the foundation of TMR's business.
Speaking at the public inauguration of their new facility April 10, Hamelin said "We are proud to inaugurate today the most modern and eco-friendly metal recycling plant in North America. It is already a benchmark in the industry and our processes meet the most stringent environmental standards."
TMR's operation is strategically located on a transportation hub linking Laval and Montréal, providing access to feed material from all over the province, with capability to ship finished product to domestic steel mills, smelters and international markets. Their 777,000 square-foot lot is located in the heart of an industrial park and consists of four main buildings, including a metal sorting centre that can process up to 50,000 tonnes of scrap metal per month, along with some of the world's most efficient, productive and environmentally friendly recycling equipment.
North America's latest Mega Shredder
The anchor of TMR's operations is its newly installed mega shredder. The model 106 Heavy Shredder plant and non-ferrous recovery system was supplied by WC Wendt Corporation, who says their system offers TMR unique advantages within a competitive marketplace. It is also notable that this is the first new mega shredder built from scratch in North America in several years by any shredder manufacturer.
Wendt president Tom Wendt places this into context, saying "At a time when everything you read is about how much excess shredder capacity is in the marketplace, there is still a market for modern, efficient plants that operate at a lower cost and recover a greater percentage of valuable metals."
With the most state-of-the-art mega shredder working in North America today for both shredded and non-ferrous recovery, TMR says their capacity exceeds 150 tph and has the potential to top out at 200 tph. The density produced from the shredding process is better than 80 pounds per cubic foot, and the shredder plant consists of a ferrous downstream system that produces high quality, low-copper shred.
TMR is now producing "true" shred, with industry-leading density, free of undesirable material such as loose copper or shredding residues.
"We wanted to gain a competitive advantage in a tough market," says Hamelin. "Wendt's successful track record, capabilities to deliver and support such a large project, and the reference shredder plants we visited were all impressive. This modern shredder and downstream system will allow us to shred efficiently and recover all valuable metals."
TMR's downstream system includes TOMRA Sorting's sensor-based FINDER technology. This non-ferrous system recovers traditional metals such as aluminum (Zorba) and stainless steel (Zurik), but will also recover the most difficult commodities such as copper wires and -10mm fines that contain precious metals.
Now in its fourth generation, according to Wendt's website, Wendt/TOMRA FINDER technology, using SUPPIXX image processing, offers rules-based sorting. Decisions can be made based on a variety of characteristics such as signal intensity, size and shape, allowing operators to target and/or suppress items. Rather than typical 'yes/no' decisions in sorting, this technology provides a multi-layered decision capability for each target presented. With this level of classification, for example, the FINDER can shoot on Wire while dropping Zurik, thereby creating a high-grade wire package with low metal contamination.
"In today's market, you don't have the choice not to get the latest technology, because all the margin is in ASR (auto shredder residue). That's the reason we purchased this system from Wendt," Hamelin says. "We have to get the maximum level of metal from ASR to be competitive, and with our new layout we will be able to give our customers what they want."
Reducing GHGs with electric power
In keeping with TMR's mandate to be the most environmental scrap recycling facility in North America, Hamelin opted for two electric-powered equilibrium cranes from French manufacturer Seram (shown above). The two cranes were purchased with assistance from the Government of Quebec, which contributed 25 percent of the acquisition. These free-standing machines, both Seram model S125.30EAS, use 160kW power and feature a 30 metre-reach, with 4.2 tonnes capacity (at 30m). They now work in tandem, unloading trucks as well as feeding the shredder.
At the inauguration of the new facility in April, Hamelin said that because the cranes are operating on electricity, rather than diesel as is the industry norm, TMR will be able to reduce greenhouse gas emissions by nearly 500 tonnes annually.
In addition, the entire TMR facility is constructed on a concrete slab, preventing any potentially contaminated water from seeping into the ground. An on-site pond also collects rain water falling on the facility, which can be recycled and used for the shredding operation.
Bringing high quality Scrap to market
With over 30 years of experience in the steel industry, Marcel Francoeur, TMR's vice president of sales, knows the demanding needs of scrap buyers very well. Above all, he says, high-quality material that is high in density and free of contaminants - as well as honesty in transactions - are the most important criteria a buyer is looking for in the industry today.
Francoeur estimates that in the first year of operation TMR will produce 240,000 tonnes of shred from 300,000 tonnes of input. Feedstock is mostly derived from car bodies and shreddables such as appliances. He says "car bodies are only increasing in value as more bodies have a higher percentage of aluminum, which is a net benefit for a larger shredding operation.
"In order to stay competitive in a market which has a lot of competition for car bodies - to stay viable - you need an efficient system that is also dedicated to the processing and recovery of non-ferrous ASR such as copper, brass and aluminum," continues Francoeur. "Our strategic investments in equipment, our operating philosophy - and shredder speed - allow for a denser material and higher quality."
He claims that TMR's shred is of such high quality that it is considered to be between that of busheling and regular shred. This allows for far better returns and higher margins, providing mills with a better product they can trust and quality they can rely on. Usually on the international market, he says shred has a guaranteed residual of 0.25 percent. TMR's independent tests show a residual percentage of 0.18 percent for their shred and they guarantee their customers a level of 0.20 percent - a testament to the high quality of product produced. This competitive edge, made possible by investment in the best recycling equipment available, is worth a minimum of $15 to $20, in terms of their sale price or cost savings for customers.
Looking ahead, Francoeur is optimistic that the future is bright for the industry, and for TMR. Confidence in the U.S. steel market, together with a greater emphasis on domestically produced steel, has resulted in a sharp uptake in production and expansion in the North American steel industry - which will mean more demand for quality scrap.