Damage Defense system available on Vermeer tub and horizontal grinders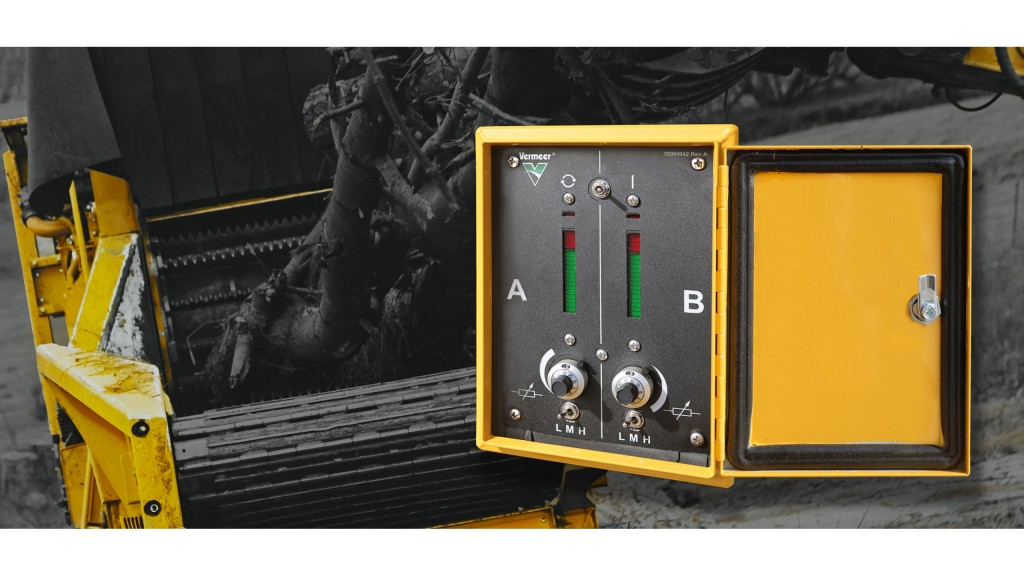 To help reduce the likelihood of major machine damage caused by certain metal contaminants entering the hammermill, Vermeer has introduced the Damage Defense system - an option now available for tub and horizontal grinders. If the mill comes in contact with metal while grinding, the Damage Defense system will alert the grinder control and automatically initiate the shutdown process. The system idles the engine down, reverses the infeed or tub and disengages the clutch. Once the contaminant is cleared, normal operation can resume.
"The optional Damage Defense system is ideal for any tub or horizontal grinder operation that may encounter metal mixed in their incoming material," said Jeff Bradley, product manager for Recycling and Forestry equipment at Vermeer. "The system can be factory-installed on new Vermeer grinders, and is available as a refitted option for many older Vermeer grinder models."
The Vermeer Damage Defense system uses exclusive technology to reduce the possibility of severe damage when large metal objects enter the hammermill, and operators can easily adjust the sensitivity settings for jobsite conditions to help reduce nuisance shutdowns. It is integrated into the grinder's controls system, and features robust components and a weather-resistant box.
Related Articles
Traditionally, waste management companies have operated using a simple "management of waste" approach to operating a MRF. Throughput targets and continuous operation (minimal downtime) were the main driving forces. The industry has changed however, and the focus moving forward is now on optimizing system performance and reliability, in conjunction with increasing recycling rates and a drive for a "greener" and more sustainable tomorrow.
When considering the addition of, or upgrade to, an "intelligent" MRF, for municipalities or private operators, the main factors should always be the client's (operator) current requirements, and evolving market needs, which include throughput, reliability, output quality, and adaptability. Equally important is a full understanding of what is really expected from any proposed system. Having an engaged and focused mindset for the project with the client from the beginning, will impact and drive the entire design process. This then impacts the overall project result, through to the productive, efficient, ongoing operation of the facility itself.