Recycling Concrete
Careful and extensive research pays off before adding recycling to business services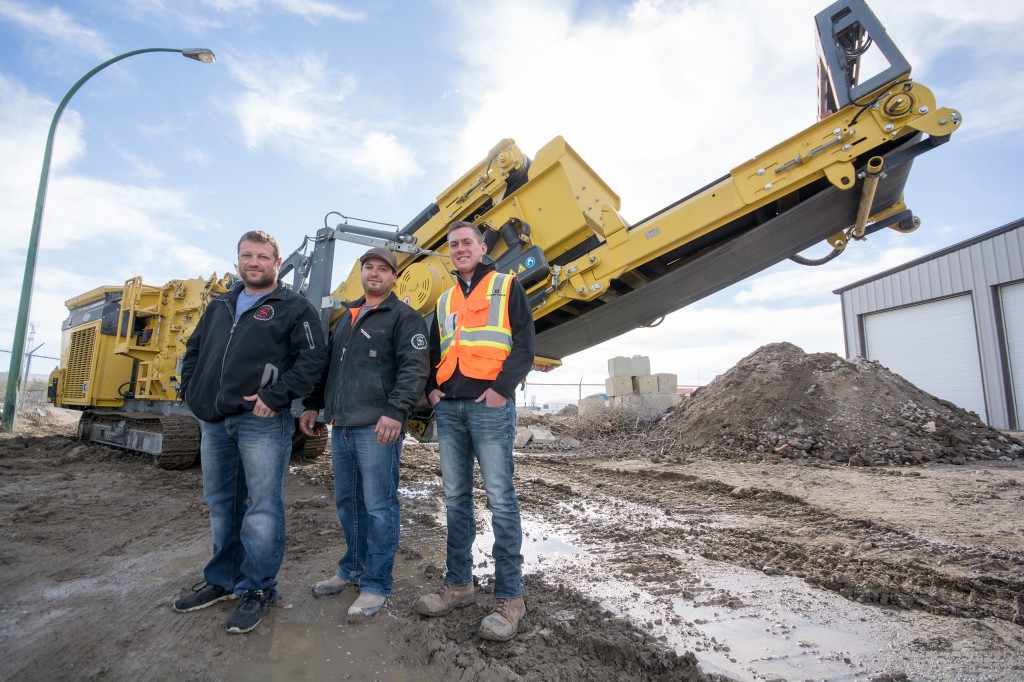 Southern Coring & Cutting Services (SCCS) knows concrete work - after all, the Regina company has been in the concrete business for more than four decades. It has always had an expertise in the cutting, coring and demolition side of the industry, and has developed a long list of residential and commercial clients.
With that extensive resume, it was no surprise that, a few years back, SCCS decided to expand its services into the concrete recycling side of the industry. With a growing demand for recycling, the move was a natural one for the company and its owners, brothers Craig and Clint Fiessel. The new subsidiary - Rock Crusher Recycling - would be able to recycle waste from SCCS' cutting and demolition work. Plus, it could open the doors to larger concrete and asphalt recycling projects.

The problem? Finding the right machinery to ensure that the job was done right.

When the Fiessels started planning Rock Crusher Recycling, they knew they would need to choose excellent machinery that was transportable, productive and would draw experienced concrete recycling professionals. That turned out to be a more challenging job than they had anticipated - which they discovered through five years of hunting around North America, going as far as Florida to try and track down what they were looking for.

It took searching online for an impact crusher to track down a Canadian supplier for their machine supply needs. When the Fiessels discovered Chilliwack, B.C.-based Frontline Machinery carried the types of machines that SCCS needed for the new venture, they decided to explore further.

Filling recycling needs
When the Fiessels contacted Frontline, they were looking for some very specific pieces of equipment. They were in need of an impact crusher that could be efficiently deployed to and navigate the challenging job sites that come with recycling jobs. In addition, their ideal machine had to provide an impressive production rate.

Frontline's representatives provided a thorough explanation of the equipment options available, along with asking about SCCS's timeline, budget, production needs and desired end-product. With all the information in hand, they then suggested that SCCS consider the Keestrack R3 Impact Crusher. While the Fiessels were certainly interested in the machine, they wanted to get an idea of what the Keestrack could do on the job site before they made any decisions.

A number of SCCS representatives traveled to the Frontline head office in Chilliwack, where they toured the facility, met the staff, and - most importantly - saw the Keestrack R3 at work. Frontline arranged to demonstrate the machine, walked the visitors through the key features, and showed how the unit was versatile enough to manage a range of materials including concrete, rebar and asphalt.

"The staff and everyone we met was professional - a good team to work with," Clint Fiessel said.

After the visit and the demonstration, the Fiessels decided to purchase the R3 Impact Crusher as the cornerstone machine of Rock Crusher Recycling. From their feedback, it's been a good choice. The machine has not only achieved their production goals since it went to work for them, it has also helped attract experienced staff who know how a good machine can make all the difference on the job site. Operators with two to three decades of experience in concrete and asphalt recycling have expressed their appreciation of the ease by which the Keestrack unit operates.

"When you have nice equipment to work with, you can work past the dirt and the mud, and you can get a little excited," Clint related.

Once the Keestrack was working in Saskatchewan, Frontline remained involved with SCCS.

"The Frontline team is always coming up with different opportunities for us," said Clint.

Bobby Corbin represents Frontline Machinery in Regina and works across Alberta, Saskatchewan and Manitoba providing a range of support services for the Prairies.

In Regina, Corbin assists companies such as Rock Crusher Reycling by providing parts, answering service questions, advising on additional equipment rentals or purchases, and facilitating business referrals.

"I have been privileged to help SCCS really grow in their market," Corbin said. "We have an incredible distribution network and are able to quickly and efficiently get the parts to our clients, wherever they might be."
Company info
Related products