Machinex names new sales manager for western region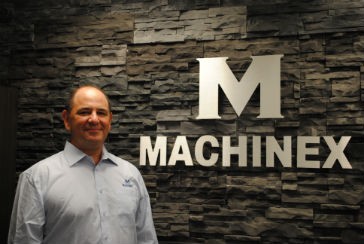 Machinex Technologies Inc., the USA subsidiary of Machinex Group, is proud to announce that Will Herzog has joined the company as a Sales Manager for the USA Western Region. Herzog's new role with Machinex will help to develop sorting systems solutions with customers, while providing the latest technologies on the market. He will ensure customers' satisfaction while supporting them in their future needs.
Will Herzog has over 25 years of business experience in the recycling, construction, and real estate industries with a solid background in finance and strategic planning.
He joined Hudson Baylor in 2002, and led the company's growth initiatives until its sale to ReCommunity. During this time, Hudson Baylor added eight new facilities to its portfolio and secured 15 major municipal contracts. Most of these new contracts included major capital investments into MRF processing facilities to add capacity and modernize their operations. In 2009, he relocated to Arizona to supervise plant operations for the company's 4 MRFs, while continuing his business development role. During this time, he was the lead person for developing the brand's new MRF in Tucson, AZ. Following the acquisition of Hudson Baylor by ReCommunity in 2012, he continued to focus on business development in the Western US, as well as heading ReCommunity's Marketing efforts since 2014.
Most recently, Will spent much of the last year working as a recyclable commodity buyer for WestRock. In his territory in the southwestern US, Will bought and sold recovered materials from recyclers, warehouses, distribution centers, and other generators of OCC, paper, and plastics. This provides him with a well-rounded experience in the commodity market, having experience both in producing recovered materials as well as handling end-market purchasing of the same streams.
Herzog holds a Bachelor of Arts Degree in History from Middlebury College, an MBA in Finance from Boston College, and serves on the Board of Keep Phoenix Beautiful since 2010.
"What attracted us to Will is that along with his strong interpersonal skills, he is extremely well versed in the recycling market. His areas of expertise include, but are not limited to, MRF Operations & Design, Commodity Sales, Municipal Bids, and most importantly Customer Experience. Will becomes an important asset for Machinex as he will help broaden the Western Region Sales and Business Development." states Chris Hawn, Machinex Executive Vice-President Sales & Business Development.
"I'm excited to join the Machinex team. Between the energy and creativity of the engineering team, along with the Company's commitment to providing premier customer service to our partners, I am confident that we will be able to offer effective and economic solutions to our customers' waste processing and diversion projects." says Will.