Balcones Resources Inc. celebrates grand opening of its state-of-the-art MRF
Bulk Handling Systems key partner in helping Austin take significant step toward zero waste goal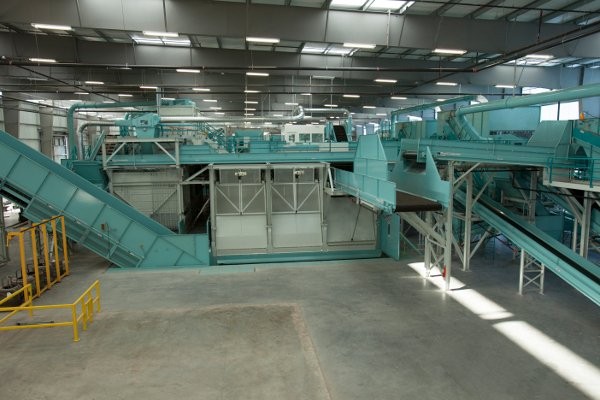 At the end of September, Balcones Resources Inc. (Balcones), the largest independent recycling company in the southwest United States, celebrated the opening of its new Material Recovery Facility (MRF) in northeast Austin. In April 2011, Balcones was awarded a 20-year contract with the City of Austin to process the majority of the city's residential recycling. The City is pushing for zero waste by 2040, and the new facility was commissioned in July, 2012.
"[Our grand opening was] a historic day for the Balcones family, for our entire team and for the City and all of Central Texas," said Balcones CEO Kerry Getter. "We want this facility to serve as a model for the rest of the country, just as Austin is leading the way with its zero-waste efforts. It is our privilege to play a part."
The $25-million MRF incorporates state-of-the-art machinery and technology, designed, manufactured and installed by Bulk Handling Systems (BHS), allowing it to process 25 tons of single stream recyclables per hour. It is capable of processing either residential or commercial material with recovery rates in excess of 95 percent, and represents the largest capital investment by a privately held recycling company in the State of Texas, and one of the most significant in the United States. Additionally, the 100,000 square foot facility was designed so that it can easily be expanded as Balcones' partnership with the City grows. Balcones already handles a large portion of the Austin's commercial recycling and as of October will process 60 percent of the City's residential curbside recycling material, serving 106,000 residential accounts.
"The City is fortunate to have found such a trusted partner in Balcones Resources," said Austin Mayor Lee Leffingwell. "Kerry Getter and his team have delivered on every commitment made; that's why we are here today to celebrate the opening of this new state-of-the-art facility."
The site of the new facility will also have access to a rail line that runs from Austin throughout the U.S. and internationally, allowing Balcones to not only access worldwide markets, but contribute to a reduction in the area's carbon emissions by using rail cars to ship a substantial portion of its products.
The highly-automated BHS plant features the latest in patented screening, optical and controls technology, allowing Balcones Resources to boost the recycling recovery rate for city residents, produce clean commodities and divert a significant amount of material from landfill. The facility can handle everything from PET and mixed plastics, through OCC and mixed paper, to aluminum, ferrous metals and glass. BHS equipment and technology installed includes: Metering bin, OCC Separator®, NewSorters®, Polishing Screens, Eddy Current Separator, Debris Roll Screens®, Air Aspirators, Electro Magnet, NRT SpydIR™, NRT MultiSort® IR, Pneumatic Transfers, Conveyors, Dust Control System, Control System, and a Glass Clean-Up System.
Getter said BHS was chosen for its high-quality construction, customer service and support and expertise in the recycling industry. Other partners included: Kingham-Dalton-Wilson; Arcon Architects; Bury + Partners; Plains Capital Bank; Stream Realty; Smith, Robertson, Elliott, Glen, Klein & Douglas, L.L.P.; Haynes-Eaglin-Waters; and 3 Point Partners.
At the ground-breaking ceremony in September, Austin Mayor Lee Leffingwell said, "Our partnership with Balcones Resources is something the city is very proud of. We are thrilled to see this project come online. The new MRF will not only help decrease the amount of waste we send to landfills but it will also help the city achieve its zero-waste goal much sooner."
Established in 1994, Balcones Resources, Inc. is a locally owned environmental services holding company with corporate headquarters in Austin, Texas. Balcones is the largest independent recycling company in the southwest United States with facilities located in Austin, Dallas and Little Rock, Arkansas. The company is also one of the top 100 recyclers in the combined U.S. / Canadian marketplace, and the largest recycler in Central Texas. Balcones is also engaged is the business of document destruction (Balcones Shred) and is the manufacturer of alternative fuels through Balcones Fuel Technology. Balcones recycles more than 12,000 tons of recyclables each month. Visit www.balconesresources.com.
BHS, headquartered in Eugene, OR, is a worldwide leader in the innovative design, engineering, manufacturing and installation of sorting systems and components for the solid waste, recycling, waste-to-energy, and construction and demolition industries. BHS says they have built some of the biggest and most durable MRFs in the world – and are achieving the highest throughput, recovery, and purity rates in the industry. www.bulkhandlingsystems.com