Shredding It Out
The latest multi-material size-reduction machines may be the most versatile equipment in waste management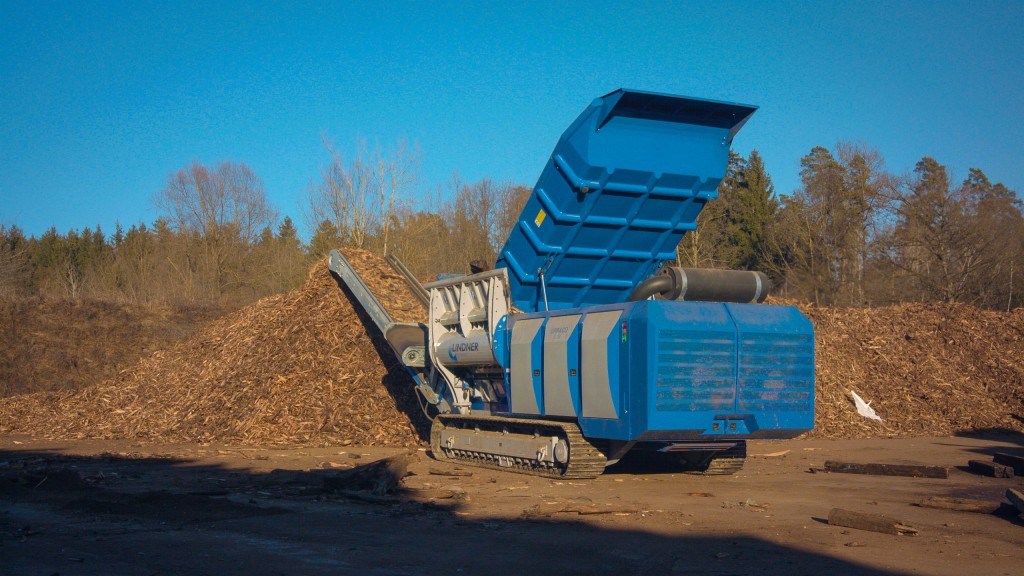 Without question, the shredder plays a central role in the ever-evolving business of recycling and waste management, not only for processing metals, ELVs and tires but also for size reduction of an increasingly wide range of materials. The latest models easily handle everything from plastics and fibre, e-waste and ASR (auto shredder residue) to organics and biomass, as well as C&D debris and solid waste for refuse-derived fuel (RDF) applications.
In contrast to large, stationary shredders designed to process mostly homogenous materials such as ferrous metal, today's multi-material mobile units (1,000 to 4,000 hp models, or even smaller) in particular have become more and more common.
Mobile shredders (mounted on tracks, trailer- or skid-mounted) are most commonly available in dual-shaft (or twin-shaft) configurations, as well as in single-shaft. Units can run at slow- or high-speeds, and are available with hydraulic, electric or hybrid drives, or with Tier 4 diesel engines and alternative fuel options. The latest offerings are designed to provide longer-lasting wear parts, ease of maintenance, much improved noise and dust reduction technology, high levels of safety for operators and the ability to produce very specific output at high capacity.

With so many variables involved when a recycler is thinking about how best to integrate a shredder into their operation, we asked three established manufacturers - Lindner America, Terex Ecotec and Shred-Tech - to provide some insight on the development of their latest mobile models, trends in the sector and what to think about when considering a purchase.
The Evolving Shredder
Jonathan Gilmour, with Terex Ecotec, says that during the last ten years there has been a much greater focus placed upon sustainability and environmental awareness in all industries, which has been part of the driving force behind the evolution of shredders.

"Recognizing the untapped potential contained in waste, many processors have started to change their approach to dealing with it," he says. "The increase in RDF demand and biomass-fuelled power plants, for example, has opened up outlets for waste which would otherwise be landfilled. With this in mind, Terex Ecotec has developed a range of mobile machinery that is equipped for this change of attitude."

Gilmour says the Terex Ecotec TDS V20 medium-speed shredder, as an example, is able to produce a finished RDF or biomass product in a single pass while protecting itself from damage caused by contamination. "Using cutting knives and a sizing screen, this machine creates a uniform product that contains minimal fines."

According to Lindner America president Andreas Schwarz, Austria-based Lindner-Recyclingtech GmbH introduced the first recycling shredders to the marketplace about 30 years ago.

"Even though we delivered industrial heavy-duty built machines that would last decades, it became apparent that serviceability and safety needed to be the focus for our future generations of shredders," he says. "Lindner has developed stationary and mobile shredding machines that are particularly suitable for RDF, plastics and biomass applications, each one being distinctly different and optimized to minimize the cost-per-ton operating expense, while making the machines safe and easy to maintain."
Schwarz adds that the technology has evolved mostly into specialized machines for particular applications. "Shredders are sometimes thought of as 'one size fits all' but that is definitely not the case," he says.

Chris Howard, GM of operations for Lindner America, emphasizes that Lindner is very much an R&D and engineering company that manufactures everything in-house, with a focus on very high-end machines. "We work closely with the customer to determine what their needs are, what they are looking for in terms of output, and match machines to those needs," he says.

"Lindner offers several models of mobile shredders, both in the fully mobile category (track machines controlled by remote) as well as machines designed to be easily moved with our customer's equipment. Howard adds that all Urraco models have Tier 4-compliant motors, to over 700-hp, are designed to meet mid- to large-volume needs and feature multiple shaft options, as well as a double tilting hopper system and control system that monitors input feed rate to optimize throughput along with consistency in material output. "These models also feature software controls that automatically sense the torque load in the hopper and forward/reverse the drive shafts to continually maintain operation and output," he says.

Lindner's Urraco 95 model is a primary, mobile, two-shaft shredder designed with a powerful engine, long working length and aggressive input. Units provide high throughput and low fuel consumption, powerful hydraulics, and a heavy, remote-controlled track system with two speeds and intuitive joystick controls.

"Multi-material shredders is a very good way to describe our line of mobile machines," says Howard. "There are not a lot of limitations with the Urraco. It can handle a very broad range of materials, from railroad ties to metal, produces a high-quality finished product and is a leader with respect to market share in Europe, especially in RDF applications."

Based out of Ontario, Shred-Tech is a manufacturer of twin-shaft shredders - mainly smaller to mid-sized stationary machines used in metal recycling and for secondary applications requiring precision cutting, or in cases where a finer, controlled output is required.

In May of 2016, Shred-Tech began a distribution partnership with HAAS, the Germany-based manufacturer of high-volume, primary mobile shredders designed for applications in MSW, C&D and metals, as well as biomass and RDF shredding. Shred-Tech is now the exclusive distributor for HAAS in North America and Australia.

Sean Richter, Shred-Tech's sales manager, shredding and recycling systems, admits that it is tough to put a finger on monumental changes that have occurred in the shredding industry over the last several decades, but that it has been more of an evolution of advancements in small increments.

"There has been a lot of changes in terms of knife design, in cutting chamber design, allowing users to have specific knives for specific applications," he explains. "And there have been a lot of changes in drive applications. Shredders are not simply just electric- or hydraulic-drive any more. We also have DC servo drives, where we can get feedback from a processing line, we can match the speed of material coming off the line, and shred at a certain rate. We can also stop shredders (dead positive) and start up in forward motion, with full torque. This is done using DC drives rather than traditional AC drives."

The German-made HAAS Tyron mobile shredder is available with 1,500-, 2,000- and 2,500-mm length chambers, with horsepower ranging from 350 to over 770, and is available in static or mobile configurations, tracked, trailer-mounted or skid-mounted.

Richter says Haas twin-shaft shredders are unique because the shafts are independently driven in terms of rotational speed, rotational direction and the time sequence that they spend in either forward or reverse.

"The cutting chamber is constantly self-cleaning with the forward/reverse tearing action of different rotational speeds," he continues. "This feature allows them to process a very wide range of feedstock and prevents materials like fabrics, plastics and wire from wrapping on the shafts."
Making the Purchase Decision
"The main consideration in any shredder purchase is to define the requirements in terms of output capacity and material definition," says Lindner's Schwarz.
"We provide multiple models and machines in both the stationary and mobile category that can best meet our customer's requirements. Our focus is to work with the customer in order to define needs and recommend the best option to fulfil them."
According to Shred-Tech's Richter, some of the main considerations buyers should consider when looking at shredders include mobility, versatility and emissions. He says that tracked and other mobile units are easily deployed from site to site, eliminating the need to haul low-density materials considerable distances. "Tracked units also typically do not require any special installation, permits or wiring, and can be set up and operational in minutes," he says.
When it comes to emissions, he notes that all of the HAAS mobile shredders destined for North America meet stringent Tier 4 emissions requirements, using Scania diesel engines.
"The versatility to process a wide range of materials is important," adds Richter. "Haas shredders allow the customer to optimize shredding action (throughput) and shred size. Simple program changes in the direction of shaft rotation, rotational speed and forward and reverse will allow these machines to shred materials as different as baled tin scrap one day and green waste the next."
Terex Ecotec's Jonathan Gilmour adds that "Many operators are changing what they require from their equipment. Processors now want machines with reduced fuel consumption, minimal downtime and low repair costs. Terex Ecotec has taken steps to be at the front of this shredding revolution and currently offers a range of shredders with excellent fuel efficiency, reduced machine downtime and contaminant protection systems."

Gilmour says these are all factors to think about when purchasing a shredder and adds that recyclers should also consider carefully whether a mobile or static shredder will be best for their requirements. "With increased legislation regarding air and noise quality, many processors are moving indoors," which he says has led to an increased demand for static and electric-powered systems.
Single- vs. Twin-shaft
"Each type of shredder has its place, and if applied in the wrong way, will result in failure or an inefficient operation," says Schwarz. "Single-shaft shredders are designed to cut or punch material into a defined size by moving a rotating knife by a stationary counter knife. Materials such as plastic film, paper and other thin and pliable materials can, for the most part, only be size-reduced with single-shaft shredders."
He continues, "Because the knives have only a few thousandths of an inch gap to the counter knife, material is cut and not shredded. A screen below the shredder keeps oversize pieces from falling through, thus giving almost perfect control over the maximum size that can pass through."
Schwarz adds that due to their tight tolerance, single-shaft shredders are more susceptible to inert materials such as stones, sand and large metal. Stones and sand create more wear and a large piece of metal can stop the shredder.
"Dual-shaft shredders, on the other hand, rip pieces apart, while having a relatively large gap between the two shafts," says Schwarz. "That allows inert materials to pass through without as much wear and stoppages. These shredders are typically used as a primary shredder, where the actual sizing is not so important. Because these shredders wear out, size control tends to worsen over time to the point where the entire cutting assembly has to be replaced."
Shred-Tech's Richter also notes the key differences between single- and twin-shaft shredders. "Single-shaft shredders are typically higher speed, running around 100 to 200 rpm, and are primarily used in wood and plastics applications, or anywhere you want to get material to a certain shred size with less contaminants. You would not typically shred metals with a single-shaft shredder."
He says twin-shaft machines are commonly slow-speed, high torque, with shafts running between 21 to 25 rpm. They generate anywhere from 30,000 to 300,000 pounds of cutting force.
"Dual-shaft shredders tend to be the most versatile machines for handling the widest range of materials," continues Richter. "If you look at them in terms of operating costs, they are usually running at a lower horsepower than other configurations, and require less maintenance."
Shred-Tech and a range of manufacturers also offer four-shaft shredders, commonly configured as stationary models. "Four-shaft shredders are typically used for shredding friable materials," says Richter. "They are ideal for electronics scrap applications, great for pulling apart circuit boards, wires, metals, liberating material and getting it to a good size for eddy currents and magnets to then further separate the material."
The Future for Shredder Technology
"Going forward, a big part of what we remain focused on is quality and quantity of output," says Lindner's Chris Howard. "As technology advances, you can make things run faster, but if you reduce the quality of what's being output, whether it be a single-step shred operation or multi-step, using a primary shredder in combination with a secondary shredder, you need to make sure about the quality of what's coming out at the end. This is very important."
According to Schwarz, "Lindner has never been a company that waited for someone else to set the trend," he says. "We have several new designs in our R&D department that will bring true benefits to a shredding market that has not seen any major inventions in decades."
For Richter, he sees high-volume shredders like the HAAS Tyron coming to North America in a big way for applications in biomass, C&D and RDF processing - and at landfills.
"I recently sold a shredder into a C&D landfill in Ohio," he says. "The customer had never had one, but he put the machine in and it has been shredding 45 to 50 tons per hour of C&D waste, on average. What he found after operating for three months is that he reduced the volume going into his landfill by two-thirds. Instead of burying wood and debris - everything from bathtubs to metal studs - he is shredding material to a 6-, 8-, or 10-inch minus. He is also now recovering somewhere around $20,000 per month in ferrous, value he didn't know was there." In addition, Richter's client says instead of digging a landfill cell every five years, he is now planning on every 10 to 12 years.
"I can see landfills in North America increasingly moving into shredder technology - to reduce their volumes, extend their landfill life and also recover valuable ferrous," Richter says, who adds that the application of shredders at landfills doesn't stop there.
Richter also agrees that landfill 'mining' - digging up an existing landfill to tap into the valuable materials that have been buried - is part of the future of this industry.
"My customer in Ohio has talked about ordering a second machine," says Richter. "He's looking at one of his piles at the landfill and believes there could be a million dollars worth of steel in it."
This article was originally published inRecycling Product News, Volume 25, Number 4, May/June, 2017.
Related Articles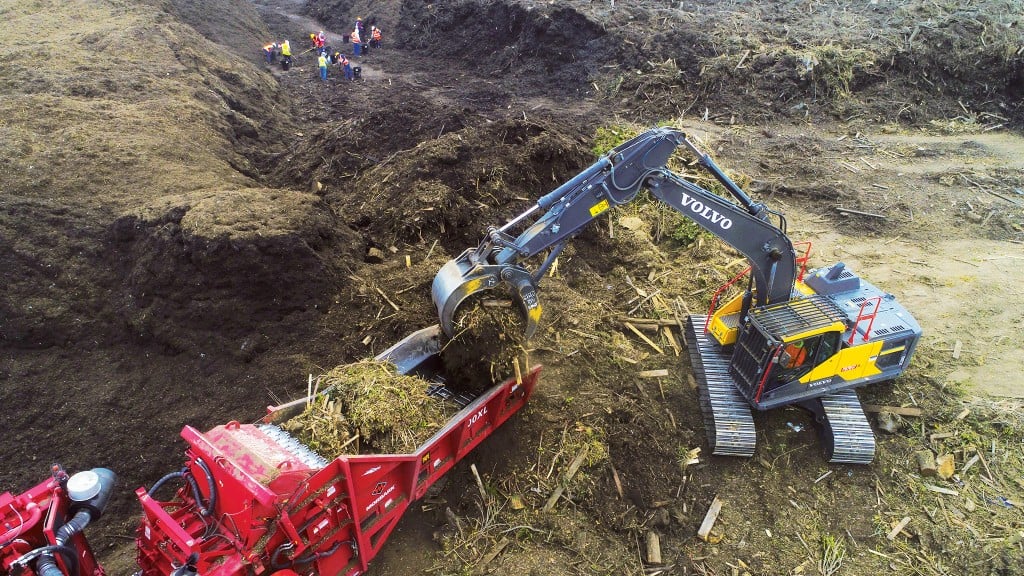 How Agromin is using Volvo equipment to drive sustainability in the compost industry