Vecoplan develops energy-efficient single-shaft shredders for wood-processing companies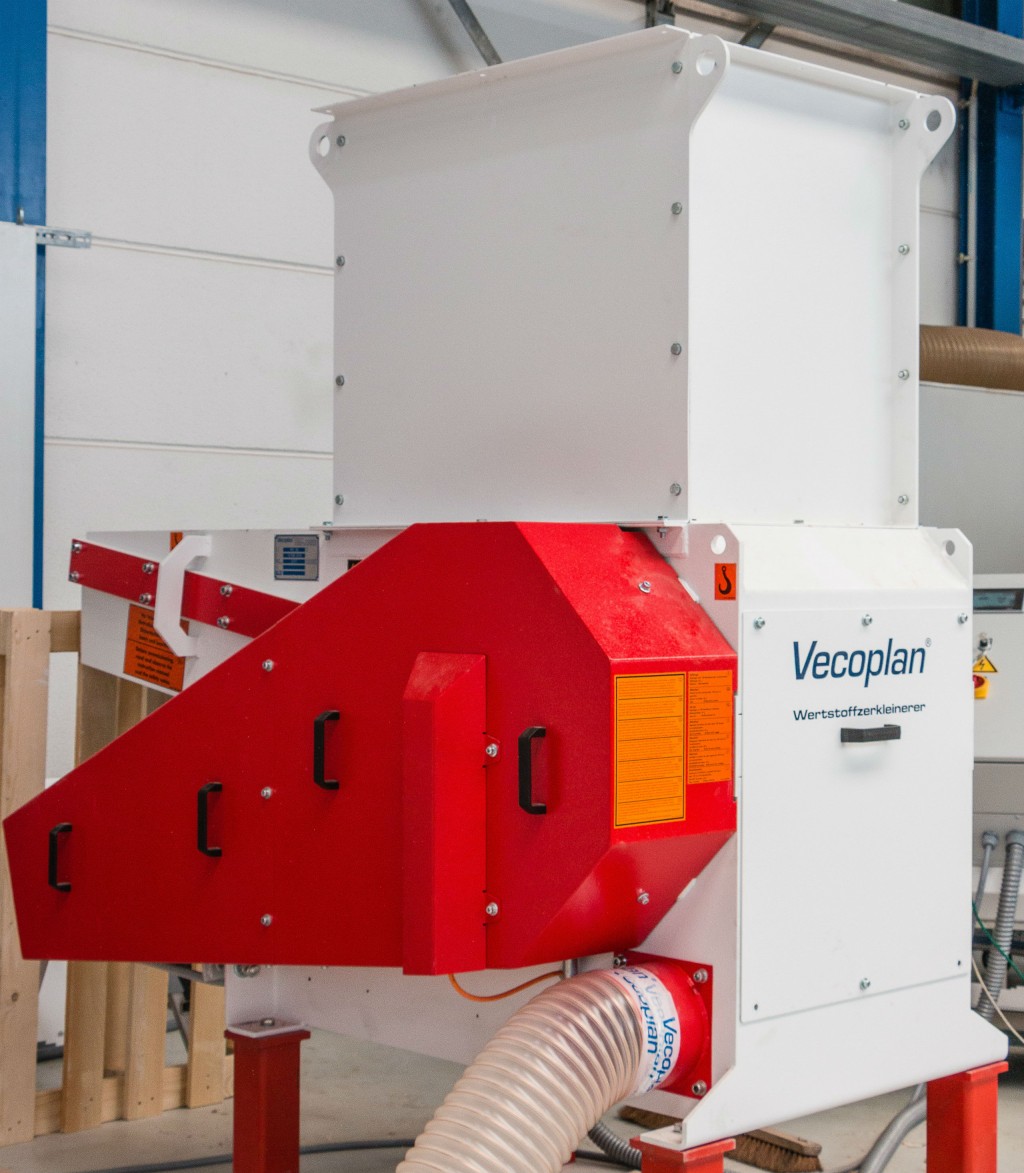 Vecoplan's newly developed and compact VAZ series are durable and sturdy single-shaft shredders which enable joiners and carpenters in particular to process wood leftovers in a dependable way. The series is equipped with energy-efficient drive technology. Wood processors benefit from its very low operating costs. The single-shaft shredders have now made a successful debut at the international trade fair LIGNA 2017.
With single-shaft shredders, companies have universal and frequently used machines which in most applications can manage without additional feeding systems. With the VAZ series, the user can feed in the collected materials directly and without a feeding system. The hydraulic-powered slide feeds them quickly and easily into the shredding mechanism. Since the rotor turns particularly slowly, it makes little noise or dust during vertical feeding. The VAZ 110 XL for example has a rotor diameter of 370 millimetres and a material outlet of 1075 millimetres.
Wood-processing companies can use this sturdy shredding solution to process chipboard, hardwood and solid wood waste, bark, cardboard or softwood, turning them into wood chips and material suitable for making briquettes. The special feature of these compact units is their patented ESC® drive: with a drive capacity of 11 to 37 kilowatts, the asynchronous motor with its powerful frequency converter is energy-efficient, inexpensive and economical in operation. Compared with competitors' products, it allows users to save up to 25 % in energy thanks to its improved efficiency. The belt drive features sophisticated slippage control plus extraneous material detection - and fast reversing and restarting makes the ESC® drive very dynamic. The cutting unit consists of a profiled rotor with easy-to-change counter-knives that can be used on both sides. The rotor is mounted inside a solid steel housing.
In May, the VAZ series made its debut in Hanover at LIGNA, the world's leading trade fair for forestry and the wood industry. Specialists from all over the world attended, and some purchased a machine right at the fair. Only a few weeks after this event, single-shaft shredders are in operation at eight locations in Europe.