Cleanaway opens Perth Super MRF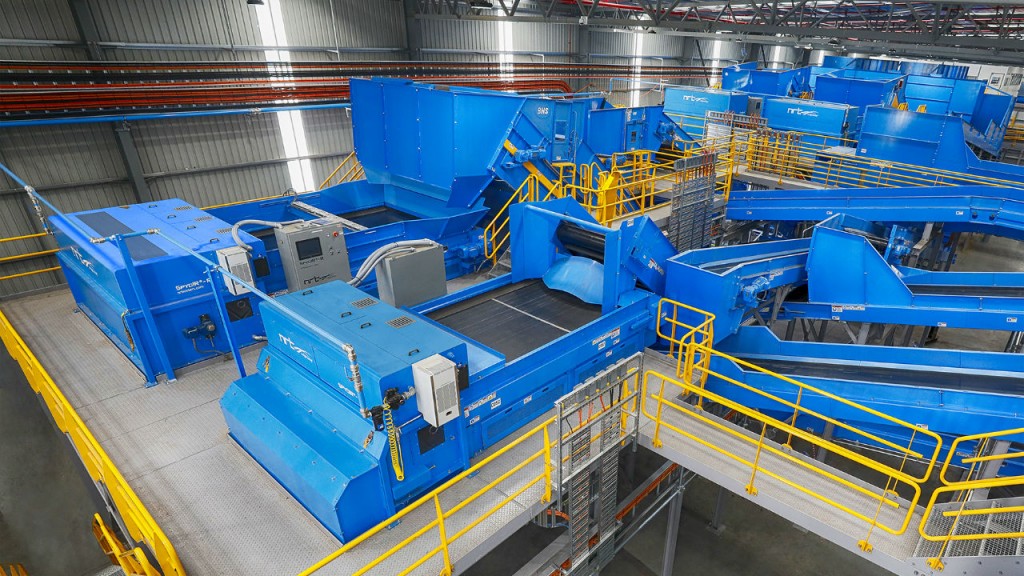 Cleanaway has opened a new 50-tonne-per-hour Single Stream Materials Recovery Facility (MRF) in Perth, Western Australia. Designed, manufactured and installed by Eugene, Oregon-based Bulk Handling Systems (BHS) the facility, known as the Perth MRF, is able to process 250,000-tonnes-per-year, enough capacity to sort all of the city's residential recyclables.

According to Cleanaway, the Perth MRF is the most advanced recycling facility in the Southern Hemisphere. The system applies an abundance of recovery technologies to achieve high rates of throughput while maximizing the recovery and purity of recycled commodities. BHS Tri-Disc™ screens are the core of the sorting process, screening out glass and producing clean paper and container streams.
The Debris Roll Screens® are employed early in the process to quickly break and remove the high volumes of glass that are typical in Australia, which is then purified by two Nihot Single Drum Separators. NRT optical sorters are employed in both recovery and quality control applications throughout the plant. Two new ColorPlus™-R optical sorters, able to analyze the color of opaque objects, remove small cardboard from the news stream. To achieve Cleanaway's extremely high standards of over 97% recovery of plastic containers whilst meeting purity rates in excess of 98.5%, six SpydIR® optical units target fiber and polymers to produce PET, HDPE and mixed plastics.
"This multi-million-dollar facility is a major step forward in both infrastructure and technology and will take recycling in Western Australia to a whole new level of quality and purity," said Cleanaway CEO and Managing Director Vik Bansal. "The Perth MRF is a significant investment for Cleanaway in line with our Footprint 2025 plan and a demonstration of our firm commitment to creating a sustainable future for Australia."
Cleanaway General Manager for Western Australia, David Williamson, said the high-tech facility has an unmatched capability designed to address Perth's recycling needs for the next decade and beyond. "With the city's population set to reach 3 million by 2020, Perth households and businesses will be producing more waste than ever before. Increasing the state's capacity for resource recovery is a top priority for Cleanaway. Our new MRF will be our first facility capable of recycling household and business waste. We are opening the door to small and large-scale commercial customers and making recycling easier in the workplace, giving businesses the ability to recycle in the same way as households. Cleanaway was the first to introduce a MRF to WA in 1988 and we look forward to continuing to lead the way in recycling and landfill diversion," Williamson concluded.

"It's exciting for all of us in the BHS Family of Companies to bring together our technologies to realize Cleanaway's vision of the Perth MRF," said BHS CEO Steve Miller. "The system is applying screen, air and optical technology to create a highly automated and efficient recovery system. The application of optical technology to ensure high quality paper products is an especially important step in a market where fiber purity is of the utmost importance. Cleanaway now has a distinct competitive advantage in the age of China's National Sword program.
Cleanaway has a history of industry leadership and this latest achievement exemplifies the company's commitment to innovation. This MRF is Australia's finest, a showcase system that enables Perth to significantly increase diversion while producing high-quality products for years to come," said Miller.