King County building on significant increase in tonnage
Facility upgrades and expanded recycling opportunities equate to a 41 percent increase in tonnage processed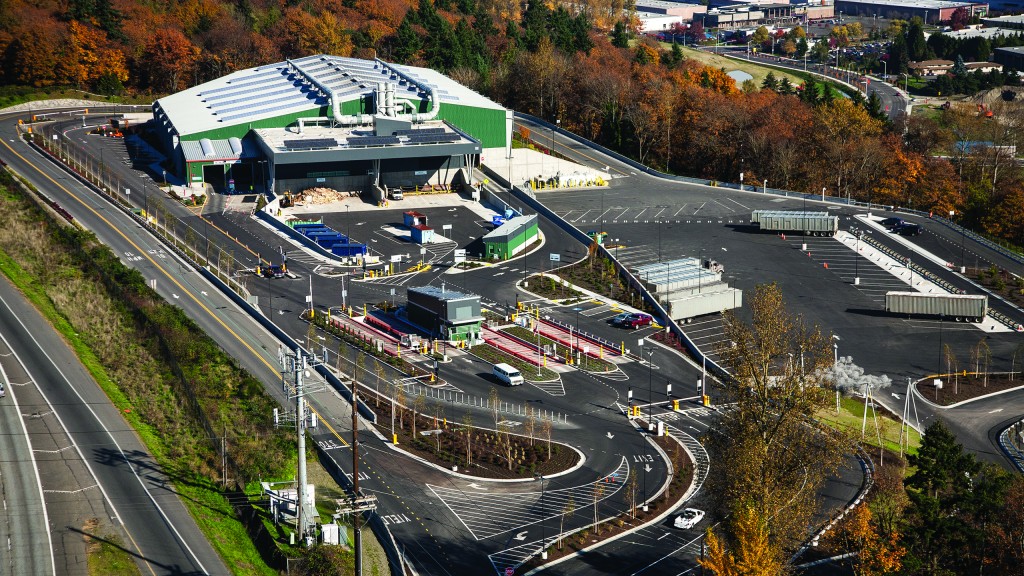 The King County Solid Waste Division, located in the Puget Sound region in western Washington State, saw a 41 percent increase in recycling tonnage at its network of transfer/recycling facilities and rural drop box stations in 2016, compared to 2015. According to King County, the increase is the result of an expansion of services and types of recyclable materials accepted, infrastructure upgrades, revamped signage and additional employees available to answer customer questions about recycling at all of its facilities. All of this has meant a jump in the number of customers who brought their sorted recyclable and compostable materials to King County facilities.
In total, the region handled 25,560 tons of separated recyclable and compostable materials in 2016, exceeding its goal of 24,000 tons.

"Employees and customers working together have made great progress toward our ultimate goal of zero waste of resources," said Pat McLaughlin, director of the King County Solid Waste Division.

"The gains we made in 2016 kept valuable resources out of the landfill and put them back into the economy. By doing this, we cut greenhouse gas emissions equal to removing 7,000 vehicles from our roadways," McLaughlin said.

According to McLaughlin, yard waste - including branches, grass clippings, leaves, weeds and holiday trees - accounted for half of the total tons diverted from landfill at King County recycling and transfer facilities in 2016. Scrap metal comprised 14 percent of the diverted tonnage, followed by clean wood (lumber, pallets and crates) at 12 percent of the total. Cardboard made up 10 percent, and an additional 12 percent of diverted recyclable materials included paper, glass bottles and jars, metal cans, and plastic containers which are commingled in designated recycling bins at division facilities.

McLaughlin notes that while types of recyclable and compostable materials accepted in King County differ by facility, and many materials can be recycled at no charge, fees charged for large appliances, clean wood and yard waste remain lower than the fee for garbage drop-off.
Upgrades Equate to Increased Tonnage
The King County Solid Waste Division is responsible for the operation of eight large transfer stations with recycling capability, as well as two that only accept refuse, without recycling services. One of these refuse-only transfer stations is being upgraded this year to accept recyclables and the county also operates two rural drop box stations to serve some of the more remote communities in the region, including island communities located on Puget Sound. Both of the rural drop boxes also offer some recycling services.

According to Jeff Gaisford, Recycling & Environmental Services Manager, King County Solid Waste, who's staff oversees the transfer station recycling program, they have seen the biggest increases in tonnage at their large, updated urban stations, which were previously set up to handle refuse only. These include the most recently upgraded Bow Lake facility (the largest in King County) as well as the Shoreline facility, both of which are located near Seattle.

"We have rebuilt three of our urban transfer stations specifically to offer recycling services, rather than just pushing garbage into trailers," explains Gaisford. "Where we've seen the big increases is with our urban stations. Once we started taking in yard waste, wood waste, scrap metal, appliances and providing full service recycling stations, it really started adding to our recycling tonnage.

"We have been collecting some curbside materials for years, including tin, glass, aluminum and paper, but previously they were collected in separate drop boxes," continues Gaisford. "What we have done at all our stations, is we commingled our collection stream, which made things much more operationally efficient. We are now hauling fuller containers. And as we put in the commingled drop boxes for all materials, we also put in compactors, so we are getting more payload."
Gaisford adds that besides creating efficiencies in hauling materials, this has created convenience for customers dropping off material, which has played a large part in the increased tonnage they've seen over the last several years.

"One of the things we've done at our Bow Lake and Shoreline facilities is that we put recycling containers for scrap metal, wood and cardboard right next to where customers are dumping their garbage," he says. "They don't have to go to a separate area for their recycling, and this simple change has greatly increased our recyclable materials inflow."

In addition to making drop-off of recyclables more convenient, King County has redone their recycling signage at all facilities.

"We moved away from a lot of text, and use signage with pictures of materials, with less text, in both English and Spanish," says Gaisford. "We also use digital reader-board signs where we can change our messaging. Our improved signage has helped increase our tonnage significantly."

One other recent upgrade Gaisford mentions is the addition of a new Max-Pak, two-ram horizontal baler installed at the Bow Lake facility when it was rebuilt in 2012.

"With the uptake in volume of cardboard that we've seen, we're now able to bale it, hang onto it, and ship large amounts, which means increased profit that we use to offset costs in other areas of our operations. We'll be using it for other materials, such as plastics, in future."
This article was originally published in Recycling Product News, April 2017, Volume 25, Number 3.