ISRI Names EcoStrate Winner of the 2017 Design for Recycling Award; presents Lifetime Achievement Awards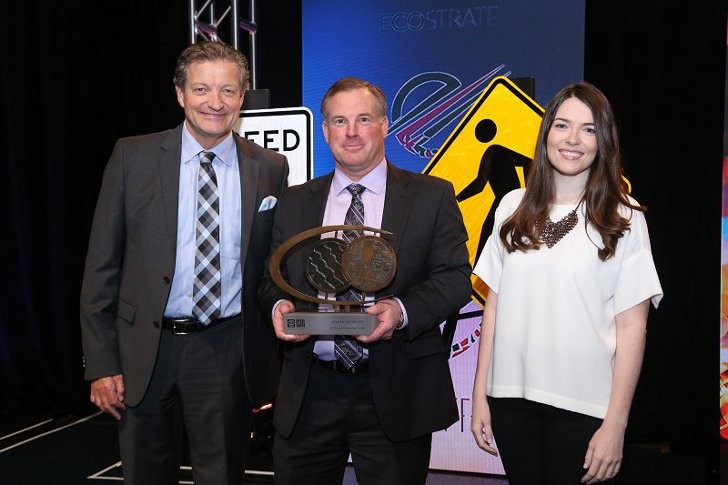 On April 27, during this year's ISRI Convention and Exposition in New Orleans, the organization announced EcoStrate as the recipient of the 2017 Design for Recycling® (DFR) Award for its ability to create composite plastic products from 100% post-consumer, high-polymer content scrap materials that are difficult to recycle. The DFR Award is ISRI's most prestigious award given annually to the most innovative contribution to products designed with recycling in mind. It recognizes proactive steps made by manufacturers that have actively incorporated DFR principles into products and processes.

"ISRI is proud to present the 2017 Design for Recycling® Award to EcoStrate for its innovative technology that demonstrates a commitment to sustainability in the design and manufacture of its products," said Robin Wiener, president of ISRI. "The revolutionary process developed by EcoStrate has the potential to open new markets not just for plastics recyclers, but for those who handle electronics, textiles, and other commodities. It is a prime example of how manufacturers and recycling industry can work together to expand sustainable manufacturing and recycling."
Through the development of a new process, EcoStrate is able to manufacture traffic signs, indoor/ADA signs, flooring, and other surface materials from polymer content derived from used electronics, textiles, and various other scrap. Prior to use by EcoStrate, many of these materials were entering the waste stream due to non-compatibility with recycling technologies. Through this new manufacturing process, EcoStrate has created the ability to pull new materials into the recycling stream. Furthermore, each of the products EcoStrate produces is recyclable.
"Using EcoStrate's proprietary technology platform, we've worked hard to create products and solutions that utilize the more challenging polymer waste streams," said Ron Sherga, CEO of EcoStrate. "EcoStrate products can utilize 100% post-consumer scrap from E-Scrap, Textiles and Packaging that are fully recyclable back into numerous EcoStrate products. Our traffic signage substrates and other composite products improve safety, lower cost and create environmental offsets in large end-markets. These end-markets are capable of large volume waste diversion and support the reduced usage of harmful chemicals and virgin resources. Our material sources and product solutions have a global impact in developing markets as well as here in the USA."
Crawford Carpenter and Herschel Cutler Honored with Lifetime Achievement Awards

On April 27, the Institute of Scrap Recycling Industries (ISRI) recognized Crawford Carpenter, who recently retired from Caraustar Industries, with its Lifetime Achievement Award. Mr. Carpenter received the award for his lifetime of dedication to the education and preparation of the next generation recyclers, researchers, and citizens.
"Crawford Carpenter's passion for education and for the recycling industry creates a true legacy within the industry," said Robin Wiener, president of ISRI. "Thanks in part to his efforts millions of students are now receiving ISRI's recycling curriculum as part of their K-12 education. Hundreds have received financial support needed to go to college because of Crawford's energy and determination in promoting the Recycling Research Foundation and Paper Stock Industries scholarship programs. It was also his vision that led to the creation of the national veterans stipend program providing educational support to those who served in our military. A whole new generation is better aware of our industry, and many will see jobs in recycling because of what they learned from or due to Crawford."
The award was presented to Mr. Carpenter during ISRI's annual convention and exposition in New Orleans. It is the largest gathering of recyclers in the world. Dr. Hershel Cutler, the organization's first executive director, was also presented with the award this year.

Also recognized at this year's ISRI, Dr. Herschel Cutler became the organization's first executive director to receive its Lifetime Achievement Award. Dr. Cutler received the award for his commitment to his family, his community, and his many friends and colleagues in the recycling industry.

"Herschel Cutler was more than just a leader, he was the heart and soul of ISRI and the entire recycling industry and a mentor for many of us on staff," said Robin Wiener, president of ISRI. "Herschel fought some of the biggest public policy battles this industry has ever faced, and in many regards saved recycling from regulatory destruction. Without Herschel, the industry would not be the economic driver and global leader it is today. On a personal note, I feel very lucky to have had Herschel as my teacher and friend for so many years. He taught me much of what I know about the industry, and for all that and much, much more, I will be forever grateful."
In 1987, the Institute of Scrap Iron and Steel and the National Association of Recycling Industries agreed to merge and to form ISRI. Herschel Cutler was designated as the executive director of the newly formed organization. His guidance and concern helped ISRI through its early growing pains to become the strong and powerful voice of the scrap recycling industry. Throughout the 1990s, Cutler fought for the Superfund Recycling Equity Act, which provides relief to recyclers from the Superfund legislation passed in 1980 that threatened the industry. Under his direction, the recycling industry was able to declare victory in 1999.

"Whatever successes this award credits to me were made possible by the commitment of the members, an incredibly dedicated leadership corps and an amazing staff," said Dr. Cutler.
Related Articles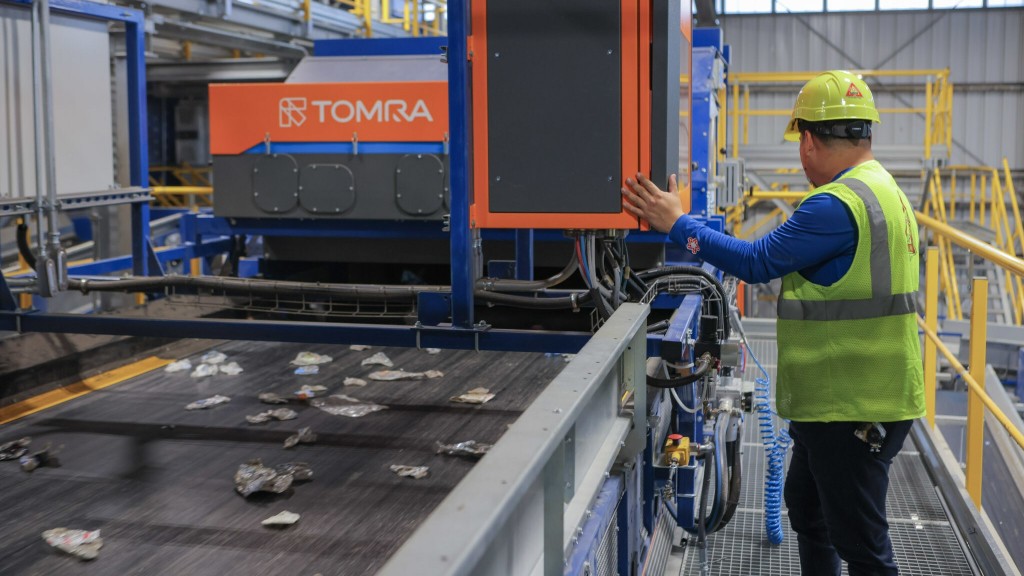 Republic Services' polymer centre can turn plastic bottles into new bottles over six times