McCloskey responds to worldwide growth with investments in new facilities and dealers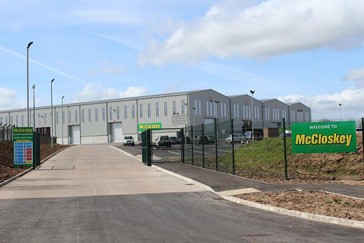 Screening and crushing industry leader McCloskey International has continued its expansion over the past three years, with close to 35% growth overall, increased market share, major investments in its manufacturing facilities, and the introduction of a new division. In lockstep with this growth was the addition of over 30 dealers to the global distribution network.
A new Manufacturing Centre of Excellence is set to open its doors at the Granville Industrial Estates in Dungannon, Northern Ireland this month to house additional production for the McCloskey range. The new site will deliver increased assembly and production space for the crushers, screeners and stackers, as well as the new washing systems range. The new 120,000 sq. ft. building and site represent a £7.0 million investment into the business, and is expected to deliver 50% increase in production over the next 3 years.
The new site will also house the production for new business division McCloskey Washing Systems (MWS), focused on washing and classifying across multiple applications. The new unit designs and manufactures a full range of mobile, modular and static material and mineral washing equipment.
Also contributing to the company's growth has been its commitment to after sales service and support. Two new Parts Hubs have recently opened their doors to serve customers around the world, one in the United States, and the other in Northern Ireland. The Milwaukee, Wisconsin 43,000 sq. ft. parts and service depot offers same day air or ground dispatch throughout the Americas, while the 10,000 sq. ft. facility in Coalisland, Co. Tyrone serves Europe and an expanding worldwide market. The dedicated sites allow for expedited delivery of parts regardless of physical location.
McCloskey has also expanded to support its growing crusher business with the acquisition of Milwaukee Crusher, based in Wisconsin. The site serves as a dedicated crusher repair facility, with the ability to rebuild and repair all makes of crusher, portable and stationary, as well as provide expert crushing system analysis and advice.
"Accelerating sales of our equipment show that the quality, reliability and durability of McCloskey products is increasingly recognized around the world, and important to our customers," said John O'Neill, VP, Sales for McCloskey International. "As important for McCloskey is the relationship after the deal is done, and the opening of facilities to continue to support our customers with parts and service allows us to provide both quickly and effectively."
Between 2008 and 2012, the footprint of the facilities increased by over 50%, with five new buildings and production areas in Canada alone. 2017-2020 will see more expansion to accommodate demand, including the new Manufacturing Centre of Excellence in Dungannon.
In addition to its physical expansion, the company has continued to add new international dealers across all regions to represent the number of new products that were added to the company's portfolio. The over 30% growth has resulted in a network of close to 100 dealers in virtually every region of the world from South America to South Korea, Alaska to Australia.
Reflecting back, Paschal McCloskey, President and CEO of McCloskey International noted "three years ago we had 65 dealers, and our goal was to grow to close to 100. We have achieved that goal, and continue to work to expand our reach, and our markets, worldwide. There have been many contributors to our success, but one of the greatest is the loyalty of our customers worldwide. Their commitment to our products is the engine behind our growth."