Excel Machinery Ltd joins McCloskey Washing Systems global dealer network for North America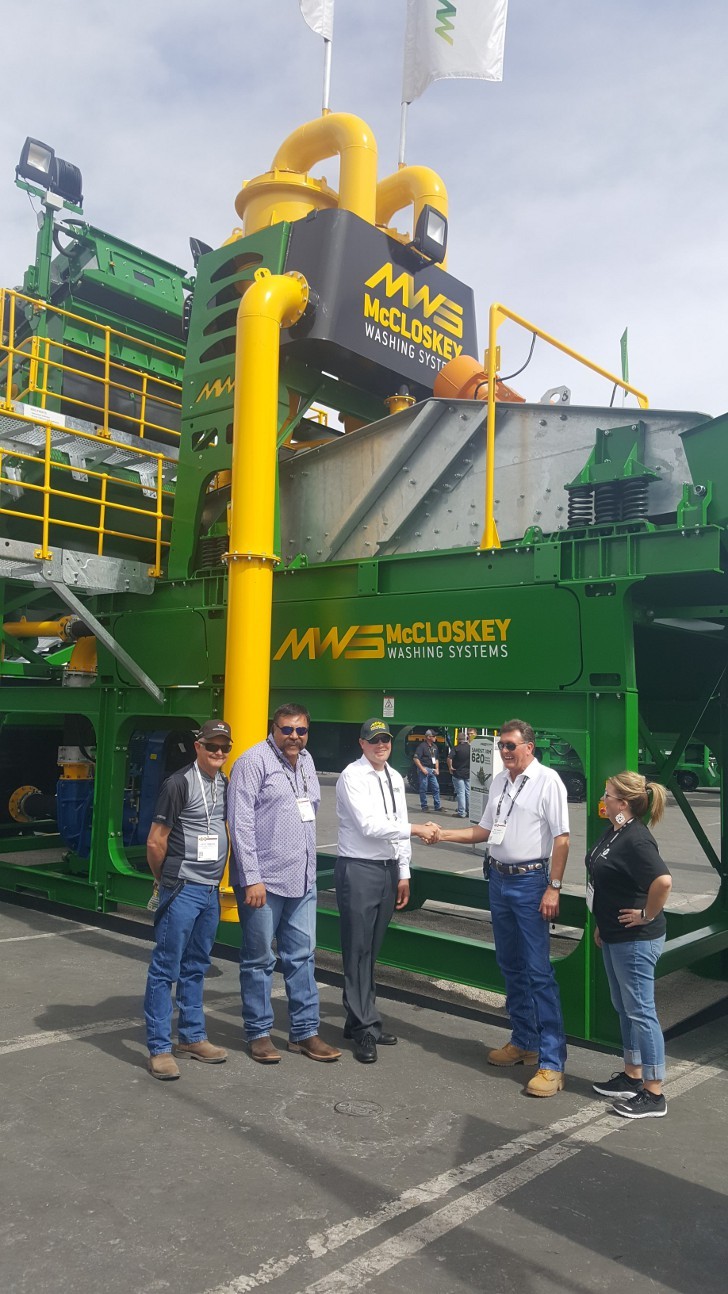 Washing equipment specialist, McCloskey Washing Systems has expanded its global dealer network at one of the world's most prominent tradeshows, CONEXPO/CONAGG 2017. Excel Machinery Ltd will join McCloskey Washing Systems as the official distributor offering a full range of washing and classification equipment at its two locations in Texas and Oklahoma. The partnership announcement was made following the North America trade show, CONEXPO 2017, in Las Vegas last week, where MWS officially launched the inspiring and immense modular wash plant, SandStorm 620. Since 1989, Excel machinery has brought decades of Industry experience and a highly skilled group of designers to create solutions, tailor-made for each customer's unique operation. Excel Machinery Ltd is a specialist provider of materials processing equipment for the quarrying and waste recycling industries. They provide complete solutions from single equipment specification and supply, to the bespoke design and installation of complete integrated processing systems.
Employing 90+ people, Excel Machinery serve markets both in the United States and internationally and manufacture everything from crushers, screening, washing plants to conveyors and electrical control packages.
With Excel Machinery's strong presence in the waste and recycling sector and expansion into washing applications, the synergy between the two companies was immediately seen as mutually beneficial for both parties.
Commenting on the recent appointment as North America dealer, Matt Garth, Director of Excel Machinery said; "We are excited to partner with McCloskey Washing Systems, to bring innovative washing equipment to Texas and Oklahoma. McCloskey Washing Systems have become a staple in our industry and we feel that we made the right decision to join McCloskey Washing Systems to become the leader in this area. We offer a full line of washing equipment combined with our reputable customer service, 100+ years of experience, and the desire to furnish quality equipment to meet our customer's needs".
Commenting on the addition to the dealer network, Sean Loughran, MWS Director, said, "We are looking forward to working with Excel Machinery. They have a wealth of experience and we are confident that they will be able to help customers deliver their mineral washing needs.
"We expect 2017 to be a very significant year for McCloskey Washing Systems in North America," he continues. "Excel Machinery is a name associated with quality equipment, exceptional customer service and overall the ability to work with customers to identify issues and develop a system that improves productivity. This matches our own approach to the design and execution of successful materials, washing projects and we are very excited about the opportunities that will present themselves, as a result of our new partnership."
McCloskey Washing Systems and Excel Machinery will work together with their customers to understand their needs to select the product most suited to their business requirements. The support continues once the product is on site and incorporates a range of services such as after sales technical service support, spare parts requirements and product warranty.
Matt Garth added, "We pride ourselves on providing our customers with leading edge technologies, with excellent technical support to support customers. We aim to help our customers to develop their business and make it as efficient and profitable. By adding McCloskey Washing Systems as an equipment provider, we will be competitively positioned in the market to continue to meet our customers' needs. McCloskey Washing Systems have planned an aggressive washing equipment portfolio. We believe that the MWS product range will give us significant business opportunities and gain a major part of the market share in North America".
McCloskey Washing Systems (MWS) designs and manufactures a full range of modular, mobile and static washing equipment for the Aggregates, Waste & Recycling, Mining and Construction sectors. Based in N. Ireland, the company is officially opening its doors at the new centre of excellence at Granville, April 2017.
Company info
Related products