​BUNTING MAGNETICS TO UNVEIL REDESIGNED EDDY CURRENT SEPARATION CONVEYOR
New machine provides better separation and easier maintenance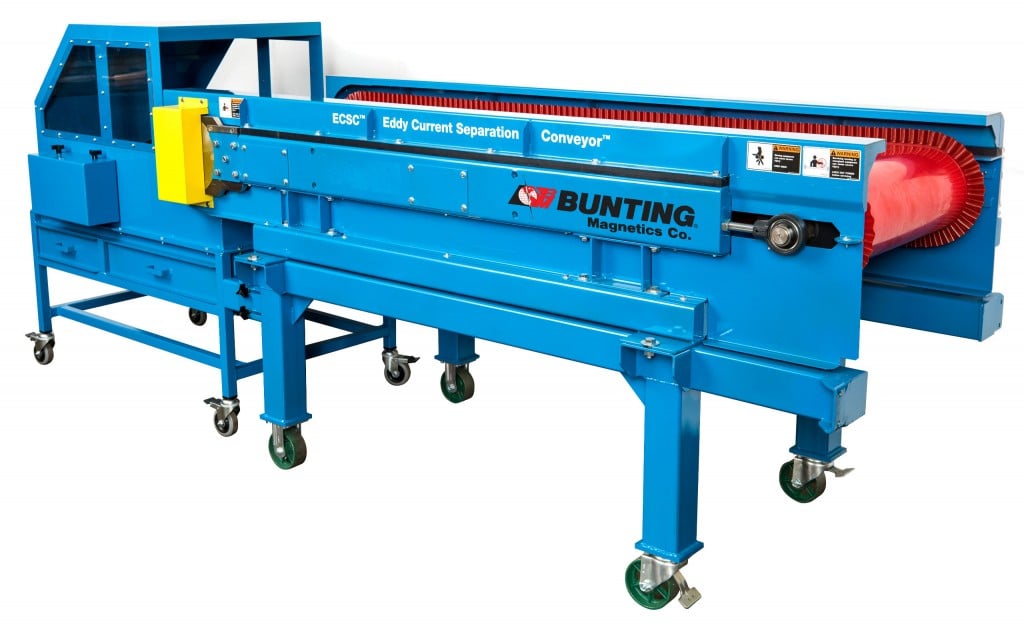 Bunting Magnetics Co., is set to unveil its redesigned Eddy Current Separation Conveyor at the 2017 Institute of Scrap Recycling (ISRI) Convention & Exposition in April. According to Bunting, this next generation machine is a well-designed synthesis of technology and functionality. During the development work, high priority was placed on durability, magnetic rotor design and speed to provide optimal separation, and easier maintenance.

"Visually, the redesigned Eddy Current Separation Conveyor doesn't look much different than our previous design," commented Don Suderman, Product Manager, Material Handling. "But when you peel back its skin and look inside of this advanced sorting machine, it's very different. At its heart is its redesigned large diameter rotor that delivers stronger eddy current magnetic fields, with higher gauss. Plus, the stiffer design allows higher speeds for efficient separation even in finer particle flows."
With a clean, low-profile design and permanent rare-earth magnetic technology, Bunting Magnetics' Eddy Current Separation Conveyor (ECSC) effectively separates non-ferrous conductive metals such as aluminum and copper from dry recyclables such as PET and plastic flake. With magnetic rotor speeds of up to 3,600 rpm during operation, the machine is the ideal solution to separate aluminum cans making it invaluable in the historically high volume aluminum recycling market. Other applications include small particle processing, chopped wire, electronic scrap, MRF, MSW, wood, paper, glass, automobiles, and rubber process streams.
Additional key features include: Tough urethane belts for longer wear; Belt guide rails for better belt tracking; Corrugated belt sidewalls for material containment; Cantilever frame design for belt replacement in minutes; standard take-ups for easier belt adjustment; and double variable frequency drives for adjustable speed. The redesigned Eddy Current Separation Conveyor is available in widths of 24", 36", 48" and 60" and promises quick field set up and installation.

"While the redesigned Eddy Current Separation Conveyor is an effective solution in non-ferrous separation, it also can complete a recycling system for maximum product purity. When teamed with our HISC™ High Intensity Separation Conveyor™ or SSSC™ Stainless Steel Separation Conveyor™ for stainless steel separation, magnetic over-the-belt CrossBelt™ Separation Conveyor, Feeder Conveyors and Vibratory Trays, you have a complete solution from Bunting Magnetics that attracts, holds and attracts every metal from the recycling stream," continued Suderman.
Bunting Magnetics Co. will be on hand with their redesigned ECSC Eddy Current Separation Conveyor, as well as the new SSSC (Stainless Steel Separation Conveyor) at ISRI 2017, in New Orleans, from April 24-26.