The benefits of hybrid equipment
Komptech expounds the benefits of running on electric power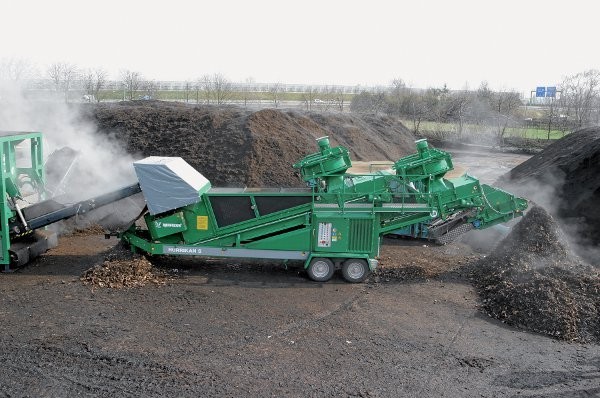 According to Komptech USA, more and more of the company's machines these days are hybrids, with the dual power capability of electricity and diesel. The company says, unlike a diesel engine, an electric motor doesn't need the air filter blown out every day, or the oil changed, or the radiator checked.
Komptech hybrid machines feature all-electric drive, with an auxiliary onboard diesel generator that has the capability to run directly off the electrical power grid. The company says, compared to diesel, an all-electric drive is more efficient, cleaner, and quieter, and the generator allows users to move from site to site, with ground power or not. Plus, the generator, when required, is much more fuel efficient than diesel over hydraulic units.
Komptech's star screens have been electric-powered for years, and the company now offers hybrid drive in its windsifters and trommel screens (including the newly introduced Cribus line). Units can plug directly into any site with 480V 3 phase power.
Komptech says a Cribus 3800 Trommel Screen running from plug in ground power requires 30 kW to operate. At nine cents per kilowatt, that's $2.70/hr x 2,000 hours = $5,400 per year. The same machine running from the diesel generator requires 1.5 gal/hr fuel x $4.00 gallon = $6.00/hr x 2,000 hours = $12,000 per year. Diesel powering an equivalent size hydraulic machine uses approximately 30 percent more fuel, or 1.95 gal/hr x $4.00 gallon = $7.80/hr x 2,000 hours = $15,600 per year.
With the Cribus 3800 then, Komptech says, operators can save over $10,000 per year running on grid power instead of conventional diesel hydraulic, or $3,600 per year running on the diesel generator. Either way, the hybrid machine costs much less to run, and there are no hydraulic lines, pumps or motors to leak, break or come apart and potentially contaminate the entire system.