CEMCO Introduces Portable Industrial Tile Recycling Plant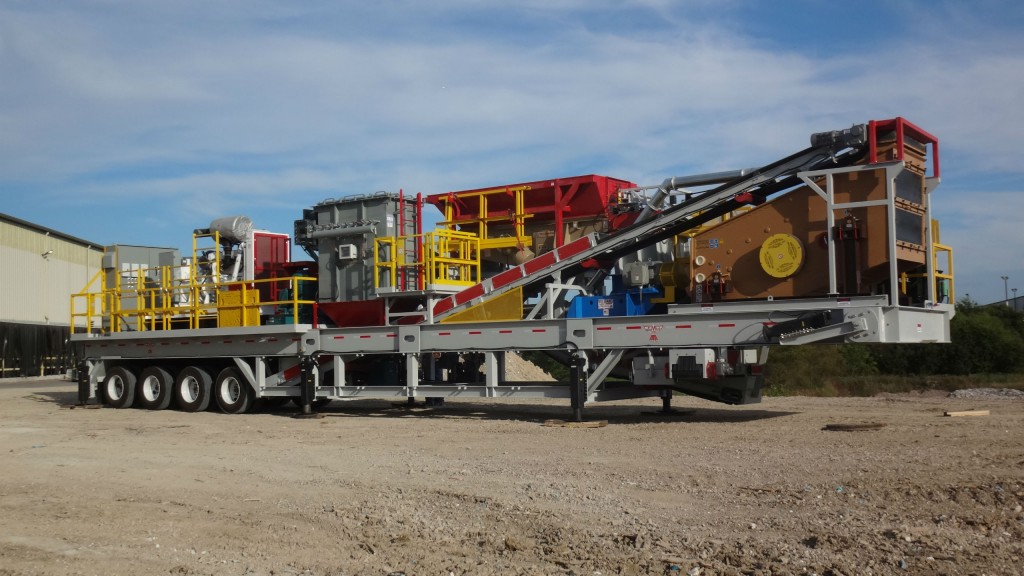 CEMCO has introduced a portable tile Recycling Plant as a zero-waste solution for crushing stockpiles of unused tile into a fine product that's suitable for use as a raw material. The entire system, which is mounted on a custom trailer for convenient hauling, can be fully operational within an hour of arriving at a jobsite. CEMCO works closely with companies to customize plant designs to suit a variety of material recycling applications.
CEMCO designed theplant around its Turbo 54 VSI Crusher, an efficient, highly productive vertical shaft impact crusher capable of processing a variety of aggregates and industrial minerals. The Turbo 54 handles material as large as 2 inches and uses centrifugal force with stationary anvils to crush it along natural stress lines into a uniform, cubical, high-quality product. The crusher features a single-drive motor with input horsepower capabilities up to 250.
The closed circuit plant also includes a primarycrusher, dust collection system, triple-deck incline vibratory screen and vibratory feeder. A 500-kilowatt generator powers the equipment for ultimate location flexibility. "This plant is absolutely one-of-a-kind. A customer approached us looking for a portable option for tile recycling. By adapting the plant's components to fit on the relatively compact surface of a single trailer, we eliminated the need to transport the equipment separately and reconfigure the plant at each site," said Jennifer Hise, CEMCO vice president. "This saves time and money, and it's a concept we adjust and adapt to suit other companies needing portable solutions for industrial recycling."
The plant is mounted on a custom 65-foot, 98,000-pound quad-axle trailer with self-leveling hydraulic jacks for easy setup. CEMCO designed and built the trailer to meet Department of Transportation specifications. The plant is 12 feet wide with a transport height of only 14 feet 11 inches. Designed for a single product output, the plant efficiently crushes tiles to as fine as 20 mesh. This allows operations to reintroduce the material to the product stream, which makes money, rather than bringing the material to the landfill at an average cost of $24 per ton. The plant runs with a 50- to 75-tph feed rate and a 30-tph output at 6 mesh. The plant can crush as fine as 20 mesh, but at a somewhat slower output rate. Changing screen sizes expands the plant's capabilities to crush other industrial materials or aggregates. The Portable Industrial Tile Recycling Plant was manufactured at CEMCO's Belen, New Mexico, facility and is built to meet all OSHA and MSHA safety standards.