Up to speed in Saskatoon
Loraas Recycle is using a Bollegraaf system to process single-stream materials at over 20 tons per hour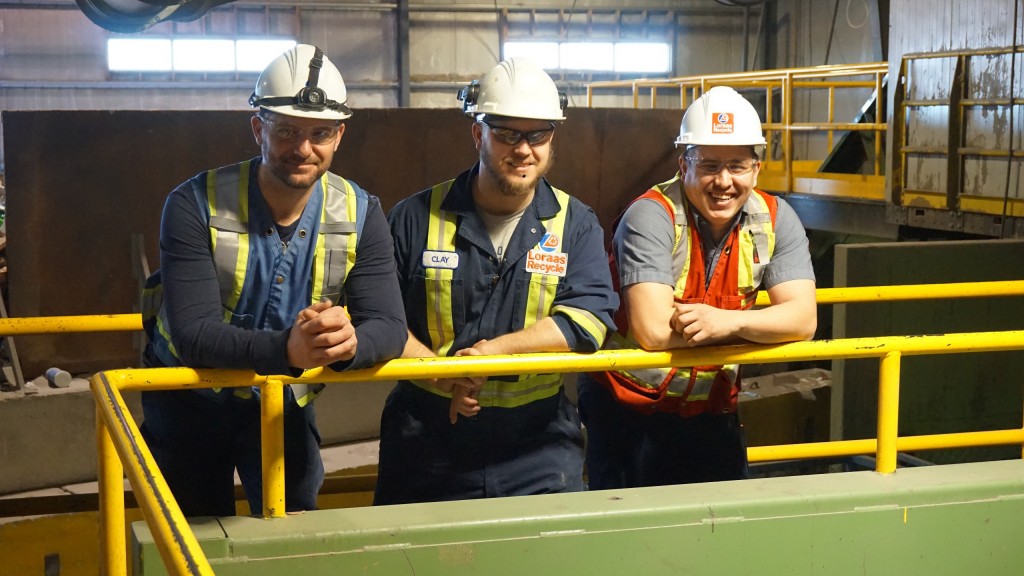 Based out of Saskatoon, Loraas Disposal Services is Saskatchewan's largest privately-owned full-service collection, transfer, landfill and single-stream MRF operator. Bruce Loraas founded the company in 1965, which now employs over 200 people.
Prior to 2012, when the company's recycle plant manager Dale Schmidt started, he worked in the mechanical and operational fields in various industries, including the steel cable/rigging sector. Schmidt moved directly into the recycling side of Loraas' business, working at the full-scale single-stream MRF facility – Loraas Recycle - the company opened in 2011. He started as a floor supervisor, in charge of all the equipment, as well as shipping and baling. From there, he moved on to the operations supervisor position and then eventually became the recycle plant manager. "The range of experiences that I had in the past allowed me to move ahead quickly and really work well within the MRF environment," says Schmidt.
BRINGING THE LORAAS RECYCLE MRF ONLINE
The Loraas Recycle MRF was built on the foundation of All Green Recycling, a newsprint and cardboard recovery operation that operated through the 1990s. Schmidt explains how the transformation from a strictly paper recycling facility to a full-scale, single-stream MRF came about.
"As the times changed, there was demand for a more comprehensive recycling program that included household plastics and metals," he explains. "So in order to meet the needs of the surrounding communities, in 2011 All Green Recycling was changed to Loraas Recycle as a division of Loraas Disposal. We purchased a full, single-stream recycling system from Van Dyk Recycling Solutions who provided us with a complete Bollegraaf set up. We were then able to expand our collection to surrounding areas, and we now have the capability to process 5,000 to 6,000 tons of single-stream material monthly."
Since the initial installation, Loraas Recycle, through their ongoing relationship with Van Dyk, added two TITECH (now branded TOMRA) optical sorters, which have helped them significantly in achieving their current high levels of productivity.
"The first TITECH optical sorter in our line captures any bits of fibre, usually three-dimensional material missed by our star screens, keeping it out of our residuals. The second TITECH machine helps sort out plastic, and uses a specialized sensor to capture aluminium. After it's sorted, it is baled using a single-ram Bollegraaf HBC 120 baler, and shipped out of our facility to end markets."
Along with their TITECH sorters, Schmidt says they have quite a few pieces of equipment that enable them to achieve solid processing times. "We process about 20-22 tons per hour on average, and only beverage containers and high-end plastics – about 5 percent of our material – is hand-sorted," he says. Other equipment supplied by Van Dyk that has provided great efficiencies for the Loraas MRF include multiple star screens, a ferrous magnet, and a specialized piece of equipment called a "paper magnet".
"Our paper magnet uses a perforated belt that has a vacuum system hooked to the back side. The overs from the ONP stars fall through and they get thrown against this perforated belt. From there, all the nice, one-dimensional paper gets stuck and brought over to the ONP side. Everything else then continues down the line."
Schmidt says that since 2011, they have been able to streamline their system to be able to push out their high capacity per hour, have cut their labour costs with respect to hand sorting, and still have a good, clean, marketable product. He adds that it is due to the quality of their machinery, that there is less residual material they have to send to landfill.
"The less residual we have off the line means more material that we are diverting, the less that's going to landfill, and the less we're having to spend to send it to landfill."
With respect to incoming materials, Schmidt says about three-quarters is actual single-stream material, which includes Mixed Paper, OCC, as well as one through seven plastics, tin, and aluminium. Outside of this, materials are sourced from ICI streams (industrial, commercial and institutional waste) including a good deal of cardboard from customer bins and compactors. No source-separated material goes through the MRF's sort line.
"For source-separated material, we dump it on the floor separately, and then we bale it right away. So we don't even run it through the sort line. We run it straight out through the baler."
Schmidt adds that additional pieces of technology they do not have, but which he would love to add to his arsenal would include an Eddy Current Separator. "It would just help sort our aluminium a little better. I would also like a few more TITECHs and be able to specify each one to a certain product."
EDUCATING FUTURE RECYCLERS
Part of Loraas' growth and success with respect to their single-stream MRF has to do with the company's public education initiatives. The focus of this aspect of the business revolves around the Loraas Education Centre, and the focus audience for the most part is school-aged children.
Schmidt says they see lots of students from area schools coming through for facility tours; in fact – close to one class per day. Loraas' overall public educational focus is aimed at schoolchildren because, he says, they will take what they learn home with them and 'teach' their parents about recycling.
"By focusing on educating schoolchildren, they're going to go home and hopefully ask questions like: 'Why did you throw this contaminant in the recycle bin?' and 'Why is that recyclable in the garbage?'
"We have found that the better you understand your local MRF, the better recycler you can be," says Schmidt. "So trying to teach the kids so they can go home and basically help spread the word, that's been our primary goal with our education centre."
He adds that it's been well-received by community groups and area schools. "A lot of the schools often use it as either the prequel to, or for the end of their unit on the subject of recycling, which is great."
ADAPTING TO THE SINGLE-STREAM MODEL
According to Schmidt, being a single-stream operation has meant that recycling is much easier for their surrounding population of residences and businesses, which means higher levels of participation. He says it really gets rid of the confusion of multi-stream with respect to what goes where.
"Previous multi-stream models that we had in the city didn't do as well," says Schmidt. "People found it confusing. It was too much work, and they didn't want to participate.
"Once our single-stream facility became available to the province, we've found that people are happier with how easy participation is."
The challenge with single-stream however, he emphasizes, is with contamination.
"At first, general categories for recyclables, to some of the participants, seemed vague," he continues. "To combat this, we've been working closely with our customers. We're not just a city program collecting residential curbside materials. We collect ICI recyclables as well. So we've been working with businesses to better educate them about what is recyclable and what is not. We bring them in for tours when they have any questions."
He says that as far as contamination of the residential stream goes, it does come mostly from household garbage and kitchen waste. "Unfortunately, we see a lot of diapers. For some reason, people think that those are recyclable. Yard waste can also be challenging during the summer. When people are cleaning up, they tend to throw a little bit of non-recyclables in the recycle bin. And sadly, we do get a lot of needles, which can pose a safety hazard to our employees."
However, with respect to overall contamination of their incoming stream, Schmidt does believe it's getting better than it was five years ago. "When single-stream was fairly new, I don't think people truly understood what it was all about. As the years have gone by, with educational programs, with the information that is out there, and with increasingly clear signage for collection bins and trucks, the stream has cleaned up. We have certain times of year where it gets a little crazy, during spring cleaning, for example. For the most part though, it looks better year to year, month to month. We see the differences. As time goes on, people are learning a skill. I think the general population actually cares a little more now as well."
GROWING DEMAND FROM COMMUNITIES IN NEED
Over the years, Loraas Recycle has seen demand for their services grow in different industries and they have seen an opportunity to help out other communities in Saskatchewan relieve some of the stress on their landfills through diversion of waste.
"We can help out, not just with diversion from our landfill, but from other landfills," says Schmidt. "People want to do the right thing, and they need a company to step up and help them do the right thing. That's kind of where we came in when we started our MRF."
For the near-future at Loraas Recycle, Schmidt says he expects the next few years will be business as usual. "There's always going to be the objective for further expansion in the province, helping out smaller communities and giving them more access to our program. A lot of the smaller communities in Saskatchewan are starting to lose their landfills, or they're being trimmed back, so they really have to start recycling more. Besides the potential of expansion to more communities in the province, he points to increased organics diversion as a logical next step in building up provincial diversion rates.
At the Loraas Landfill (Schmidt is not directly involved) they do currently shred clean wood waste in order to maintain landfill air space. Using a recently purchased Doppstadt 3060-K single-shaft shredder, wood waste they do receive is either composted or used as an intermediate landfill cover.
"We certainly see an increased demand for organics management – to divert it from the landfill," Schmidt says. "Saskatchewan is a little behind the times on this front. Increasing organics diversion is on our radar, and it's probably going to be the next big challenge to solving waste in this province." RPN
Company info
360 Dr. Martin Luther King Jr. Drive
Norwalk, CT
US, 06854

Website:
vdrs.com
Read more