Peterson Pacific debuts all-new 4710D horizontal grinder at ConExpo-Con/Agg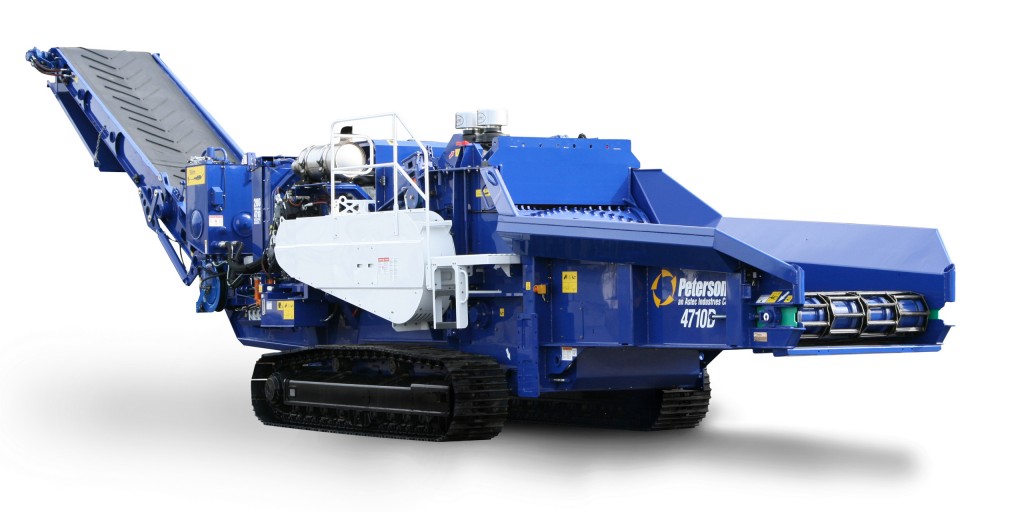 At CONEXPO-CON/AGG 2017 which took place last week in Las Vegas, Peterson Pacific Corp. introduced the new 4710D horizontal grinder.
The new 4710D horizontal grinder is designed for high-volume producers with very demanding end-product specifications, and is powered by a Tier IV Caterpillar C18 engine rated at 755 horsepower (563 kW). A Tier II, 765 horsepower (570 kW) engine is also available.

"The mid-size 4710D completes the range of four "D" models of Peterson horizontal grinders with Tier 4 engines options and industry leading features and customer benefits," said Larry Cumming, Peterson's president. "The 47 series has been Peterson's most popular model since it was first introduced in 2004. The high performance and light footprint under 37,000 metric tons, make the 4710D very popular with demanding pipeline land clearing contractors and medium size mulch and composting operations."
Boasting 18 inches (46 cm) of ground clearance—this model is particularly suited for land clearing operations or other applications where mobility and frequent moving is desired. Peterson's three-stage grinding process with an up-turning rotor and large grate area enables the 4710D to produce materials to exact specifications. Quick-change multiple grate system makes it easy to customize grate configurations to produce a wide variety of finished materials. Grates are removed through an access door on the side wall.
The 4710D features Peterson's Adaptive Control System, which controls all components of the feed system to optimize output. This system monitors the grinding load and varies the speed of the feed system to keep the engine working at the top of its power curve. It automatically accelerates the feed system when the engine load is light, slows when the load is high, and reverses if the engine speed drops. It even monitors the engine temperature and varies the cooling fan speed to minimize power usage and reduce fuel consumption.
The Peterson 4710D horizontal grinder is also Peterson+ enabled--a new remote monitoring solution providing machine owners access to real-time and historical data of their machine's performance and location.
Company info
29408 Airport Rd
Eugene, OR
US, 97402

Read more
Related products
More from Organics Recycling
Single-Ram and II-Ram High-Capacity Balers
At Machinex, we've been designing sorting systems for over 35 years, so we know how essential it is for MRF operators to have a baler they can trust and not worry about its operational reliability. This is why we design and manufacture reliable single-ram and II-ram high-capacity balers to specifically help optimize their operations.
Watch the video of our expert who presents the main features of Machinex balers delivering these important benefits:
Easy & accessible maintenance
Reduced maintenance & bale handling costs
Energy savings
Optimal bale density
For C&D recyclers, waste haulers, demolition contractors and landfills, there is a growing opportunity to profit from rethinking processes. Although every operation is different, by streamlining the front end of the C&D operation processes with purpose-built technologies, recyclers can tap into new end markets, accommodate higher material volumes, stay ahead of regulatory restrictions, increase recovery rates and add commodity revenue, while decreasing labor and other costs.
Download the new eBook to learn about:
Finding opportunities in the alternative to landfilling C&D
How facilities can increase their profits from C&D
Using the right C&D processing technology in the right locations