Experience in organics leads to growth in C&D
In just four years, Frontline Machinery has established a solid reputation for supplying great equipment and strong service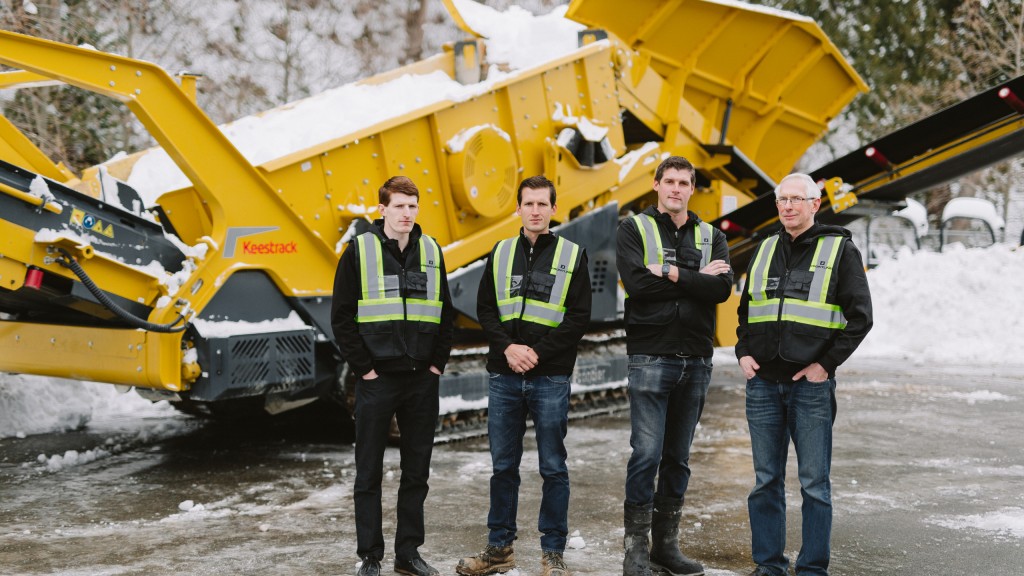 When the Todd family – father Steve and sons Daryl, Royden and Loren – decided four years ago to leave the organics industry and move into a retail business selling and renting equipment for various sectors, they didn't wander far from their familiar places.

Instead of moving entirely out of the organics recycling sector, the Todds decided to embrace the business that they had participated in for so long. Their newly established company, Frontline Machinery, based out of B.C., over the last several years has become the Canadian connection for a wide range of European-manufactured equipment and technology designed to aid organics and C&D recycling focused businesses with shredding, grinding, crushing and screening, as well as measurement of materials – all with an aim to improve their customers' bottom line.
The family-run operation at Frontline built their reputation for service, quality and machines with a focus on their core competency: composting, wood waste recycling and other organics-focused areas. Not bad for a business that essentially started out when the economy fell apart around it back in the late 2000s.
"Our background was in soil and mulch, composting and recycling. We were around heavy equipment, screening, grinding and crushing machinery for years, but in 2009, when the financial crisis hit, a lot of the development in the Vancouver region got put on hold. Our composting and recycling business dropped 50 percent in a couple of months," Frontline President Daryl Todd recalled. "It seemed devastating, but we started looking at what we could do to survive. We had a number of surplus screeners, excavators and loaders, so thought 'why don't we start renting these out, to get some revenue in?'"
The Todds took advice from friends in the rental business to help dip their toe into that market within B.C.'s Lower Mainland, and slowly started to buy additional earthmoving equipment to supplement their own gear. However, Daryl said they quickly realized the challenge they faced.
"It seemed a bit crazy being a private earthmoving equipment rental company and not a proper equipment dealership, not being able to buy direct from the OEM. We would go buy an excavator from, say, SMS, but SMS also rents excavators, dozers, loaders etc. – so you're competing with your supplier, and they have better buying power than you," he said. "In business, you have to ask yourself if you can really be the best at what you're doing in your industry – we couldn't if we were simply renting earthmoving equipment."
When the family made that realization, they looked around at the rental sector and realized that they needed to do something that would help them stand out among the crowd. While excavators, wheel loaders and other equipment are always in demand, they are also everywhere.
"Loaders and excavators are a commodity – the market is flooded with them. We thought we needed to go to something that was a little more of a niche," he explained.
That led the Todds to look back on their previous operations in the organics industry – and into new areas including screening and grinding, along with crushers for uses such as concrete recycling and aggregates.
"We knew from dealing with other crushing and screening guys, especially in this region, the service tended to be quite low. You'd phone, wanting something done, and they might get back to you in a couple of days. So, we said 'we can do a better job,'" Daryl explained.
New equipment sparks new start
The family started hunting for the necessary niche – and were surprised when it finally came to them in the form of an equipment operator who hailed from the U.S. East Coast. His family member had imported some machines that had little exposure in North America, and suggested they might be a good fit for the new Frontline Machinery business.
"He said 'You guys should really have a look at Keestrack,' and I said 'What's Keestrack?'" Daryl recalled. "He told us about it, and so we started some research."
What they discovered was a type of machine and service that Daryl described as a "night and day difference" to the North American equipment they were familiar with, from a company very similar to their own – a family-run operation based in Belgium that remains in family hands today.
"They're a family business. Kees Hoogendoorn is the owner, his wife Annette is the treasurer… and then he has two boys, one who runs one factory and one who runs the other. That's where the decisions get made… it doesn't have to go through a bunch of red tape," Daryl said. "Kees is always looking at his machines critically, and saying 'Why can't we do better?'"
The quality and performance of Keestrack equipment led Frontline to establish a dealer relationship with the company, one that has continued as Frontline has expanded and added more equipment lines. With that challenge met, the next one came along: encouraging North American C&D recyclers and contractors to consider Keestrack tracked machines as an option for their business rather than the more traditional, large, fixed crushing and screening plants many recyclers of C&D, concrete and asphalt are familiar with.
Changing perceptions
Frontline's specialty is tracked crushing and screening equipment from Keestrack, and other mobile grinding, screening and shredding equipment from manufacturers including Doppstadt and Diamond Z. That choice has led to the company's experts spending time encouraging operators to consider mobile equipment over stationary plants.
"I've spoken to guys who say 'Well, all that track-mounted stuff is low production and we've had nothing but problems with it.' I ask when they last used it, and they say they rented one eight years ago. Technology's come a long way," Daryl said. "Someone may have a bad taste in their mouth from a previous experience, and they've gone back to what they always had and are just running with it."
That has meant taking some hands-on approaches to promoting their equipment, including regular demos that bring clients to the machines – or taking the machines to the client. Frontline's team finds that putting customers in contact with the equipment on a working job site is the best way to share the features of their mobile, tracked equipment offerings.
Diversified Technology
Frontline has also taken a lead role in promoting other products that are helping their recycling industry customers move forward. Again, a history in the organics industry has helped the Todds recognize the benefits of key technologies that are making it easier for processors of organic and recyclable materials to get paid for the precise amount of product they sell – and ensuring customers get exactly what they pay for.
"We have two scanning technologies – one for conveyor belts, and one is a truck load scanner. The truck load scanners intrigued me because of my background in soil and mulch products, because there are always volume discrepancies," Daryl said. "We were well aware that in our industry product is being bought and sold based on volume, not by weight, so truck scales didn't really work. Instead, it was a case of 'I have a Cat 950, it has a five-yard bucket, I put ten buckets in, so you have 50 yards.'"
Coincidentally, when Daryl was looking over Keestracks at a site in Toronto during Frontline's initial research on the machines he spotted a system scanning the trucks that were leaving the site. That piqued his interest and led to discussions with LoadScan. Today, the LoadScan Load Volume Scanner is part of Frontline's offerings, along with the Sensortechnik Optical Belt Scale – another innovative product that boosts profit and allows customers to manage their recycled material sales more effectively.
The LoadScan unit logs data and provides operators with the ability to drill down and review performance – and the chance to review that performance to ensure crews are getting the best productivity possible.
The Sensortechnik Optical Belt Scale was also introduced to Frontline through their close relationship with Keestrack – the first unit was sent over on one of the first Keestrack machines that arrived in North America. Sensortechnik is now sold exclusively by Frontline across North America.
They've found that many operators are finding it a good investment – for a small portion of the purchase price of a new machine, they get a tool that can increase their return on investment significantly. Customers are able to use their smartphone to see exactly how the machine is performing – and how that performance is benefiting them financially.
"You can see what happens if there are a few tweaks made to the machine – if you turn up the infeed from 65 to 75 percent, or use different screening media, or a different type of tooth," Daryl explained. "If you can see that it's not just a little slower or a little faster – it's 23.5 percent faster – you can drill down and really know what's going on. Once the lightbulb goes off in someone's head, they get it – they don't even look at the price."
For example, a customer in the wood grinding business might adjust the operation of a machine thanks to the data provided by a scale and see profitability improve significantly.
"We have customers that have told me 'I'm getting $1,200 or $1,400 per hour revenue, whereas before we were capped by the industry rate,'" Daryl described. "It allows a contractor who has good equipment and good crews, and who is really productive, to make way more than the industry hourly rate."
Precision adds benefits for owners as well, allowing them to understand exactly how much material is being moved rather than relying on an estimate that is often far from the mark.
"We've been doing a trial in Calgary… we double checked it several times and we are always within one percent accuracy," Daryl said. "There are three or four other belt scales on site that owners say are all plus or minus 5 to 7 percent."
Strong support during growth
Since its foundation four years ago, Frontline has grown steadily and currently has customers across much of western Canada. Unlike other dealers, the Todds have stayed close to home – their only location remains the head office in Chilliwack. At the same time, the company prides itself on the level of service it offers – which means plenty of mileage for service technicians and staff.
"The old-school mentality is that we need a dealership – but we're trying to shift that mentality. If I go put up a brick-and-mortar location in five different places, that's overhead and I'm going to have to charge more for my products. I can run a lot leaner working out of one centre," Daryl explained. If a service call is needed, we send our staff – no matter where.
"In the last two weeks we've had service techs in Hay River, Yellowknife, Dawson Creek, Fort St. John, Prince George, Saskatoon, Prince Albert, Winnipeg and Calgary… we just fly them there and back. It's still cheaper than putting up a building," Daryl said.
However, as Frontline continues to grow its reputation and its business in a range of industries including organics, C&D recycling and others, they will eventually expand with new locations across the country.
"In time, we'll have bricks and mortar somewhere in the Alberta or Saskatchewan region, and we'll probably have a location in Ontario within two or three years," Daryl said.
For the moment, the Todds and Frontline are focused on providing Canadian companies with the best and newest equipment they can – accompanied by some good, old-fashioned family service.
This article was originally published in Recycling Product News January/February 2017, Volume 25, Number 1