Choosing a mobile impact crusher for recycling – what you need to know
Perspectives from the industry's leading manufacturers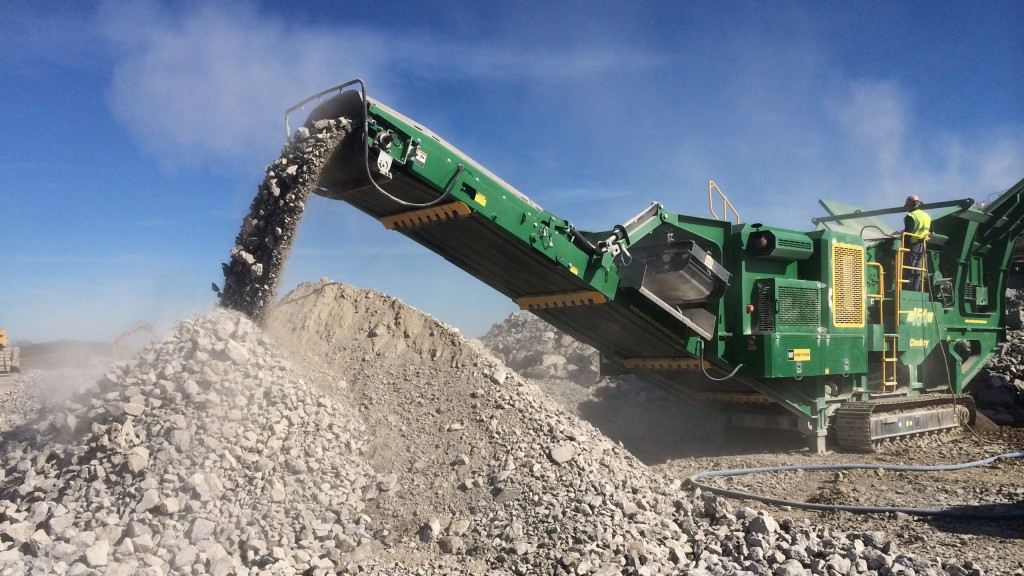 RPN connected with product experts and Canadian distributors representing eight of the leading global manufacturers of mobile impact crushers to gain a little more insight into the benefits, features and evolution of this integral tool of today's C&D, concrete and asphalt recycling industries.
What is a mobile impact crusher?
Mobile impact crushers, also known as the tracked impact crusher or recycling impactor, are recognizable mainly due to the fact that these crushers are mounted on a tracked undercarriage. Overall range of capacity for mobile impact crushers is roughly about 100 to 500 tons per hour.
Today's mobile impact crushers are especially ideal for smaller-scale recycling operations, for on-site recycling of demolition waste, and for tight-space urban and roadside applications. These units feature a diesel or electric drive system, are transportable by trailer, and can be simply driven off at the location of material that needs to be processed, and go to work very quickly.
With their capability to produce accurately-sized end-product with a cubical end product shape, mobile impact crushers work well as closed circuit stand-alone plants, or they can add significant productivity to any operation, working in tandem with a jaw crusher or screen plant.
Adapting to a changing industry
Tracked impact crushing plants have evolved greatly over the last several decades, as their designs have been continuously updated and as the crushing market has changed. Major trends include the introduction of electric drive and hybrid systems as opposed to diesel-hydraulic drive systems, and decreases in size, weight, fuel consumption, cost-per-ton, and sound and dust generation.
Recycling applications
Today's mobile impact crushers are ideal for use in a wide range of applications, including as a mobile recovered concrete crusher, or for asphalt and mixed C&D waste. They are available compliant to Tier 4 Final emissions standards, and can be equipped with or without a built-in screen, as well as many options specifically geared towards creating recycled materials. Todays mobile impact crushers are safer, more mobile, easier to maintain and operate, and are available with sophisticated machine automation and monitoring.
High demand for a small, mobile crusher
"The growth in recycling of concrete and asphalt recycling industries has led to higher demand for smaller, more mobile crushers," says John O'Neill, McCloskey International's VP of sales. "Over the last 10 years we have improved our control panel systems to provide operators with more knowledge and information about what is going on inside their machines at all times. The units are also easier and faster to set up."
Impact crusher flexibility
According to Daryl Todd of B.C.-based Frontline Machinery, the Canadian dealer for Belgium-based crushing and screening plant manufacturer Keestrack, "We see a strong movement towards turning concrete and asphalt rubble materials into higher quality recycled materials such as construction sand, washed recycled drain rock, road mulch, RAP (reclaimed asphalt pavement) and a host of other quality products with a much higher value.
"The impact crusher's ability to handle steel-reinforced concrete, along with custom options, such as plastics and wood-waste removal systems, washing systems and more, has enabled recyclers to create much higher quality end products, and crush and process materials previously deemed only waste, or too difficult to process."
Built for C&D recycling
"The impactor has developed over the past 20 years to become one of the most important tools used in the recycling of C&D waste," says Michael Brookshaw, global distribution manager for Keestrack.
"The reason is the quality of the material and very cubical shape produced. The impact crusher is a first- and second-stage crusher in one unit, so you can crush a 600-mm product down to a final product for resale as recycling aggregate.
"Our machines are excellent in recycling asphalt, as we can slow down the rotor speed to crush the asphalt, but not the aggregate inside the asphalt, so the material can be reused in asphalt mixing plants, a huge savings on cost."
Evolving accuracy in aggregate output size
According to Norbert Dieplinger, Austria-based SBM Mineral Processing's international business development manager, "Specs are getting tighter so crushers must be much more accurate than in the past. For example, a few years back you could just crush aggregate down to 0- to 3-inch material and use it for road base. Now, engineers are allowing the use of more and more recycled asphalt into their mix, instead of all-natural aggregate and crushed concrete, and not just as road base material. With impact crushers, the shape is exactly what you need, you can get down to smaller sizes and they can process building debris with rebar."
Providing lower cost of ownership
Alexander Taubinger, Rubble Master's managing director and VP sales, says "Cost of ownership and costs per ton are key figures for our customer base." Rubble Master machines feature a diesel-electric drive that burns less fuel, and low maintenance costs are due to the company's latest design and product development.
"Back in the day, it was all about tons per hour. Machines were built overly strong and heavy with large, inefficient power solutions. This is second or third priority these days, since contractors have to meet other job requirements when it comes to most recycling applications."
He adds that with respect to end markets, Rubble Master has always been focused on the final product size and quality. "Lots of contractors still only think about reducing the size of material. It's all about reusable and resalable product size and quality these days."
Keeping up with the changing value of recycled scrap
The changing value of recovered metal, especially over the last decade, is a consideration for all recyclers and contractors managing recycled materials. For users of mobile impact crushers in the processing of concrete and C&D rubble, even with the fluctuating price of recovered steel seen over the last several years, efficient metal separation remains a key component.

"Unfortunately, with the way things have turned as of late, scrap iron is not worth a lot. But I can tell you that having systems in place to remove it is paramount," says Tim Harms, crushing and screening product manager, Kolberg Pioneer (a KPI-JCI & ASTEC Screens company.)
"If you have any metal contamination in your end product, you'll be in trouble trying to resell that product. So it's very important to get it removed. Ten years ago, scrap was of higher value and that was part of the equation. Now it's just the fact that you need to get it out so that you can resell the product. Impact crushers are very good at liberating scrap iron from concrete."
Matching growth in the contractor/rental market
Stephen Whyte, product manager, mobile product development, KPI-JCI & Astec Mobile Screens, adds that the growth of the contractor/rental market has also been key in driving the growth of all tracked crushing and screening plants.
"Guys today can load a tracked impact crusher, go do a job for a week, load it off on the weekend, and they can be set, ready to go on the next site the following week," says Whyte. "It's the contractor/rental market that's really driven the mobile impact crusher market."
He adds that for impact crushing in general, mobile, tracked units are the least path of resistance to get into the business. "You've got the highest reduction ratio. You've probably got the lowest capital investment. And you can get the most 'bang for your buck'. Almost always you will see entry-level tracked impactors as the first choice for contractors getting into the C&D materials recycling business, no matter the brand."
Mobility combined with productivity for recycling
The stand-out feature of the mobile crusher or tracked impactor for recycling applications, is its mobility, combined with high productivity per hour. Units are fully self-contained on their tracked undercarriage and can easily be driven off a trailer by one operator and quickly put to work, with excellent capability for moving directly to materials. Some models are even capable of tracking (moving about on their tracks) while crushing.
"The ability to move within the job site and job to job is important to the contractor, or other end user, thus driving the demand for portable crushers," says Jody Beasley, national sales director at Screen Machine. "One of the biggest expenses in material processing is physically handling the material. Every time material is moved, labour and expenses are involved. Tracked impact crushers bring the machine to the job site, right to the pile, and allow for very efficient material processing.
"It's all about tons per hour. Our machines have been designed to produce maximum tonnage and one significant way they do that more efficiently is through our patented Crusher Relief System. The Screen Machine Crusher Relief System allows the operator to raise the crusher lid up to six inches while the machine is in operation. This is a huge help in preventing jams inside the crusher and ultimately delivers thousands of additional tons of product over the life of the machine."
Higher capacity crushing
According to Stephen Whyte, KPI-JCI and Astec Mobile Screens, "Mobile impact crushers are higher capacity than they were when they first came on. When the first tracked machines came in, they were seen as crushers that were highly portable but would do less weight than the typical portable [trailer-mounted] machine. Whereas now, some of the tracked machines we manufacture can reach those same capacities, and compete with the portable setups.
"Another great feature with our impact crushers is that they allow operators to crush and track at the same time," he continues. "This is why you'll see a lot of these units being used along the highway. One operator can basically load the machine and operate the tracked crusher at the same time."
"This is very important," adds Kolberg-Pioneer's Tim Harms. "You can be crushing and don't have to disengage the crusher to track the machine. You can continue to crush while the machine is being moved around on its tracks, which is a big advantage with respect to time savings. Time is of a huge value. If you lose 10 percent of your time, just because you've got to wait for the crusher to stop so you can move it, those are dollars."
Impactor fuel efficiency and electric power
Traditionally, mobile impact crushers have used a diesel-hydraulic engine for the track-drive and power to the crusher. The advent of electric-drive and hybrid systems is one of the main advancements that has occurred over the last decade, and its development is seen by many as one of the most significant trends going forward, especially considering the importance of fuel efficiency, rising transport and operational costs and the global focus on reducing emissions.
"Lowest cost per ton produced is crucial in the customer's business," says Metso Minerals' product manager, Jouni Hulttinen, who adds that main focus areas in their Lokotrack line development have been ease of transport, maintenance and service, as well as safety and energy efficiency.
"Energy efficiency has been a very focused development area," says Hulttinen. "We have reduced fuel consumption up to 20 percent with our tracked impactors." He says one good example is the Lokotrack LT1213(S) ('S' designates a built-in screen component) which uses a 'stand-by function' where the machine switches to idling mode if there is no load on the engine. "Just five minutes on stand-by, per hour, can save 10 litres of fuel per day."
Diesel-electric and fully electric power for crushing
According to Norbert Dieplinger, the drive systems in crushers manufactured by SBM are available as diesel-electric or can be run 100-percent electric. "Not only does electric power reduce the carbon footprint, it can save contractors up to 30 percent on fuel costs when you compare them to the diesel-hydraulic drive systems that were common in the past and are still used by lots of manufacturers," he says.
For Kleemann, a division of the Wirtgen Group, the new EVO 2 Mobirex mobile impact crusher utilizes direct drive crushers and electric drives for the vibrating conveyors, belts and the pre-screen.
"This permits high fuel efficiency and allows optimal loading of the crusher," explains Joe Schappert, Kleemann's senior technical sales manager. "Outstanding performance is made possible in part by the extremely efficient direct drive, with which these machines are equipped. A latest-generation diesel engine transmits its power almost loss-free directly to the flywheel of the crusher, via a robust fluid coupling and V-belts. This drive concept enables enormous versatility, as the rotor speed can be adjusted in four stages to suit different processing applications."
Buyer considerations
A first question to ask when considering a purchase, according to McCloskey's John O'Neill, is: what do you want the machine to do? He says it is necessary for a solid sense of reality to be a big part of the buying decision. "Too many times the customer is upset because they expect peak performance to be the norm, when they need to be looking at all aspects of their operation and how it can support the crusher and the desired end goals or products."
SBM's Dieplinger says there are many considerations for buyers and agrees that the available support equipment needs to be considered.
"What kind of support equipment is available and can it support the tonnage capacity of the crusher?" he asks. He adds that other important questions include: Who are the customers? What is the application you intend to use it for? What spec are you working with? How large are the piles to be crushed?"
"If the impact crusher needs a part or maintenance items, can you be confident that the manufacturer will get those parts to you as quickly as possible?" asks Screen Machine's Jody Beasley. "Our machines are manufactured in Ohio, and all parts orders are fulfilled here. We pride ourselves on the fact that more than 97 percent of in-stock parts orders ship the same day."
He adds that buyers should also consider long-term durability. "Critical parts of our machines are built with U.S.-made, Grade-80 steel, which is the toughest, most durable steel in the world."
"All impactors are not created equal, and the differences are significant," says Daryl Todd, Frontline Machinery. "We strongly suggest taking a close look when comparing various models. Start off with the technical specifications, including engine horsepower, the weight of rotor and blow bars, as well as ease of transport, machine weight and dimensions."
Todd says there are many questions to ask, including: Is the rotor direct-drive from the engine, electric drive or hydraulic drive? What is the hopper capacity and feeding height? And what are the after-screen options - single-, double- or triple-deck? Does the machine have the ability to track while in full production? What type / quality are the key components such as hydraulics and electronics? And what is the type and quality of steel used in the frame, crusher housing and rotor? He adds that any mobile impact crusher should also have a user-friendly design, with ease of changing blow bars, and ease of access for maintenance and servicing.
Keestrack's Michael Brookshaw says one of the main questions to ask when considering an impact crusher is: can you transport the unit with your own transport means? "The material that you need to crush in your area is important," he says.
"Look at the costs per ton involved on the purchasing and running of the unit. What are the amounts of material that need to be crushed? Are they large deposits of 30,000 tons or smaller deposits of 500 to 1,000 tons? You should also consider the feed size and capacity that you will need. Would electric drive provide an advantage on the environmental side of the business?"
He adds that the technical aspects of the unit are also very important. Electric drive, pre-screen before the crusher, crusher overload system, pan feeder under the crusher, weight, as well as service and operator friendliness of the unit are all areas that need to be considered. Joe Schappert from Kleemann says that buyers considering a purchase should make sure they choose the correct size for the application and consider how product will flow through the crusher.
"The Kleemann Continuous Feed System (CFS) manages a more equal loading of the crushing area, in which the conveying frequencies of the feeder trough and the pre-screen are adapted independently of each other to the level of the crusher, thus significantly boosting performance.
"Our new impact crushers are differentiated by their size and productivity," continues Schappert. "Our model MR 110 Zsi EVO 2 has a crusher inlet opening of 43.3 inches (1,100 mm), and the MR 130 Zi EVO 2 has a crusher inlet opening of 51 inches (1,300 mm). These provide feed capacities of up to 350 or 450 tph, respectively.
"Consider diesel-electric drives," he adds. "Our latest EVO 2 Mobirex mobile impact crushers utilize direct-drive crushers and electric drives for the vibrating conveyors, belts and the pre-screen. This permits high fuel efficiency and allows optimal loading of the crusher."

The Future of mobile impact crushers
Looking ahead, Daryl Todd of Frontline Machinery says there will be more hybrid technology, electric/diesel hybrids, meaning reduced fuel consumption, as well as improved noise reduction. He says that we'll also see advances in contaminant removal systems and washing systems integrated into closed-circuit impact crushers.
GPS systems are another area where Todd expects advances to continue. "GPS systems provide remote monitoring and control, tying in with onboard belt scales," he says. "This allows managers to have total insight into remote operations."
Michael Brookshaw of Keestrack says their telematic system allows customers, distributors and the manufacturer to monitor their machines, inform from distance and advise on capacity, running of the unit and fault finding.
"There has also been much development in the area of wear parts, which are more durable than ever," says Brookshaw. "Our electric-hybrid and full-hybrid system, which we call Keebrid, are excellent in the areas of durability, lower emissions, running costs and all environmental issues."
For McCloskey's John O'Neill, the trend of using one machine to do multiple parts of an operation will continue to decline. "The crusher should crush and the screeners should screen," he says. "Trying to squeeze it all onto one platform is hard and often results in compromises, which if not acceptable to the customer, can be disastrous on the job site."
Rubble Master's Taubinger expects to see improvements in efficiency in all regards. "We expect a very heavy focus on emissions such as dust and noise, as well as more fuel efficiency, safety and ease of operation."
"Technological advances are going to be a significant trend, when looking at computerized diagnostics and digitalized controls," says SBM's Dieplinger.
"Advanced diagnostic tools can enable the operator to monitor processes in real time with the ability to adjust settings on a touch screen on the crusher, or even from inside an excavator cab. This leads to further increases in safety and efficiency with a reduction in maintenance, operating costs and downtime.
"Diesel-electric power is the future because of all the advantages it provides with respect to decreased fuel costs and decreased carbon footprint," adds Dieplinger, who also points out that this will make a big difference in years to come, especially considering new carbon taxes being implemented globally.
Metso's Lokotrack LT1213 mobile impact crusher is a fully-equipped, tracked plant that combines mobility, high capacity and flexibility for a range of applications.
According to Metso's Jouni Hulttinen, base construction for bikeways, road base and industrial areas are growing end markets for material made from recycled C&D, concrete and asphalt. He says mobile impact crushers, and all types of crushers for recyclable materials, will increasingly move more towards application in the production of high-quality end products.
"Use of the end material has gone from the most basic application to higher-spec building materials," says Hulttinen. "The future trend will go more towards substituting aggregates, new concrete made from recycled concrete, and recycled asphalt added to make new asphalt." RPN
This article was originally published in Recycling Product News, Volume 25, Number 1, January/February 2017.
Related Articles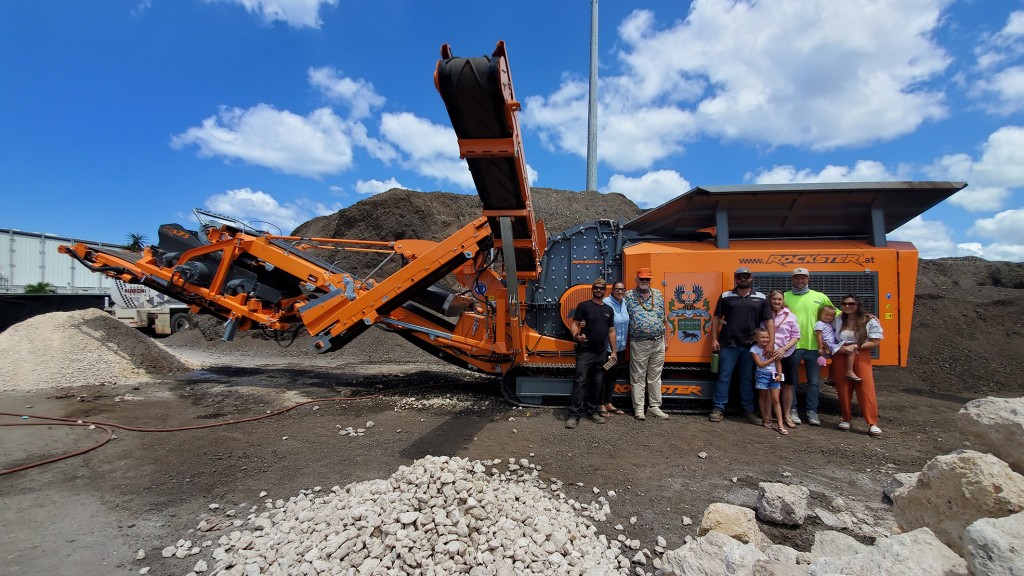 Rockster impactor contributes to sustainability in Hawaii through processing RAP, crushing coral