Allu to display screener crusher lineup at ConExpo 2017
Visitors to learn how screener crushers transform waste into valuable material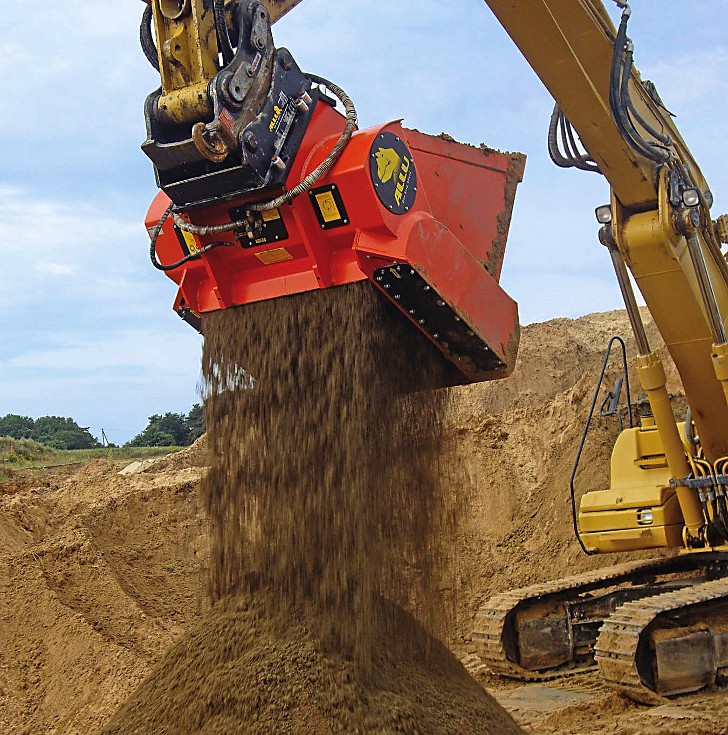 ALLU Group will have its experts on hand in the Gold Lot in booth G3749 at the CONEXPO-CON/AGG 2017 trade show, March 7-11, 2017, in Las Vegas, Nevada. Visitors will learn that ALLU's unique Screener Crusher buckets not only transform waste into valuable material, but ultimately they will transform the way contractors and producers work. During the show, every 30 minutes, the world's foremost female excavator operator will demonstrate her skill and dexterity with the ALLU D-Series Screener Crusher buckets. Demonstrations also will show off the versatility of the DL Screener buckets for compact equipment. Contractors and users will have the opportunity to talk with ALLU's experts and understand how these versatile attachments can impact their worksite performance.
The ALLU D-Series Screener Crusher bucket screens, crushes, pulverizes, aerates, blends, mixes, separates, feeds and loads materials all in one stage – increasing an operation's efficiency and profitability. The unit is designed to process wet or dry materials quickly and efficiently, reducing cycle times and resulting in increased production and substantial savings on operating costs. The units easily handle topsoil and dirt, excavated and waste soil, demolition waste, construction waste, milled asphalt, coal, oil shale, limestone, contaminated soil, clay, peat, bark, compost, bio-waste, glass and other materials. With more than 100 models in the line, ALLU D-Series Screener Crusher bucket attachments are available to fit any excavator, wheel loader, skid steer loader or backhoe.
ALLU DL Screening buckets are designed specifically for use with compact-based machines, such as mini-excavators, small wheel loaders, skid steer loaders and backhoes. The DL Screening bucket is an ideal tool for landscapers, and is engineered to screen, mix, aerate and load topsoil, peat and compost. With just one bucket, screen sizes are easily changeable from 5/8-inch to 1¼ inches to 2 inches by changing out the screen and hammers. The core feature of the DL Screening bucket is the unique top screen, where the screening hammers spin between the screen comb. This design keeps the buckets clog-free, ensuring good production and throughput, even with wet materials. In addition, the new DL Screening bucket does not require a case drain line for operation. With this feature, operators simply attach the bucket, hook up standard auxiliary lines, and start to screen.
ALLU Group offers a complete line of technologically advanced screening, crushing, windrow turning, soil stabilizing and compacting equipment and attachments for the asphalt, compost, environmental, recycling, green waste, demolition, mining and pipeline industries. ALLU Group is ISO 9001:2000 certified.
Company info
Related products